I didn't want to have this I-told-you-so moment, but…
July 18, 2012, 8:53 PM
You know, I really didn't want to have the I-told-you-so moment that I had today.  But when it comes to Ride On in Montgomery County and those Navistar Champion cutaway vans, well, I called it right.
First of all, I am talking about these Ride On "buses":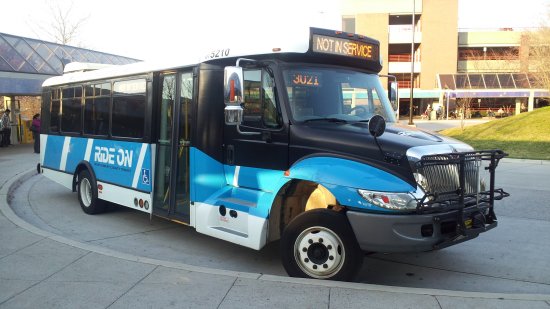 Yes, the cutaways.  What's happened is that today, after yet another fire involving the Champions (bus 5208 in this case), County Executive Ike Leggett announced in a statement that the Champion cutaway vans would be immediately withdrawn from service – permanently.  This supersedes earlier plans to phase out the Champions over 18 months.
Personally, I am delighted that these buses are going out of service permanently.  My normal bus route, the 51, has been a cutaway route since October 24, 2011.  So there would be a very good chance on any given day that a Champion would be the bus that picks me up in the morning and brings me back home at night.  Hearing about multiple fires involving buses that could just as easily have happened on the 51 with me on it did not sit well with me.  I started to liken these buses to the Ford Pinto, describing the Champions as "fireballs on wheels".  I am on record for having used this term since at least as early as March 14, though I'm pretty sure that I used it prior to then.
I was saying on the Twitter that Ride On needed to pull these buses from service about two or three Champion fires ago.  With buses catching fire so often after Ride On made modifications to other Champions to correct the problem that caused the latest fire du jour, it quickly became apparent to me that these buses were just plain unsafe.  While I did ride the 51 – including with Champions – after this realization, I did make a special effort to always sit right next to the main door if that seat was available, or as close to it as I could, just in case I had to bolt from there in a hurry.  Trust me, I knew how to get out of a Navistar Champion in a hurry.
Thinking about the Ride On fire today that led to the cutaways' withdrawal from service, a few things came to mind.  First, I had a Champion this morning – bus 5214.  That could have just as easily been my bus catching fire instead of 5208.  Secondly, I couldn't get the seat right next to the door this morning, but instead ended up sitting towards the back due to seat availability.  Again I go back to how it could have been 5214 instead of 5208.  And finally, I had 5208 on the 51 about two and a half weeks ago, on June 29.  The bus could have caught fire with me on it.  It's scary to think about how one of these fires could have happened when I was on board.
In any case, I am glad that the county has made the right decision to withdraw the Navistar Champion fleet permanently.  However, I believe that Ride On waited too long to make this decision, and that the county was extremely fortunate that no one was injured or killed in these various bus fires.
Meanwhile, to compensate for the sudden (but absolutely necessary) loss of the Champions on the road while it determines how best to deploy the fleet, Ride On is running on the "modified holiday schedule" for Thursday and Friday.  I think I'll probably just drive to the Metro, at least for Thursday, because the holiday schedule will put too much of a pinch on my swimming schedule in the evening.
Web site: Washington Examiner: MontCo pulls Ride On shuttles after another fire
Postscript: Then meanwhile, in processing my it-could-have-happened-to-me thoughts, I dug through my transit log to see when I had 5208, which went up in smoke in today's fire. Since the 51 became a cutaway route in October 2011, I had 5208 on November 7, November 22, April 25, May 22, and June 29. All of those rides were in the morning except for June 29, when I had it in the evening.