…and later, Chuck E. Cheese!
May 11, 2012, 10:37 PM
After spending a few hours at Montgomery Mall where we got Adelle's bear, among other things, Mom and I headed home, and then later, for dinner, headed over to the Chuck E. Cheese's restaurant in Laurel, Maryland.
Now you're probably thinking: aren't you a little old for Chuck E. Cheese's? Answer is, yes, probably so. But we had a good time. It had been just over 20 years since the last time that any of us went to one of these sorts of places, and so this was the time to revisit some fun childhood memories. In fact, the Laurel location was specifically chosen because it was a former Showbiz Pizza location, and had the three-stage setup just like at the Showbiz Pizza in Fayetteville, Arkansas that we used to go to when Sis and I were growing up. Recall for a moment, from 1987 in Fayetteville, on the occasion of the party for my sixth birthday: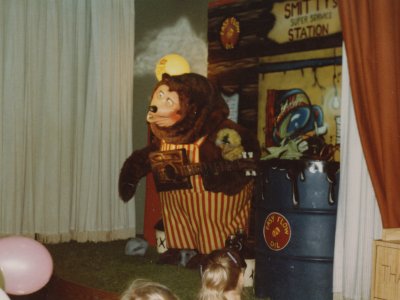 Billy Bob's stage, with the "Smitty's Super Service Station" background.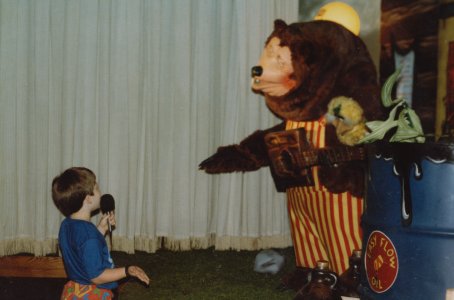 I carry on a conversation with Billy Bob, where I ask him what you get when you cross an apple with an airplane (answer: apple plane!).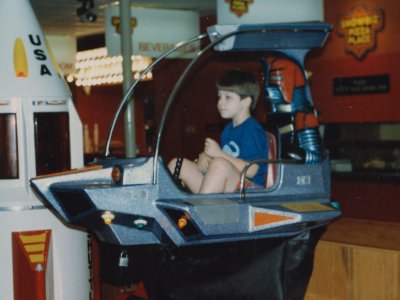 Riding some sort of ride.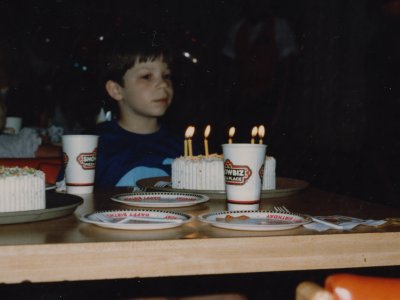 Preparing to blow out the candles on my cake!
So as you can see, there were many fond memories of animatronic pizza-type fun. In the next four or so years following this party, we went to Showbiz in Fayetteville on a number of occasions. We had seen a few changes happen to the restaurant over those years. We saw the introduction of Chuck E. Cheese into the restaurant's theme (my party was the first one that I had seen where Chuck E. Cheese was the walkaround character for the cake rather than Billy Bob), and we also saw the restaurant get a remodel, which included adding windows looking out from the main dining and show room into the arcade area, and then we visited a few times after "concept unification" had occurred, which replaced The Rock-afire Explosion ensemble with the Chuck E. Cheese characters. Personally, I was sad to not have Billy Bob anymore. After all, we did get to bond there during my birthday party!
The last time we went to Showbiz Pizza was some time in early-to-mid 1991. Then we never went when we moved to Virginia, because the locations were further away, and with so many other changes, it never really got a second thought. But then after I found the ShowbizPizza.com fansite a while back, my interest was rekindled, and I wanted to go again. I discussed with Mom about the idea of going to Chuck E. Cheese's the next time she came to visit, and so we did.
Arriving, the first thing we did was go through the arcade area. We didn't spend much time there, but we did look around a little at some of the games. It was pretty much as I remembered it, but with more games that give tickets and less rides and straight video games. That was sort of fun. I figured we would play a few games at some point, but surprisingly, we never did. You can play video games anywhere, I suppose.
Then we ordered our food. Mom and I each got the salad bar, and then split an individual pizza. Then we sat down in the main dining area, in a booth near the back, where we had a clear view of the stages. And it was just as I remembered it during the last few visits to Showbiz: Chuck E. Cheese on Rolfe and Earl's old stage at stage right (though Chuck E. Cheese was wearing a different outfit), Munch's Make Believe Band on The Rock-afire Explosion's old stage at center, and Pasqually's Amateur Hour on Billy Bob's old stage at stage left. Take a look: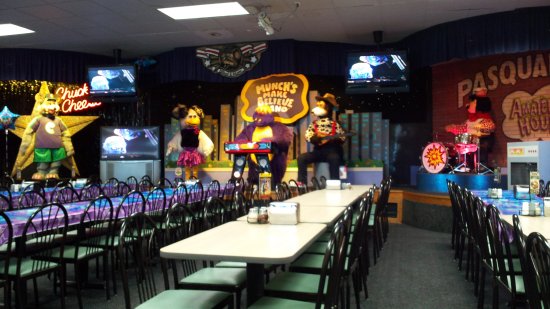 The classic three-stage layout!
The shows were pretty much as I remembered them, though admittedly it wasn't Billy Bob (but I knew that going in). Between stage shows, they showed music videos on the three monitors – two hanging from the ceiling, and one on stage right (Chuck E. Cheese's stage). Back in the day, when the two ceiling monitors were introduced, they counted down the minutes to the next show, but the show room itself was quiet between shows. Not so anymore, as they now always have music going. Another thing I noticed: the show room was very different from before. Between shows when the characters were not performing, they used to turn out the stage lights, close the curtains, and turn up the room lights. Things have since changed. For one, the show room is now fully integrated into the rest of the space, giving a clear line of sight from the stages all the way to the main entrance. Previously, walls separated the stage area from the games. Now it's just a low retaining wall separating the two. Additionally, the lights are now fully on all the time in the stage area, and don't dim during shows. Only the stage lights change, dimming when the characters are not actively performing, and fully on when they are. And there are no curtains anymore, so the characters are always on display, and as such are seen occasionally moving their heads when otherwise not performing.
There was a birthday party going on while we were there, and without curtains, that created an odd moment compared to what I was used to seeing: the restaurant used the Chuck E. Cheese walkaround character suit with the kids, while the animatronic one was still visible on stage and occasionally moving around. Back in my Showbiz days, when Billy Bob was being used in walkaround form at parties, the curtains were always closed on Billy Bob's stage, so both Billy Bobs were never seen at the same time. Thus this was… odd.
And then it was also interesting to hear Chuck E. Cheese and Munch talk about email. See, while I was in there watching (and thoroughly enjoying) these animatronic shows, I was mentally back in the 1980s (Email? What's that?). Thus when Munch mentioned getting an email from a fan and then Chuck E. Cheese asking Munch if he had an app for it on his keyboard (Fatz's old keyboard, by the way), it kind of blew my mind. Seeing these characters talk about email and apps was just weird…
I also got Mom to take a picture of me with Munch's Make Believe Band: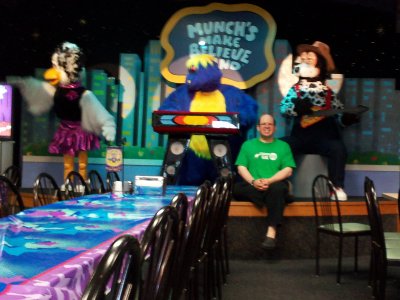 Going into this, I wondered if I would be able to enjoy the Chuck E. Cheese characters like I did the Rock-afire Explosion. I remember back then not liking it when they replaced those characters. But you know what? It didn't really affect it that much. Perhaps it was the amount of time that had passed, but I could do it. Although the characters looked different and the voices were different, it clicked this way: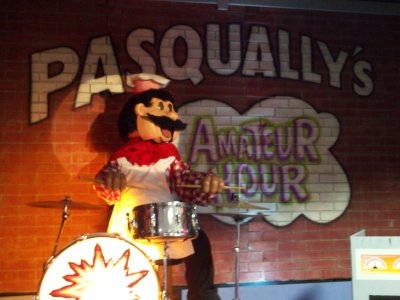 Pasqually filled the role of Billy Bob in my mind.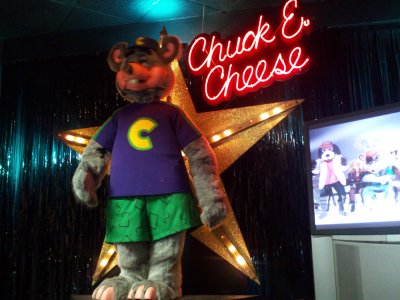 Chuck E. Cheese filled the role of Rolfe and Earl well enough for me.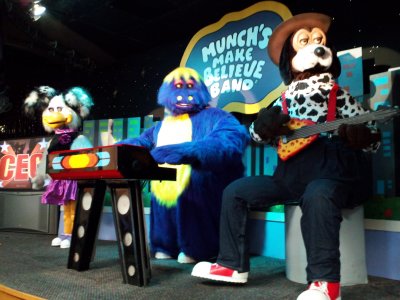 And then Helen, Munch, and Jasper from Munch's Make Believe Band fit the roles of Mitzi, Fatz, and Beach Bear in my mind.
So that worked! And as such, I thoroughly enjoyed the stage shows. I really had a good time watching.
Now one thing I haven't really discussed yet was the food. To put it bluntly, you don't go to Chuck E. Cheese's for amazing food. The pizza and the salad bar were both average at best, and that's fine. After all, you're there more for the entertainment than for the food. Mom and I were there to enjoy the stage show, and that was awesome.
Also, another surprise: the whole facility seemed a lot smaller than I remembered. I think the Laurel location is probably about the same size as the Fayetteville location (and about the same age), but the space is now more open and brighter, which makes a difference in size perception, plus I was a child back then, and now I'm in my thirties. I was smaller, and the world seemed so much bigger to me back then.
So all in all, I had a good time. I was disappointed to find out that this location is slated to get a new stage show ("Studio C") in a few years, but until then, I intend to enjoy this bit of 1980s nostalgia for as long as I can.
Web site: ShowbizPizza.com, a fansite about the old Showbiz Pizza
Song: "Everybody Have Fun Tonight", which the characters played a few times, and which I had stuck in my head all the way home tonight. Also, the joke from Pasqually on the show, which I tweeted out: "What music do balloons hate? Pop music!" Ask Mom, I was laughing out loud on that, because it was so corny yet amazingly funny.
Quote: Meanwhile, most memorable Showbiz trip ever for me was this one time when I was nine years old. I really worked myself up into a frenzy about winning a good prize (vs. the crap in the case that you can get for only a few tickets). The restaurant in Fayetteville had recently put in an arcade version of Bozo the Clown's "Grand Prize Game". Top prize: 21 tickets, for getting a ball in each of the six buckets. More difficult than it looked. I ended up setting my sights on this mug, which cost around 100 tickets or so (definitely over the century mark, but I forget the exact amount). Nothing was more important right then than getting enough tickets to get that mug, and so I did it. When I ran out of tokens, I went to ask for more (and got some). More tickets. More money. More tickets. Finally, I had enough, and we went and got the mug. I left the restaurant with the mug and a massive headache from all of it. But I didn't care, because I got a good prize from the redemption counter for once (don't look at me like that - I was only nine). Then when we got home, I threw up. Totally worth it. And I still have the mug, and it always reminds me of that one night at Showbiz...