I got to witness some of the final flight of the Space Shuttle Discovery…
April 17, 2012, 10:19 PM
So this morning, not long after I got to work, I went up to the roof deck at work to watch the Space Shuttle Discovery fly over Washington DC before landing at Dulles International Airport. Discovery is expected to replace Enterprise at the Smithsonian's Udvar-Hazy Center.
This was definitely something new for me. Being in the mid-Atlantic region, I am well north of where the Space Shuttle normally would fly. I had never seen one of the spaceworthy orbiters in person, though I had seen Enterprise last year (Enterprise was only used for testing purposes and never flew in space). And I had never seen the Shuttle Carrier Aircraft in person before, nor had I ever seen an orbiter with the tailcone on it in person.
I was joined on the roof by three of my coworkers: Katy, Patton, and Genna. Additionally, a whole bunch of folks from other organizations came up to the roof deck to see Discovery pass by. I ended up taking a few photos with my cell phone. This was the scene on the roof: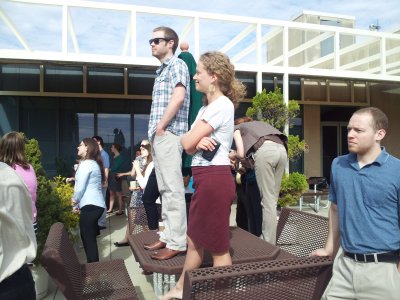 Notice Patton and Katy in the center, standing on the table. Genna is behind Patton.
And then came Discovery's first pass: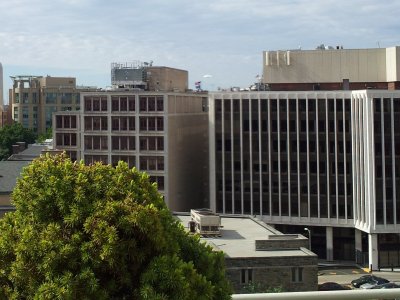 Discovery (atop the Shuttle Carrier Aircraft) is the little white speck in the middle of the photo about a quarter of the way down from the top. Discovery is traveling from right to left from this vantage point.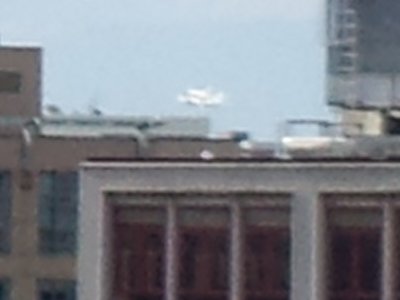 Highly zoomed in image of Discovery riding piggyback on the airplane as it buzzes the Mall (my building is in Dupont Circle, north of the Mall).
Then from there, Discovery headed south, I believe going as far as National Harbor. Then Discovery came around and we saw it pass in a northwesterly direction on its way back to Dulles.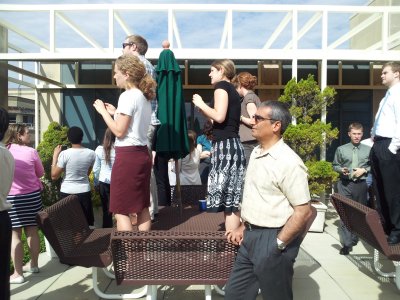 The scene on the roof between passes. Katy and Patton again got a really great view. Genna is behind the green umbrella.
And then the second pass happened: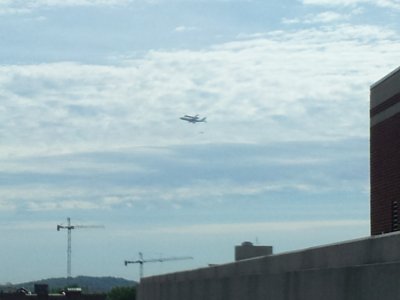 Discovery to the east of our position. 1400 16th Street NW is visible in the lower right corner. Discovery is traveling from right to left as seen from this vantage point.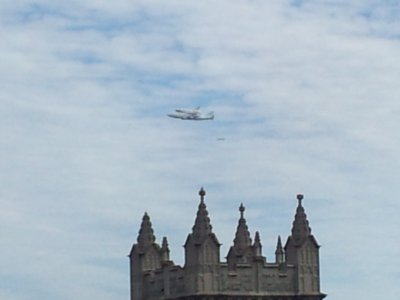 Discovery flies northeast of our position. The tower of Foundry United Methodist Church is visible in the bottom of the photo.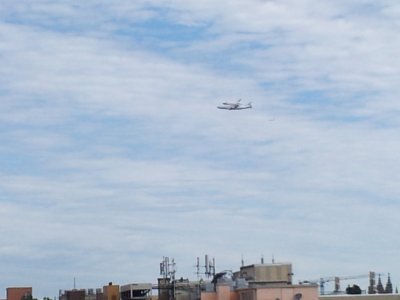 Discovery flies over areas to the north of Dupont Circle.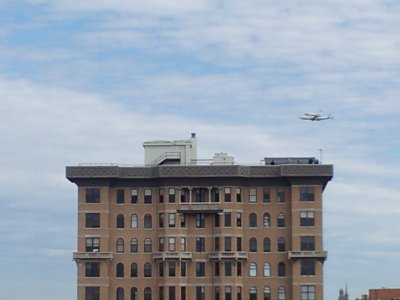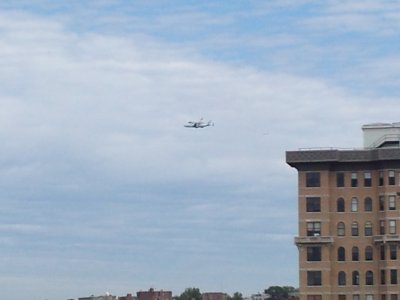 Discovery flies past The Cairo, directly north of our building.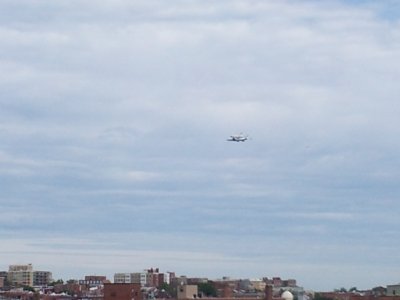 Discovery flies off to our northwest.
And the next time I see Discovery will be at the Udvar-Hazy Center! That will be neat to see, because I have lots of photos of Enterprise in there, and so it will be fun to compare an orbiter that never flew in space vs. one that made 39 trips into space. Enterprise looks a bit too perfect, you see. Too shiny and white. Discovery looks like it did almost forty reentries, and I hope they don't paint it before it goes on display. I want it to look like it's made a zillion trips around the Earth and lived to converse about it.
So that was fun. Now I've got to figure out a time to go over to see Discovery out by Dulles once the "new" wears off a little bit. I know that both parents want to see it, and so I sense a visit from the parents in my future…