What to wear on Saturday? Help me decide!
January 18, 2012, 11:05 PM
So this Saturday is the Chesapeake Climate Action Network's "Keep Winter Cold" polar bear plunge. As you know, I'm going in this year, and hoping that I don't freeze to death (but my doctor has given me his approval to go). I am helping raise funds for the event, and so if you want to help sponsor me, I would appreciate it.
But the thing that's still undecided with two-and-some days to go is this: what to wear? Basically, I've got about four different choices for you. There's the solid black Speedo jammer, the Speedo jammer with a yellow stripe down both sides, a Dolfin jammer with a red and white stripe on both sides, or a black Speedo "solid dive suit". So I need some help deciding. You should know, though, that these suits are ones I wear at various times when I go swimming. The folks at Olney Swim Center and the folks who do Aqua Zumba in Olney can vouch for this. I didn't buy anything specifically for this event.
So here are your choices…
First, the Dolfin jammer with the red stripes:
Then the Speedo jammer with the yellow stripes:
(By the way, who can tell that I was possibly having a little too much fun shooting these?)
And then the solid black Speedo jammer:
And then the Speedo solid dive suit: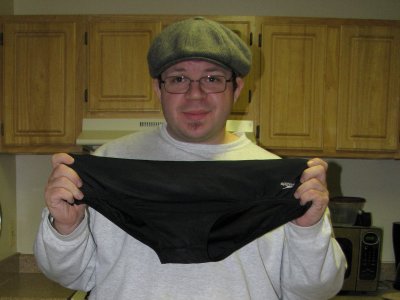 Yes, that is exactly what you think it is. I wasn't kidding when I said I owned one.
So help me decide by letting me know! Your suggestions will be taken far more seriously if you vote with your dollars and help me meet my fundraising goal of $350. I am "Team Schumin Web", as I've taken to calling my polar bear plunge effort (seriously, I registered Schumin Web as a team of one), and so let's all help Team Schumin Web make its goal. If you've already donated and still want to weigh in, or for some reason are unable to donate, still let me know. Post it on Schumin Web's Facebook wall. Or tweet it to me @SchuminWeb. Or throw me an Email, but let's admit – social media is more fun than boring old Email.
However you all ultimately decide to dress me, trust me when I say I'm going to have a bunch of photos and such. I should have someone taking photos of me from the shore, and then I'm taking Duckie in the river with me so you can see my reactions as I freeze my fanny off. Personally, I'm hoping for an unseasonably warm day, but we'll see, I suppose.
So there you go, I suppose. Let's make this a success. Please donate, and help support climate work.