Something funny about shooting photos in the Metro of people with no pants on…
January 8, 2012, 7:09 PM
Yes, today was the day of Capitol Improv's annual "No Pants Metro Ride". It was exactly what it sounds like: people come in and ride Metro with no pants on. Basically, people have shoes on, are fully dressed from the waist up, and are wearing their underwear, but the pants are missing.
Now you may recall that I went to this event last year and covered it for Schumin Web, though the photos never got any further than a Journal entry for various reasons. This year, I went again, and I was once again out to photograph the excitement, while keeping my pants firmly on my body. Considering that I covered the event pretty well last year, I decided to make the photography more interesting for myself. Thus I shot everything in black and white. Black and white, you see, makes you look at things differently, and think differently as a result. Black and white photography makes you look at lightness and darkness and the play between them, while color photography obviously focuses more on colors. And like Big Mavica, the Canon won't stay in black and white if you turn it off. You have to set it to black and white every time you turn it on. Trust me when I say I got really good at quickly setting the camera to black and white every time I powered it on.
So at 2:00, everyone met up at Hancock Park, which is a small open space in DC across the street from the north entrance to L'Enfant Plaza station. There, they laid out the course and gave some advice on how to do things.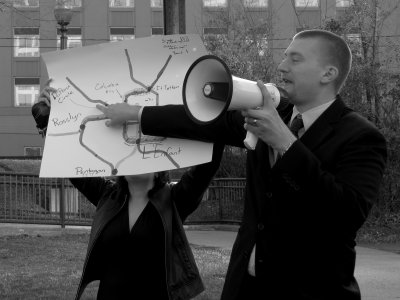 Bruce (with the bullhorn) discusses the course, explaining how Dupont Circle is probably the furthest west that participants should go on the Red Line.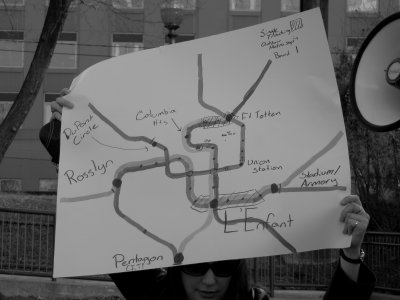 The map showing key locations on the Metro system. The stations marked on the map indicate the "boundaries" for the fun, where they didn't recommend going past. Thus on the Red Line it went from Dupont Circle to Fort Totten, Blue from Pentagon City to Stadium-Armory, Orange from Rosslyn to Stadium-Armory, Green from L'Enfant Plaza to Fort Totten, and Yellow from Pentagon City to Fort Totten. The hatched areas on the map marked out where single tracking was occurring. That pretty much precluded travel north of U Street and east of L'Enfant Plaza, since we would encounter delays while traveling through those areas. Then the afterparty would be held at Nellie's Sports Bar at 9th and U Streets NW, about a block and change from the 10th Street entrance at U Street station. And then for the second year in a row, I had to get them to change the map from Pentagon to Pentagon City. Pentagon station is no fun because it's on Pentagon property, plus you can't photograph there by virtue of its being on Pentagon property. Thus Pentagon City is an acceptable substitute.
Then we all went into L'Enfant Plaza station. I had this to say about it on the Twitter:
Here we go… IT'S MORPHIN TIME! #wmata
January 8 2:17 PM

Unlike last year, when the group split into two right off the bat, with one side going on the inbound platform and another group taking the outbound platform, everyone went over to the inbound platform. Dunno why. And while a bunch of us (including me) were going down the escalator, the escalator decided to give up the ghost. It just came to a stop, and that was it. I guess we were walking the rest of the way down (note to Metro: fix that, please).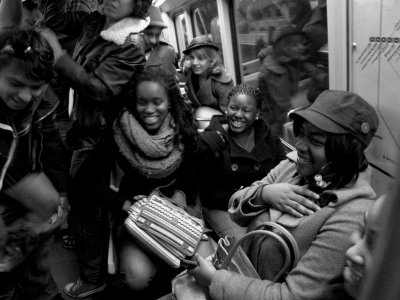 Once the group got on board Rohr 1215 and the doors closed, people started taking their pants off en masse. These three women were quite surprised to see all these people taking some of their clothes off, that's for sure.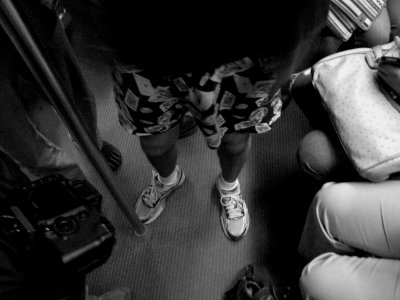 Pants off, with people wearing their boxers (in this case) or their briefs in public.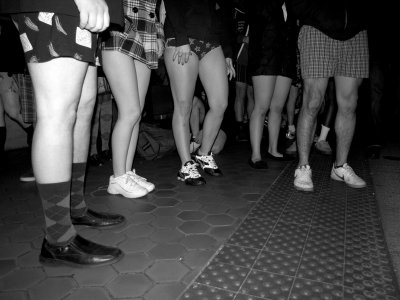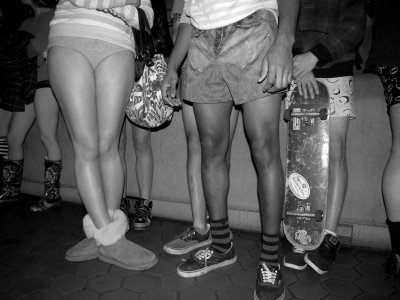 Waiting for a Red Line train to Shady Grove at Gallery Place.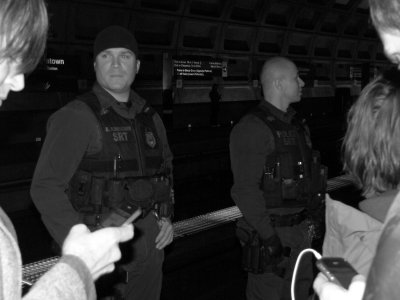 Transit Police was out and about while the group was still large in one place (we gradually dispersed into the Metro system), keeping people away from the platform edge. This annoyed me because they were getting in my way while I was trying to photograph the group. As serious of a WMATA nerd as I am, I know exactly where the edge of the platform is and how to behave on a subway platform. I don't need them to tell me to stay away from the granite edge. I know what I'm doing, thank you very much, so let me do that already.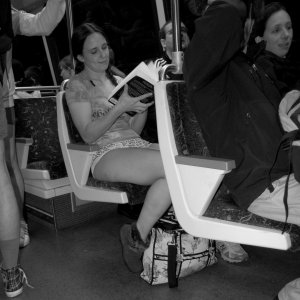 A woman reads a book while on Alstom 6027 (note the wool seat covers and gray floor).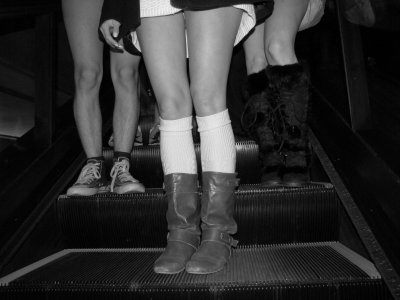 Riding down the escalator at Metro Center.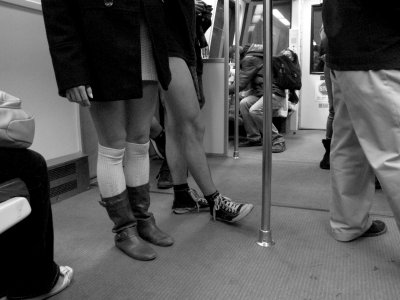 Standing around pantsless on Breda 2001.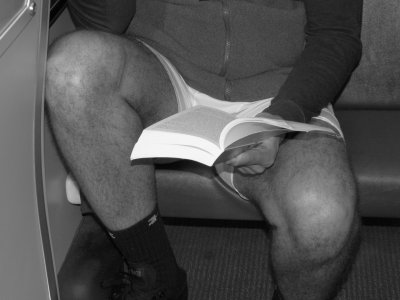 Reading a book while wearing only one's shorts on Breda 2001.
Getting off of Breda 2001 found us at Arlington Cemetery. Considering the warm January we've had, it was actually quite nice outside, and thus, unlike last year, outdoor Metro stations were feasible. The folks I was with also got a good idea of the good physical shape I'm now in, as I was able to sprint up the stopped escalator for the inbound side without a problem (Arlington Cemetery's escalators are a little longer than your average department store or shopping mall escalator)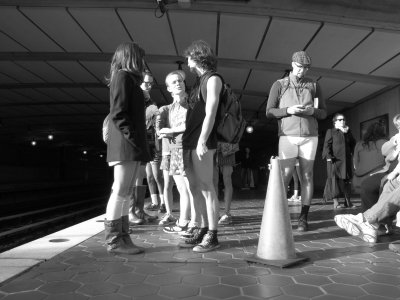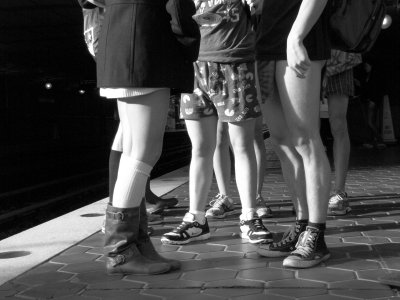 Waiting for the train at Arlington Cemetery.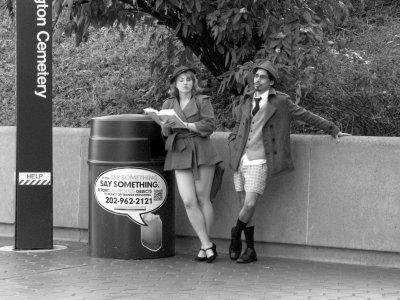 I loved this couple! I loved the hats and the fact that they were dressed up above the waist. In fact, coupled with how I was photographing in black and white, their outfits reminded me of what people wore in old movies.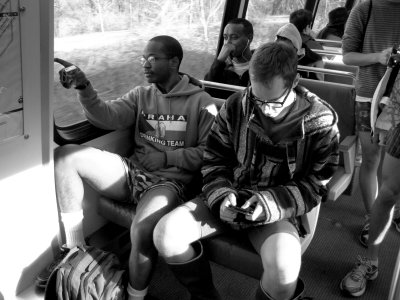 "Acting natural" on Breda 3244 on the way up to Rosslyn.
The plan at Rosslyn was to get off the Blue Line and then drop back one in order to catch the Orange Line. We ended up having 20+ minute layover at Rosslyn (due to all the single tracking going on). Our pantsless friends certainly made good use of the time.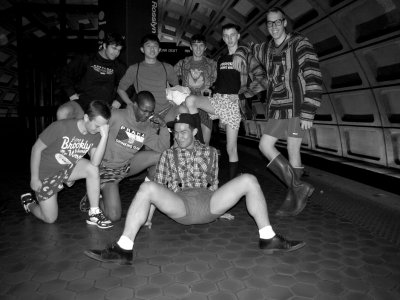 First, a group pose.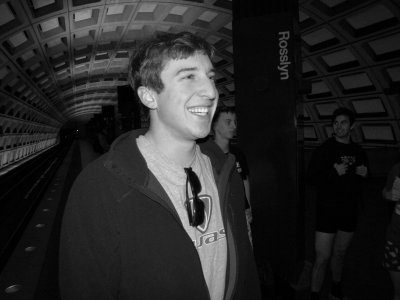 A bystander's reaction to seeing the group not wearing any pants.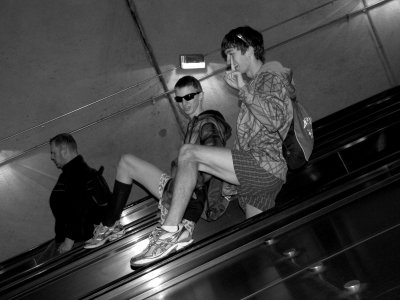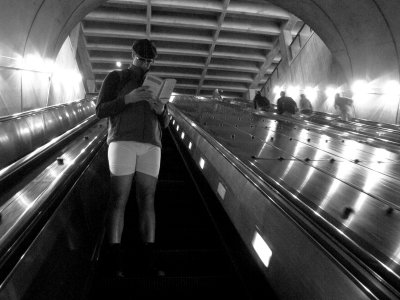 And then everyone took a lap around the big Rosslyn escalator. And for those I was talking to, I was slightly mistaken about escalator lengths. This is the source I was referring to, but I got Dupont Circle mixed up with Medical Center. So Rosslyn is longer than Dupont Circle, but I don't think by much. Dupont Circle definitely looks longer because it's in a smaller tube.
Then after this, we got onto an Orange Line train, stopped at Smithsonian to drop back one (there was a Blue Line train directly behind us), and took that to L'Enfant Plaza.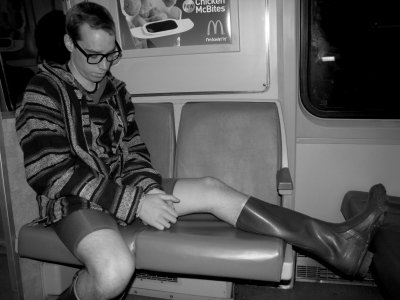 "Acting natural" on Rohr 1179 on the Blue Line heading to L'Enfant Plaza.
From L'Enfant Plaza, we took a Yellow Line train to Mt. Vernon Square, where Yellow Line trains were terminating (due to track work, trains couldn't terminate at Fort Totten). So we all got off there to catch a Green Line train to get to U Street to get to Nellie's.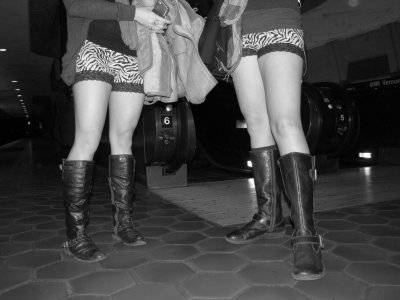 Two women stand around and "act natural" at Mt. Vernon Square.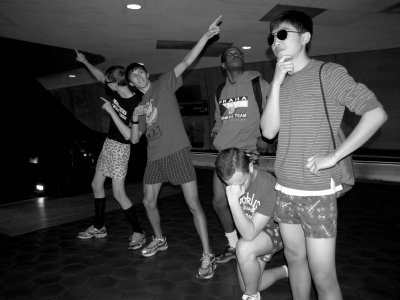 The guys, meanwhile, gladly hammed it up for the cameras.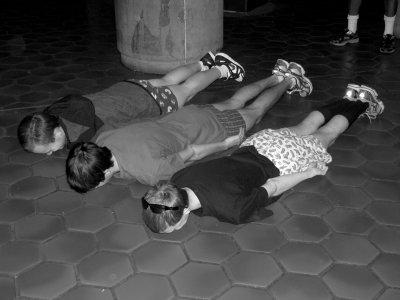 Planking on the Mt. Vernon Square platform. I guess someone had to do it.
And that was pretty much it. We caught Breda 4019 on the Green Line to U Street, and headed over to Nellie's. Considering that the place was packed to the gills (it was too small of a venue for our group), I didn't stay long. So I just caught the Metro back to Glenmont from U Street via Fort Totten.
So all in all, fun times. Maybe one of these days, I'll actually take my pants off for the ride. But I have so much fun photographing it, and I consider it bad form to be both a participant and a photographer…