This is the interesting part of all the photo work I'm doing on the site…
September 5, 2011, 1:28 AM
I made quite the interesting find while digging around for a few images. Take a look: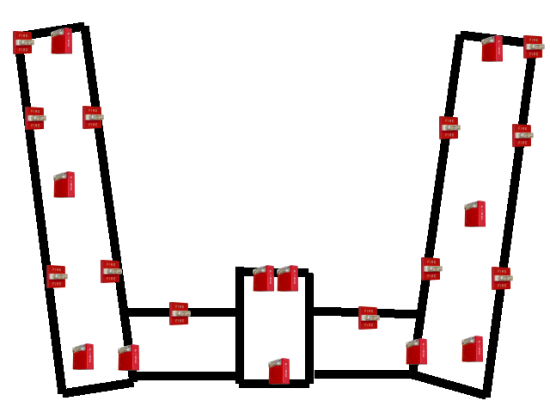 Apparently, at some point I mapped out the locations of all of the fire alarm notification appliances in Potomac Hall. The file date says March 28, 2003. Potomac Hall had Wheelock AS horn/strobes and Wheelock RSS remote strobes, and here's where they all were. The two wings were five stories each, and the alarm configuration on each floor was identical on floors 2-5, with three horns per floor in the hallways, and five remote strobes in the study lounges and restrooms. The first floor spanned both wings. There was a horn/strobe next to the door leading to the center pavilion on each side, then a remote strobe in the glass-enclosed corridors between the wings and the center pavilion, and three horn/strobes in the center pavilion.
Right off, I know that this map is missing remote strobes in the pavilion restrooms, as well as strobes in a few rooms that were equipped for the hearing impaired, along with a strobe in Mecca's bathroom. Additionally, I didn't show the panel, or the pull stations. All pull stations were located under horns, and all horns had a corresponding pull station. There were no stray horns and no stray pulls. Then the main panel was in a utility room on the first floor in the "B" wing (at right in this picture). However, there was a second panel next to the main entrance at bottom center in this diagram, in the center pavilion. That latter panel was accompanied by a graphic annunciator, and for all intents and purposes, was "the" panel, as most alarms were reset from there.
Still, I think I did a pretty good job on this diagram, if you ask me. I don't know why I made this diagram up, but I did seem to cover the main bases here.