"I feel braver when I'm holding a weapon!"
August 19, 2011, 10:37 PM
And now, back to Chicago following that little detour into complaining about pain. After all, I've only told you about half the trip!
On Saturday, we headed into the greater Chicagoland area – much further out than our hotel in Evanston. We actually went out to Lisle, Illinois, which is home to the Morton Arboretum. We went to the Morton Arboretum to participate in a Theatre Hike, where we see a play as we walk all around the arboretum. We saw a classic – The Wizard of Oz. Chris, my brother-in-law, was playing the Cowardly Lion. The whole day was a lot of fun from the moment that Sis and Chris picked us up at the hotel in their 1997 Saab.
First of all, Mom and I had never done much exploring outside the city, and so we were seeing the scenery, as we went through Skokie and a couple of other towns. We were also amazed to see how many companies had large corporate campuses in the greater Chicagoland area. It was something, all right. Plus we got to see Sis and Chris interact as they figured out where Morton Arboretum was and how exactly to plug it into their GPS. As it turned out, they had to Google it on Sis's phone since the address they had didn't work on the GPS, and so they navigated off the phone. Whatever works, I suppose.
Getting there, we drove in, and dropped Chris off. As today's show was the first performance of the play at the Morton Arboretum, they had to do a walkthrough and such before showtime. Then Mom, Sis, and I headed to a nearby Super Target to get some stuff for Sis and Chris's new place. We also were getting a towel for me to sit on during the play. Mom and Sis had those fabric lawn chairs, but those kinds of chairs always make me nervous, so I was going to sit on a towel.
I believe this marks only the third time I've been to a Super Target store. The only Super Targets near me are much further away than I'm willing to travel, in the outer Virginia suburbs. So the layout was a bit unfamiliar to me. Of course, one-story Targets are a little unfamiliar to me as well, because most of the ones near me are two-story, in Wheaton, Rockville, Gaithersburg, and DC. About the only ones near me that are single-level are the one on Cherry Hill Road near the PG County line, and then one up in Germantown (but that last one is pushing the meaning of "nearby").
So in this Target, the first thing we ended up finding was the towel. My mother and sister were just like okay-great-let's-continue about it, but if I was going to be sitting on this, I wanted to make sure it was the right size. So I tested it: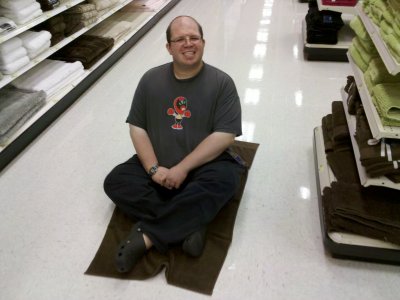 Yes, I did. Don't tell me that if you bought a towel specifically for sitting on that you wouldn't test it out before you bought it. You know you would. Of course, you are looking at the same person who, when buying a new bath mat a couple of years ago, laid a number of candidates out on the floor in the aisle to see how they looked. Mom also commented that in the photo of me sitting on the towel, it looked like I was about to fly away on a magic carpet.
Then after that, we found the home storage area and got some under-the-bed tubs. This was harder than it sounded, because there was no organization to this system. You found the container you wanted, but then you had to try a whole bunch of different lids until finding the one that fit. Not the most fun, especially after the third or fourth almost-but-not-quite lid. But we managed.
Then it was back to the arboretum, because it was almost showtime! One thing about being in an arboretum in the summer right after it rains, though, is that it's mosquito country. They were everywhere, and they were hungry little buggers, too. Despite the bugs-off spray that they gave everyone, I still managed to get bites all over, including one where I could feel them doing the bite. I have read enough about mosquitos to know that if the mosquito did their job properly, you won't even know you were bitten until long after the mosquito is long gone. If you feel yourself getting stung, then the mosquito is doing it badly. And the ones that do it badly get swatted at and don't get anything from me. Haste makes waste, after all.
But the play certainly made up for the zillions of mosquito bites that I got. It was awesome. First person we saw was the hike leader, who would be taking us on the theatre hike. See, unlike a conventional play where the scene changes around the audience, in a theatre hike, the audiences moves from scene to scene. On this, we were told to always follow the hike leader, and never the actors. The actors might not necessarily be going to the same place as we were, and thus why we should never follow them.
The play was in seven scenes, in different places around the arboretum. The first scene was Dorothy in Kansas, the tornado, the house's landing on the Wicked Witch of the East, and Dorothy's receiving the silver slippers (not ruby outside the movies) from the Good Witch of the North. Then we hiked to the next scene. There, we met the Scarecrow. Then in the next scene, we met the Tin Woodman, who wanted a heart, and then the Cowardly Lion, who wanted courage. And they were off to see the wizard!
On the next movement between scenes, we encountered the actors as they crossed our path. This is where we discovered that they had to stay in character when they encountered the participants, but since there was no script for these things, they ad-libbed it a little. We saw Chris, in character as the lion, holding up the Tin Woodman's axe, about which he said, "I feel braver when I'm holding a weapon!" I just lost it right there, since that was hilarious. Then a little later, the actors found a shortcut. Chris said, "Look! A short cut! Let's go! Just you three [referring to the other actors], not the rest of you." After all, we were given strict instructions never to follow the actors. Still, I was thoroughly amused.
Then in the next scene, they encountered the Wizard for the first time. Each put on a pair of green sunglasses, and the Wizard appeared to each of them individually, saying, "I am Oz! What do you want?" Then after hearing each one's request, he instructed them to kill the Wicked Witch of the West. However, the Wizard took a different form for each of them. To Dorothy, Oz appeared as a large, green head, similar to some of the street puppets I've seen at political demonstrations. Then for the scarecrow, the Wizard appeared as a woman wearing what looked like a white tunic or something or other. For the Tin Woodman, the Wizard appeared as a monster with a green head and no shirt. And then for the Cowardly Lion, the Wizard appeared as a ball of flame (which was obviously not real flame, but rather something that they constructed and held out with a stick). So they had their commands, and it was off to the west with them! So we all hiked to the next scene, where the Wicked Witch of the West lived. That scene went surprisingly quickly. The witch told Dorothy that her friends had all been transformed into something, she took one of Dorothy's shoes, and then Dorothy doused the witch, and the witch melted. Then everyone came out, the flying monkeys were freed, and then it was back to the Wizard, and we hiked back to the location of the previous scene.
Thinking about the #5 scene again, it kind of reminds me of Super Mario Bros. 3. After all, in that game, every boss round starts out with this line: "Oh, it's terrible! The King has been transformed! Please find the Magic Wand so we can change him back." Then they battle the cannons and then take on the boss. Once they defeat the boss, Mario gets the wand that turns the king back, who says, "Oh, thank heavens! I'm back to my old self again. Thank you so much. Here is a letter from the Princess." See how the witch scene reminds me of that a little? Dorothy comes in to find that her friends have been transformed. She defeats the witch (albeit by accident), and then Dorothy's friends are back to the way they used to be, and they can advance.
Then the next scene was back at the Wizard's place. This is where they find out that the great and powerful Oz is actually an ordinary man, or as Dorothy called him, a "humbug". But Oz still managed to make things better, as he first tried to get the scarecrow to realize he was smart without a real brain, though, failing that, put some bran cereal in the Scarecrow's head, then found a way to make the Tin Woodman feel like he had a heart, and helped the Cowardly Lion find courage. Dorothy, meanwhile, was referred to Glynda, the Good Witch of the South, for assistance. And for that, we headed back to where we started in the Arboretum. Glynda helped Dorothy get home, and from there, the play soon ended.
The play was certainly a lot of fun for all involved. Seriously, all of us in the audience had a great time, and you could tell that the actors were having a great time, too. There was a lot of ad-libbing in this production, as I learned that the language in the original play was far more formal than this group's interpretation of the story. We got lots of laughs throughout this play, much of it attributable to the ad-libbing. It was great! If you're ever out in the Chicagoland area and can go and see a Theatre Hike, you should. They're a lot of fun. Just remember to bring bug repellent spray along, because you will certainly need it. I was covered in bites by the end of it. All very much worth it.
Then afterwards, we headed back to Chicago, following the CTA Blue Line for part of the way, before heading north to Rogers Park. This time, they were able to use the GPS, because they knew how to phrase their destination in the GPS going back. I was amazed to see that they had a system for paying on the various toll roads in Illinois. In the Saab's center console was a coin holder, and so when it came time to pay a toll (and we paid about five or six, all less than a dollar), they just pulled out the requisite amount of change, and either gave it to the toll collector or threw it in the basket. No problem. I can't do that in the Sable because the coin holder is in an insanely hard to reach spot. Plus just about all of the tolls around me are more than a dollar anyway.
Getting back to Rogers Park, we hung around for a while, and then Chris left for work. Then Sis took us to the Heartland Cafe for dinner. That was fun. The atmosphere was great, the food was great, and afterwards, we got to check out the adjoining store. That was fun, and as it turns out, the "Help Wanted: Revolutionaries!" magnet that I have on my refrigerator came from this place.
Then after this, we parted company and Mom and I headed back up to our hotel in Evanston. This, our third day in Chicago(land) was a lot of fun, but certainly tiring! Back at the hotel, we took some time to get our luggage ready, and then got some much needed shuteye.
One more of these entries about Chicago, by the way, and I'll have it all.
Web site: ChrisLysy.com, the Web site for by brother-in-law, Chris Lysy
Song: Don't really have one today. Go fig.
Quote: By the way, on an unrelated note, we have officially turned a corner on converting Schumin Web to WordPress. The skin is complete, and I've got all the plugins that I want, and so now it's time to start converting content. This will be a months-long process, since I have fifteen years' worth of content to convert, and due to the image restoration work that I'm going to be doing along with it, it all has to be done manually. But sometimes doing it manually is best, because this way I know it's being done right, plus I have a lot of links that will need to be updated. Still planning out the order that I'm going to convert things so that (A) I don't get bored with it, and (B) I'm not linking to content that hasn't been ported yet, but I'm sure I'll figure it out. I'm good at figuring stuff out.