And fun was had in Chicago, too!
August 11, 2011, 6:10 AM
So before you think that all I did in Chicago was fight with CTA employees, I did a whole slew of other things in Chicago that were fun. First of all, the train trip over was interesting, as Mom and I shared a lower level Superliner I roomette on the Capitol Limited. That was certainly a different experience from before. Each time we've traveled before, it's been on the upper level of the rail cars. The view isn't that much different, except that you are just about at eye level with people in the stations that you go by, and your window doesn't necessarily get above the sides of a few bridges. But otherwise, not bad.
And the Superliner I sleeper that I was on had been slightly refurbished. First of all, the three reading lights in the room were all LED (oooooh, ahhhhh), plus the panels above each seat had been refurbished. Take a look:
As you can see, the attendant call button is now touch, as are the new reading lights and the room lighting controls. About the only thing that's not touch is the heat control, which was still a knob, though that was a moot point on this trip, since we took it in the summer, when the A/C earned its keep (and it certainly did).
Then when we arrived, we took a cab to the hotel in Evanston. That was the subject of an interesting discussion on text-message with Sis. I wanted to take the "L" to Evanston, since it cost less than a cab out there. Mom wanted to cab it, not wanting to deal with luggage on the "L". We ended up cabbing it. And I think I got "pwned" in the end. Basically, I told Sis that Mom said we were cabbing it, and then she said that Mom was right and I should listen to her because taking the Purple Line would be silly. When I said, "Hey, whose side are you on, anyway?" she replied, "The side of not being stupid and wasting time?" Then Mom commented that Sis always hits the nail right on the head. Dammit, I got pwned on this one. But whatever, because it was funny.
Then when we got to the hotel (Hilton Garden Inn in Evanston), we got room 218, which was one of the wheelchair-accessible rooms. I was kind of excited to see this: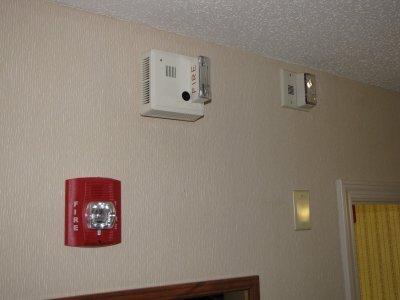 Yes, that is three, count 'em, three strobed appliances in a row on the wall in our room. Plus there was a Simplex TrueAlert strobe in the bathroom (didn't get a picture of that – sorry). Best I can tell, from left to right, we had a System Sensor horn/strobe that represented the building's fire alarm system, though why we had a System Sensor horn when the building's system was otherwise Simplex is a mystery to me. Then the second one is a Gentex smoke detector with strobe (I want some of these, by the way), which was the room's individual smoke detector. And then I believe that the third is an Edwards chime/strobe, which I believe was connected to a doorbell we saw outside the room, but that I couldn't get to work. Maybe that system was busted, or maybe I just wasn't smart enough to figure it out, but hitting the doorbell in the hallway as the instructions said did nothing inside the room.
Then later on, Mom and I headed to the Magnificent Mile. Mom wanted to see the Marilyn Monroe sculpture, and so we saw it: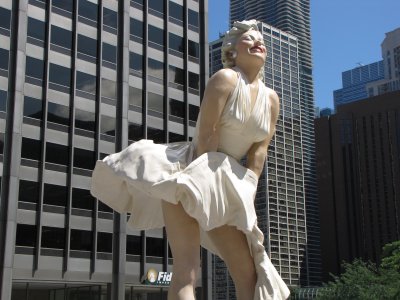 Then I got Mom to pose with it: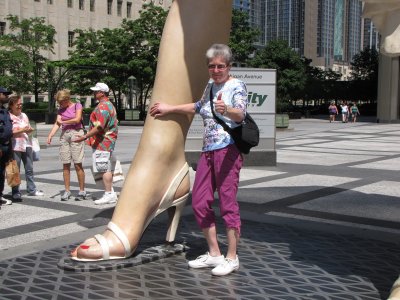 Then I posed: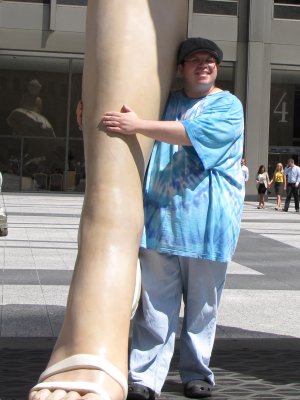 This is also where Mom noticed that the clothes I was wearing looked too big on me. This was a good thing, I suppose, since I have been minding my figure, and these clothes did fit when I bought them, but apparently not so much anymore now that I'm smaller (55 pounds and counting). It does, however, mean I have to break down and actually spend money on new clothes…
After spending some time going around in the Magnificent Mile, we headed down to Millennium Park, where we saw the bean.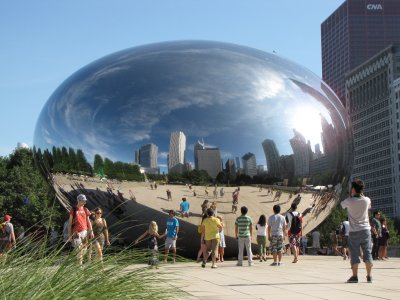 I love the way you can see the reflection of the skyscrapers and such off of the bean's surface. I also tried to get some photos of people playing with their reflections on the bean and such, but the results were kind of so-so. I want to get a Photo Feature out of it, but we'll see, I suppose. But here I am taking my own photo on the bean: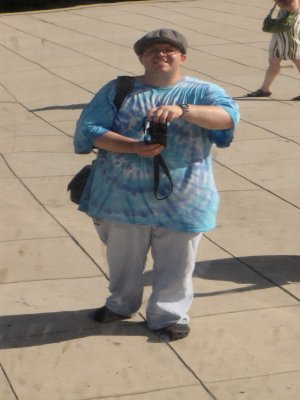 This photo is really what confirmed it for me, finding out that yes, my clothes were a tad too big now, and I needed to go shopping.
Then we met up with Sis and Chris at the bean. We went from there to a Noodles & Company, where we had dinner. We have these in DC, though I had never been to one before. I would describe it as "okay". It wasn't amazing, but it wasn't bad, either. Plus fast food is a bit of a no-no anyway these days, but sometimes you've got to do that.
Chris then had to head off to work, and Sis took us up to Rogers Park and showed us their new place. I have this to say about it: It is very nice. It has all wood floors, it's quite spacious, and after making fun of the photos of their monkey-themed bathroom earlier, I actually ended up finding the decor to be kind of fun. That'll show me, I suppose.
Let me end this here for now. I have more to show you, but not enough time to show it all without the result looking like I did it in a hurry. So more to come – stay tuned!