With the president of Egypt gone, the people rejoiced.
February 12, 2011, 11:51 PM
It's been all over the news by now, of course, but the reign of (now former) Egyptian president Hosni Mubarak has come to an end. And as it turns out, my prediction was spot on. Back on February 1, Nicole Sandler tweeted this:
Does anyone really think the #Egyptians will allow Mubarak to stay in power until Sept elections? Me neither

I retweeted Nicole Sandler's tweet, and then replied:
@nicolesandler Honestly, I doubt that Mubarak even lasts two weeks, let alone until September. #egypt

I said less than two weeks, and ten days later, he abdicated. It was one of those things, I believe, that we all knew was coming but were surprised to see actually happen.
Ahead of Mubarak's resignation on Friday, there were plans for a demonstration in front of the White House on Saturday afternoon. This was to be a solidarity rally for the Egyptian people – a we-support-you kind of effort. Then Mubarak resigned. That blew that event out of the water, and the Facebook event where it was originally announced was all of a sudden moved from the White House in Washington DC to the United Nations in New York City, and restyled as a victory celebration.
Personally, I wasn't about to drop everything and go up to New York City on 12 hours' notice. Not happening. I commented on the Facebook page that I was still going to the White House, and that I would bet others would also be going, because we didn't want the Obama administration to think that they were off the hook. I also had a backup plan, as there was a new event, announced Friday, going on at the Egyptian embassy in DC on Saturday afternoon.
So on Saturday, I headed over to the White House, arriving a shade after 1:00. And what was going on when I arrived? Nothing. Check it out: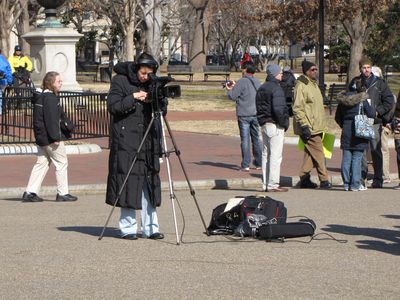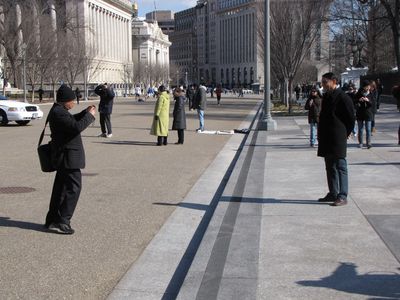 Nothing going on except the usual groups of tourists passing by, getting their photos taken in front of the White House. I even helped one man get a photo of himself and his mother in front of the White House.
As I was getting ready to leave to go to the embassy demonstration, a group with a large banner from Amnesty International USA showed up: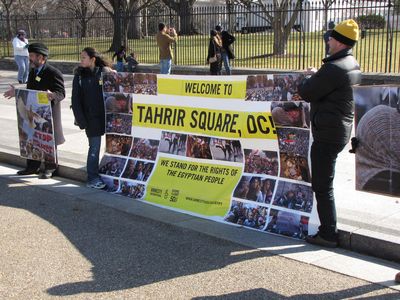 At last, some action on the topic I wanted to cover appeared. However, this wasn't the kind of demonstration I wanted to cover. I wanted something that looked a little more homemade, and that looked a little more grassroots. I wanted to see the Egyptian community in DC come out.
So I headed out as I was about to do earlier, and took the Red Line from Farragut North to Van Ness. That was a strange feeling, since I drive through that area way more often than I visit it on foot. But visiting on foot was good. And the GPS on my phone led me straight to the Egyptian embassy. Let me tell you, it was great.
Arriving at the Egyptian embassy, I could immediately tell that this was the demonstration I was looking for: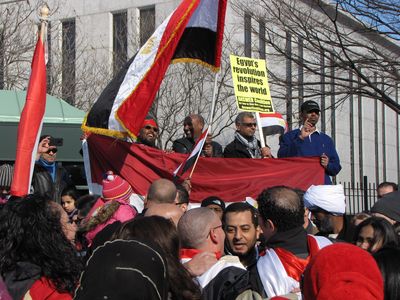 This was a demonstration that I wished we could see more of. The people were absolutely thrilled that Mubarak was no longer in power, and were waving the Egyptian flag proudly. Everyone was happy, and people were smiling brightly, most notably this gentleman, waving the Egyptian flag: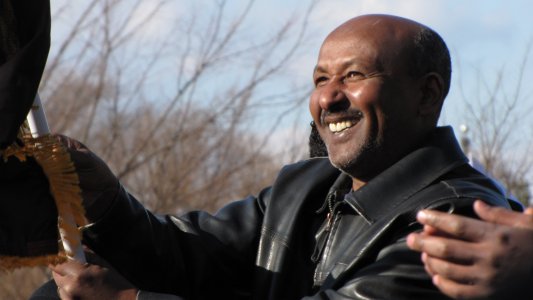 You could tell at a moment's glance that this man was just beaming with pride over the recent developments in Egypt.
Otherwise, the demonstration was quite happy, as Egyptian music was playing, and people were dancing and celebrating in the street: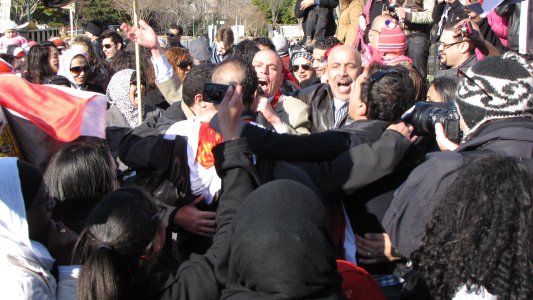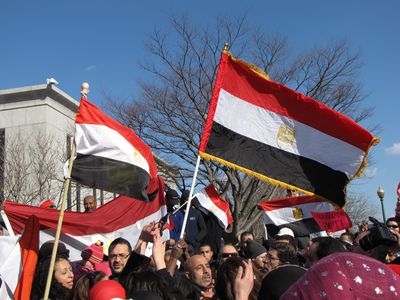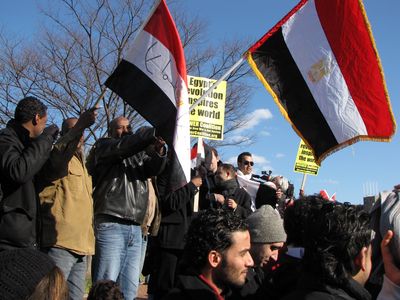 Then at one point, participants were asked to have a seat, in order that a two-minute moment of silence could be observed for those who had lost their lives in the struggle: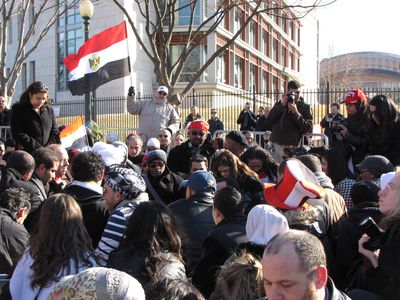 All in all, it was a great demonstration. We need more victories for free speech and the free flow of information like this. I wasn't as pleased about my photos as I would like, however, and I consider that a function of the was this demonstration was set up. The police at this event, whom I didn't recognize (they weren't MPDC officers), kept the people packed in tightly with barricades cordoning off the area where the demonstration was to occur. When the crowd got larger, they would move the barricades back a little, but it was still really tight in there. I don't see why they bothered with the barricades, though, since they had the whole street blocked off to vehicular traffic at the intersection with Van Ness Street. Then the police told people that they had to be inside the barricaded area or on the sidewalk across the street, in order to not block the street. What's the point of not blocking the street when the street was closed to vehicular traffic? Dumb, dumb, dumb, but no one challenged it, because the celebration was more important than splitting hairs with these officers that probably don't see that many demonstrations in the course of their duties.
Then other than the main demonstration, there was one person from Code Pink in attendance, holding up a simple "congratulations" sign: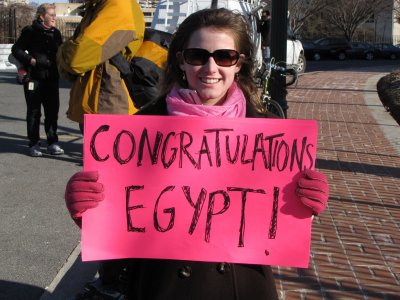 And then of course, ANSWER had to butt in where it wasn't needed: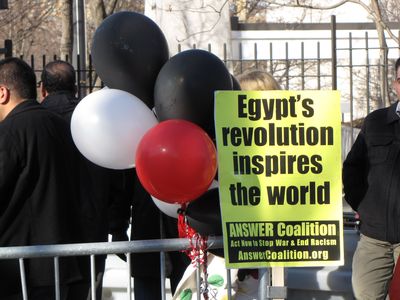 A man was handing out blue ANSWER flyers to everyone who arrived, an ANSWER sign was attached to the barricade, and they managed to hand out ANSWER signs to some of the demonstrators. If I didn't know better, I might be inclined to think that this was an ANSWER demonstration. I, however, do know better. I know how much ANSWER loves to hijack other groups' demonstrations by smearing its own name and pet issues all over other people's events, and trying to tie the Egyptians' revolution to issues related to Israel and Palestine. And this, among other things, is why ANSWER is held in such low regard by real anti-war activists, and why I have described them as "the Walmart of protest movements". But enough about them.
Now, though, the real work for the Egyptian people is beginning. After all, they got rid of the guy that they didn't want anymore. Mubarak, who took office when I was only four months old, is now out of power. Now they have to work together to craft the government that they want, because if left untended, they could end up with someone worse than Mubarak, and no one wants to see them go down that road (except maybe the folks at Combined Systems International of Jamestown, Pennsylvania, who supplied the American-made tear gas that was used on the Egyptian demonstrators).