So Schumin Web turns fifteen in a month and a half. How to celebrate…
February 4, 2011, 9:58 PM
Believe it or not, on March 23 of this year, Schumin Web turns fifteen. I think I've been tossing around ideas in my head about how to properly celebrate the fifteenth anniversary since the fourteenth anniversary last year. And unfortunately, I'm still at a bit of a loss about what to do for it. I've thought of a few things that have been through various levels of experimentation, but nothing really workable came out of it.
First of all, does anyone remember the tenth anniversary celebration? The Photo Feature was changed to this graphic: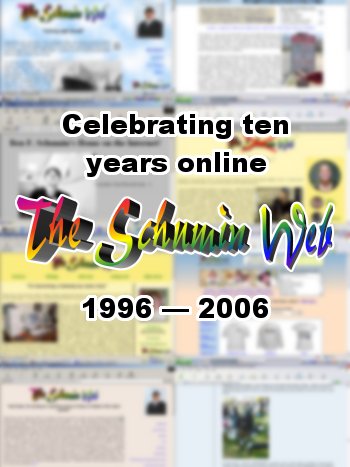 And then the "Celebrating ten years online" tagline was also run in place of the site's URL on the header for a full year before being changed back.
However, I believe that fifteen years is even more special than the tenth. For the fifteenth anniversary, you see, this Web site will have been around for more than half of my life. Fifteen years of Schumin Web updates. More than ten years of photo sets. The Journal turns eight this year. It's pretty special.
So for that, I want to make the site look extra special. Should I replace the URL in the header with a tagline again? Should I add a few extras to the logo for the anniversary? Should I recolor the logo? I also did some research on what kind of gift the fifteenth anniversary is. It's crystal, or, alternately, glass. Hmm. What to do is the question, but a lot of stuff has fallen flat. If you have any ideas, I want to hear them…
Then of course, I want to do a little celebration of the anniversary in real life, too. Celebrating online is all well and good, but then there's also the matter of a little fun on the town. March 23 falls on a Wednesday this year. That's perfectly fine with me. I don't like going out to bars on weekend nights, because the places get really crowded, and the noise level goes up – enough to where you have to shout to talk to the person next to you, and it becomes hard to hear. Having a celebration on a weekday night is fine by me because the fact that there's work the next day slows the beverage intake a bit, thus keeping things a little calmer while still providing a small, satisfying buzz, plus the bars are less crowded, which means there's a better chance that I'm the loudest one in the room, and that we don't have trouble hearing each other over the din of huge crowds of other patrons.
So… with a month and a half to go until a very significant anniversary, I believe we all need to think a bit about this. Let me know how you would embellish the site for a fifteenth anniversary. Also, if you're in the DC area, let me know what bars in the Dupont Circle/Adams Morgan/Logan Circle/U Street area have the best margaritas for your buck, and are relatively quiet on a Wednesday night.
Web site: Traditional and Modern Anniversary Gifts
Song: "Movie star... movie star... look at me... I can be... a movie star..." (from Today's Special)
Quote: Meanwhile, unrelated question: Do I really have to fill out all the forms about my interests on those dating sites? It seems like the easiest and most painless (for me) thing to do is just refer people to Schumin Web for all of these things, since it all seems to flow more naturally on here, rather than the somewhat-forced nature of the dating sites. That or I'm too bloody shy to even fill out the profile. Why is this so hard? This might help explain why I haven't had a girlfriend since 1998. The idea of asking someone out on a date terrifies me.