I never thought someone would actually want to work in a purple office…
December 23, 2010, 6:27 PM
So I saw a chiropractor today for some neck and lower back pain that I'd been having lately. I chose to see a chiropractor as opposed to a regular doctor because of a couple of matters that happened some years ago. In the summer of 2001, I had a bout with some pretty severe lower back pain. I saw a regular doctor about it, and they prescribed muscle relaxers, which did nothing except cost money. Then one day in March 2002, after months of the back pain coming and going, I sat down on my couch in my old Potomac Hall dorm room, and… *pop* – instant relief. The pain was completely gone. I don't think I had felt that good in a long time. Went from about a six on the 1-10 pain scale to ahhhhh in one short second.
So when my neck started feeling a little stiff a few months ago, as well as some lower back stiffness when standing for extended periods (like at demonstrations and such), remembering that feeling of relief from a while back, I started doing some research on chiropractic. I read up about what it entailed and what it was about, and also went on Quackwatch to see what kinds of red flags to look out for. I read plenty of horror stories about chiropractors who did way more adjustments on people than were necessary, who routinely x-rayed when it wasn't necessary, and pressured patients with a lot of hard-selling.
So having done a whole lot of research on what to look for and what to look for as warning signs, I started looking for chiropractors in the Wheaton area. Ultimately, it came down to Dr. Peter McPartland and Wheaton Chiropractic. Both facilities took my insurance. While McPartland was closer to my house and within walking distance of Glenmont station, I ultimately chose Wheaton Chiropractic for a few reasons. First of all, McPartland was a storefront office at Glenmont Shopping Center, while Wheaton Chiropractic was in a medical office building (Forest Glen Medical Center). Then on McPartland's new-patient forms, which were available for download, I read this passage: "This is to certify that I am not pregnant and Dr. Peter McPartland or Staff has my permission to take x-rays of me." Compare to Wheaton Chiropractic, which said, "Current research does not support routine imaging, especially for uncomplicated cases. We are conservative about ordering studies for patients, and will order them only when clinically indicated." That was the grabber there – one asked for blanket permission up front to x-ray, and the other one said they wouldn't x-ray at all unless it was really necessary. So I went with Wheaton Chiropractic.
The appointment was pretty straightforward. I got there a few minutes early, and was greeted with purple. Lots of purple. The walls were this medium purple color. The receptionist was wearing purple scrubs, even. So I filled out my forms and gave them my insurance information. Then they took me to an exam room. It was purple, too. It had two chairs in it, and a flat, padded table. I sat in a chair while waiting for the doctor to come in.
While I was in there, I hit the Twitter. I took a picture of the exam room, and posted it to Twitpic with a comment: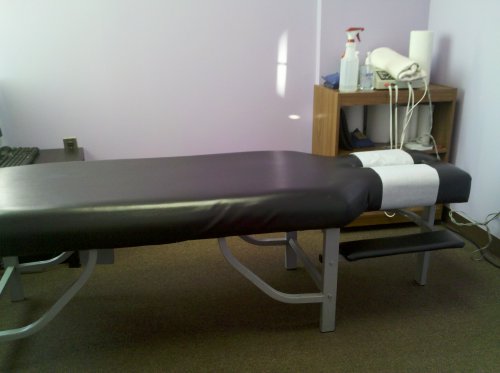 First visit with a #chiropractor: http://twitpic.com/3iua0g A little #nervous, to be honest.
And admittedly, I was a bit nervous, because I had never had a chiropractic adjustment before. So the doctor came in (wearing a purple dress shirt, to match the rest of the office, I suppose), we discussed my issues, then he looked at my movement, noticing some restriction in the places I'd mentioned, particularly in my neck, and felt the muscles and joints in those areas as well.
By the way, it should be noted that until today, I never realized how sensitive my lower back is to touch. I am very ticklish there! No one was more surprised than me, that's for sure.
After the exam, the doctor made his determination of where adjustments needed to be made, but first they were going to do some electrical muscle stimulation. So the receptionist came in and placed the electrodes on my back, and then placed a heating pad over it all. All in all, once we got the device calibrated, we were good to go, and it felt quite pleasant. I didn't realize, however, that she only turned on the upper back set at first. I thought they were both on, and I was only feeling one set because the other was turned down low. I mentioned this, and she indicated that she hadn't turned it on yet. My response was, "Well, that would explain why I couldn't feel it," and gave a chuckle. Then we got the lower set calibrated, and I was good to go.
After the machine was finished, the receptionist took the pads off, and the doctor came back in. He had me lay down face-down on the table, and went to work. The biggest single improvement came from the neck adjustment. One *pop* on the right side of my neck, and I felt so much better. That location was one where I had tried in the past to stretch a bit and couldn't get any relief. This took care of that. Then the doctor headed down and did the upper back, and then had me turn on my side for the lower back.
Let me just say that everything felt really good afterwards. My neck in particular hasn't felt this good in a long time. Instant results, and no stupid muscle relaxers that don't do anything.
Another thing – it is very good to do a lot of research ahead of time. I did my research, and I knew what to expect going in. Thus my questions were very specific. The only surprises were exactly how good the adjustment felt when it was all done (better than expected), and what the electrical stimulation felt like. On the electrical stimulation, I was expecting something like the electric back massager that the aqua-massage folks tried to sell me years before at Pentagon City Mall. Those devices were electrodes placed on the back that provided a sharper stimulation, feeling very percussive. This was more of a gentle tingling feeling.
And lastly – as far as future appointments, these folks said to come back as I feel I need it, i.e. not necessarily coming three times a week for some months. Just as necessary. Works for me, since I wouldn't be able to schedule time for that many adjustments. It's always a question of whether to go with appointments near home or near work, and the only thing about appointments near home is that they do require extra time to get back out to Maryland from my Dupont Circle office, but they're convenient if I want to just take the whole day off and leave from the house (today was the latter – my office was closed for Christmas).
So there you go, I suppose. I feel much better now than I did before. We'll see how long I stay aligned, I suppose.