You know it's something seriously Metro-geeky when I pull out the safety vest…
December 4, 2010, 12:23 AM
And it is. Take a look: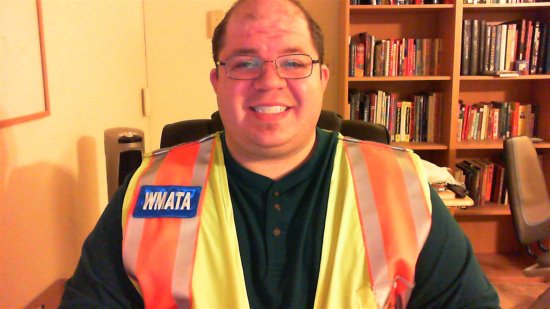 See, we did our annual office trivia contest on Friday, in the usual format. The way that works is that I ask a question, and the first person to get it right wins a prize, which comes from whatever freebie stuff we get over the course of the year. The topics are something I pick. In 2008, it was United States Presidents. In 2009, it was United States geography. In 2010, after complaints that I made the geography questions too easy, I went for something a little harder, yet something that people around here should know more about than they do: the Metro. Thus why I pulled out the safety vest. After all, if one is going to do a trivia contest about Metro, one should at least look the part. Thus I wore my WMATA safety vest at work when I hosted trivia.
It's funny – people complained that I low-balled the geography questions last year (and rightly so – I did make them fairly easy, opting for speed over challenge). However, this one scared a few folks, and scared enough that they expressed some apprehension about it being too hard before ever seeing a question. I sent out a lot of study materials on this one, including WMATA's history page, the rail map, as well as John Cambron's track schematic. Then I also did a lot of stuff that had been in the news. Then to calm people's nerves on the questions, I gave a few cheat sheets for use in play: the system map, and the track schematic.
Ultimately, I came up with fifty questions about Metro. I figured that fifty would cover any problem scenarios I could think of: a question that totally stumps the group, more prizes than I expected, and an accidental premature answer reveal on the PowerPoint. On that last point, we have a "Smart Board" in our conference room, and in 2008 I discovered during the whole event that touching the board's surface was equivalent to a mouse click, and I accidentally revealed an answer or two prematurely.
So here are the questions. See how many you can get. I am placing the answers down in the "song" section of this entry, so if you want to test yourself, don't scroll down that far unless you really mean it.
1) How many rail stations does Metro have?
2) What year did Metrorail start service?
3) What is the only station to be built between two existing stations?
4) What transfer station on the Green and Yellow Lines is built half underground and half above ground?
5) What Red Line station did not open with the original Metro opening due to lack of disabled access?
6) Who is the Metro headquarters building named after?
7) What Blue Line station in Prince George's County was originally planned to be named Summerfield?
8) What day was Metro's highest ridership day in its history?
9) What day was Metro's highest Saturday ridership day in its history?
10) Which of these terminal stations can a train not reach going forward from New Carrollton? A) Vienna, B) Shady Grove, C) Greenbelt, D) Huntington
11) What station served as the eastern terminal for the Blue Line from 1980 to 2004?
12) SmarTrip was first introduced in what year?
13) Transit Police officer Marlon C. Morales was fatally shot at what Green Line station?
14) What station is the only place on Metro where the station's ceiling arches run perpendicular to the trains?
15) The longest escalators in the Western Hemisphere are located at what Red Line station?
16) Which Red Line station is the only station in the system to have an elevator-only exit and no escalators?
17) The 5000-Series of rail cars, manufactured by CAF, were introduced in what year?
18) A non-fatal train collision occurred on November 3, 2004 at what Red Line station?
19) Who began serving as Metro's General Manager from 1996 until being dismissed by the board of directors in 2006?
20) Randi Miller is best known for what role on Metro?
21) The Charles R. Fenwick Bridge carries which rail service over the Potomac River?
22) From 1995 until the opening of the Green Line's mid-city segment in 1999, the Green Line Commuter Shortcut allowed Green Line riders to travel between Greenbelt and what Red Line station without transferring?
23) Yellow Line service was extended during off-peak hours from Mt. Vernon Square to Fort Totten on December 31 of what year?
24) Silver Spring and what other Red Line station feature a curved platform?
25) What station, in 1983, was the first to be opened outside the Beltway?
26) What station is the only end-of-line terminal to be located underground?
27) National Airport and what other station contain three tracks?
28) What station originally had "Visitor Center" in its name?
29) What station was closed every year on July 4 from 2002 to 2008 due to its entrances being located within the secured area on the National Mall?
30) Westbound Red Line trains regularly terminate at Shady Grove and what other station during rush periods?
31) Heading east on the Blue or Orange Line, what station is the last to be shared between both lines?
32) How many doorways are on each side of a rail car?
33) How many inches of snow has Metro indicated must fall to cause Metro to suspend rail service on the above-ground portions of the system?
34) Metro Interim General Manager Richard Sarles worked at what northeastern US transit system prior to joining Metro in April 2010?
35) What station is the only one to serve four of the five Metro lines?
36) Which Blue Line station closes earlier than any of the others in the system?
37) What is the maximum number of cars that a Metro train can contain?
38) The first cars to have an exterior advertising wrap were CAF 5048 and 5049, in 2005. What company was the advertiser on those first wrapped cars?
39) Which rail line runs for several miles in the median of Interstate 66 in Virginia?
40) Which station is the only one where photography is illegal?
41) Which rail line does not have any stations extending beyond the Capital Beltway?
42) Which rail line does not currently serve Maryland?
43) Which of these terminal stations can a train not reach going forward from Franconia-Springfield? A) Huntington, B) Vienna, C) Greenbelt, D) New Carrollton
44) Which station is not located near Georgetown? A) Rosslyn, B) Dupont Circle, C) Clarendon, D) Foggy Bottom-GWU
45) Metro eliminated paper bus transfers in January of what year?
46) The Paul S. Sarbanes Transit Center is being built adjacent to what Metro station in Montgomery County, Maryland?
47) What station contains a fully automated, self-cleaning restroom?
48) Which station contains a disused pedestrian tunnel from its mezzanine to the street?
49) The first rehabilitated Breda cars began revenue service in what year?
50) Following the June 2009 Red Line collision, which car series is only run in the center of trains?
So how do you think you did? Scroll down to the "Song" section below to find out.
All in all, we had fun, and I got applause afterwards for my efforts. I was surprised a number of times about who got what answers. One person really knew stuff about Prince George's County stations, and nailed just about every question about stations in PG County. The only question that totally stumped everyone was #6, about the Metro headquarters building, and then I had to make #19 into a multiple-choice on the fly to help people out a little. I was amazed how easily I was able to pull the names of Metro General Managers out of somewhere like I did. And people really did appreciate the maps and the track schematic, and referred to them periodically to narrow some questions down.
Web site: Building the Washington Metro. I love this site, though unfortunately, I wasn't able to mine any good questions from it...
Song: Answers: 1) 86 stations. 2) 1976. 3) New York Ave-Florida Ave-Gallaudet U. 4) Fort Totten. 5) Gallery Pl-Chinatown (called "Gallery Place" in those days). 6) Jackson Graham, Metro's first General Manager. 7) Morgan Boulevard. 8) January 20, 2009 (Obama inauguration). 9) October 30, 2010 (Stewart/Colbert rally). 10) C, Greenbelt. 11) Addison Road-Seat Pleasant. 12) 1999. 13) U Street/African American Civil War Memorial/Cardozo. 14) Anacostia. 15) Wheaton. 16) Forest Glen. 17) 2001. 18) Woodley Park-Zoo/Adams Morgan. 19) Richard A. White. 20) The "doors closing" voice. 21) Yellow Line. 22) Farragut North. 23) 2006. 24) Brookland-CUA. 25) Huntington. 26) Glenmont. 27) West Falls Church-VT/UVA. 28) Union Station. 29) Smithsonian. 30) Grosvenor. 31) Stadium-Armory. 32) Three. 33) Eight inches. 34) New Jersey Transit. 35) L'Enfant Plaza. 36) Arlington Cemetery. 37) Eight cars. 38) McDonald's, advertising the Fruit and Walnut Salad. 39) Orange Line. 40) Pentagon. 41) Green Line. 42) Yellow Line. 43) B, Vienna. 44) C, Clarendon. 45) 2009. 46) Silver Spring. 47) Huntington. 48) Pentagon City. 49) 2003. 50) 1000-Series (Rohr).
Quote: A number of questions kind of amazed people. First, many people were surprised to see what Randi Miller looked like. Some people didn't realize it really was a real person behind the voice and not a computerized voice. Then a lot of people forgot about the McDonald's wrap, with one person fairly certain that Chevy Chase Bank was the first (it was an early advertiser, but not first). Additionally, a lot of people didn't realize that the Exeloo automatic toilet existed at Huntington. I remember when a few of us got the toilet seat to come out for the camera, and then another time when I deliberately overstayed my welcome to see exactly what would happen (for the record, the alarm startled me). And then many didn't realize that the door and round windows at Pentagon City went to an abandoned pedestrian tunnel - about the only disused element of a WMATA station (though Arlington County owns and maintains that tunnel - not WMATA). So all in all, a fun time was had by all.