At last, we got one more 51 in the evening…
September 6, 2010, 1:27 AM
I just received the most wonderful news. Turns out we're going to see a little more of this: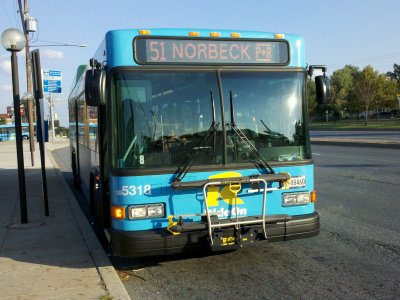 All of us who ride the 6:40 51 bus from Glenmont, which was previously the last 51 of the night to Norbeck Park and Ride, got what we had been asking for: one more 51 in the evening. This affords me a little bit more flexibility with my schedule in the evening, since now there's one more 51 bus after my regular 51. The new last-51-of-the-night leaves at 7:05 PM. I can handle that. This way, if I have something unexpected come up at work or if Metro decides to get the hiccups, I can avoid the Y bus. This is a welcome development.
There's also an extra 51 to Glenmont at the end of the morning rush period, though that's not quite as important to me as that last 51 in the evening. However, it's good to see that there's an extra 51 in the morning, too.
Now asking for the 51 as an all-day route might be a bit much to ask, but this is definitely a step in the right direction.