No longer a Nutella virgin…
July 14, 2010, 9:27 PM
So on Monday, with the encouragement of Elissar (coworker of mine), I tried Nutella for the first time. I was inspired by photos that Elissar had posted on Facebook of Caitlin (another coworker) doing the same thing – trying Nutella for the first time. The idea was to get a little dollop of Nutella on your spoon, get some "before" pictures, and then taste the Nutella for the camera. So here goes: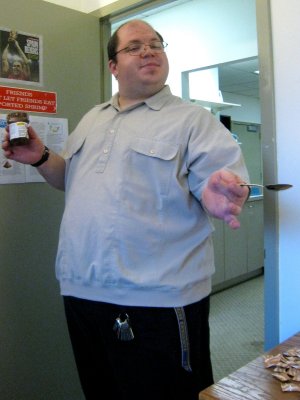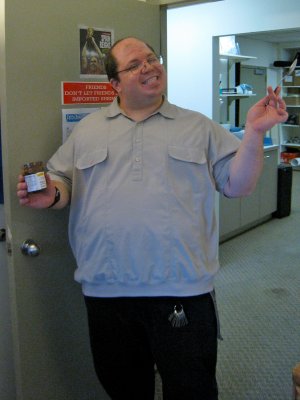 Posing with the Nutella and the spoon.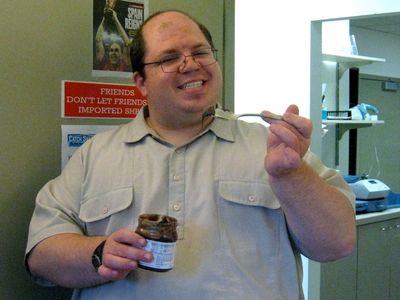 Nutella on the spoon, and ready to sample!

Tasting it. For the record, it tastes like chocolate with a nut essence. I swear I've tasted this before on something else…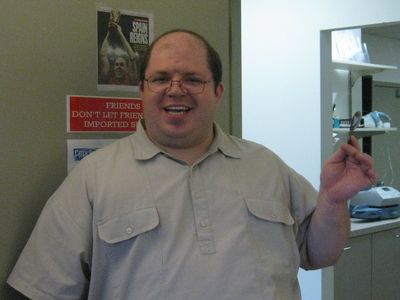 Apparently, I approve!
And of course, thanks to Elissar for sending me the photos and allowing me to post them on Schumin Web.
So that was a fun experience. Nutella tastes pretty good, though I don't know if I'll add that to my regular shopping list. Seems like something that is easy to get addicted to. I mean, come on, it tastes like chocolate, and we all know how chocolate can be.
Now I wonder how many of my coworkers have never had Nutella before, and see who we can get Elissar to photograph tasting Nutella for the first time…