The FCDC furniture sale was quite revealing in more ways than one…
May 4, 2010, 8:30 PM
While Anonymous raided a yellow tent on the Mall, I took part in a different operation. I went to the Founding Church of Scientology (FCDC) furniture sale at their old Org, the Fraser Mansion, where we had raided many times in the past. I brought my checkbook along, just in case there really was furniture that I was interested in, though I considered that to be highly unlikely.
So I drove down, and parked in the parking lot behind the building: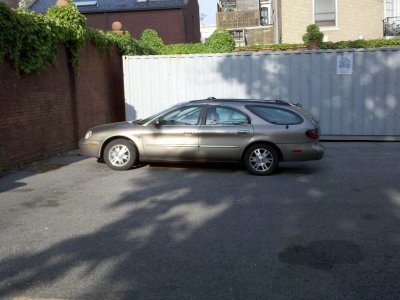 I considered that a bit ballsy on my part, but then again, this wasn't a raid, and additionally, if I really did buy furniture, I would have had to bring the car back around regardless. So whatever. If they didn't like it, whatever.
Then I went in. That was a really weird feeling. After all, the steps and the entrance were like a "forbidden zone" when we raided, and so it felt strange going up the steps and into the building. One thing I noted – the doorknob on the front door doesn't turn. It exists strictly as a pull handle. Going in, there was one Scientology staff member in the main lobby, there to greet visitors, as well as to make sure that furniture didn't leave without being paid for. This was one of the brown-shirts, meaning that this was a buildings-and-grounds person (I found that out by asking Sue Taylor directly one time). He seemed nice enough, and he didn't recognize me as being an Anon. We said our hellos, I asked about prices, and then he told me where all the furniture was – pretty much all over the place. Then I was encouraged to go look around, which I did. I basically had free run of the place.
After figuring out the layout of the place, and quickly realizing that well-worn furniture with ugly floral patterns on it was not screaming my name out, I took the opportunity to check the place out, and snag some photos of the place with my cell phone. I put the Droid on silent, and went to town with it. No one told me I couldn't go into any certain areas, and was told to wander around to see all the furniture that was for sale. And no one told me that I couldn't take pictures. So I was good to go.
First of all, in the stairwell…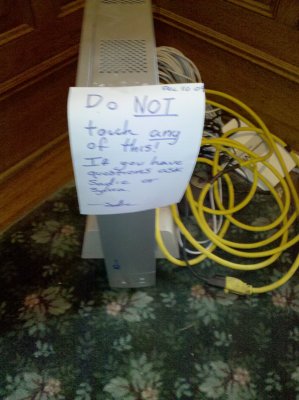 This appeared to be some sort of electronic device for running the security cameras in the canopy over the street. The note on it said, "Do NOT touch any of this! If you have questions ask Sadie or Sylvia," and was signed, "Sadie". We know who Sadie James is, all right, though the Sadie has been conspicuously absent the last five times we raided. We also know quite well who Sylvia Stanard is, too. This note went along with a note taped over a light switch at the bottom of the stairs saying not to ever turn off said light switch because it ran the security cameras, in the same handwriting, and also signed by Sadie.
Here it is in context, in the left corner of the main stair: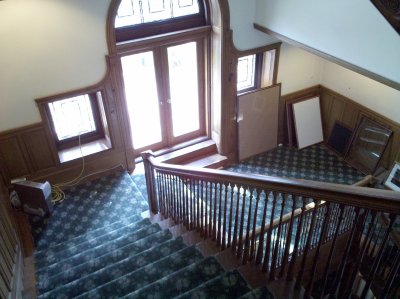 Note the wire coming out of the back of the device and out the window, towards the balcony. This device definitely runs the security system. This would have been a golden opportunity to sabotage their security cameras, but I resisted the urge.
Then going further up the stairs, I encountered this: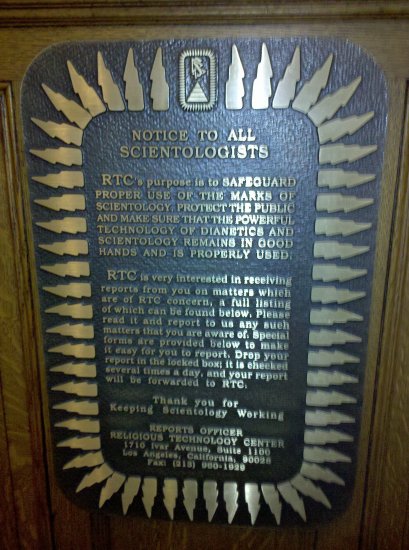 This plaque, a "NOTICE TO ALL SCIENTOLOGISTS", located in the main stair on a landing between the second and third floors, briefly explains the purpose of the Religious Technology Center (RTC), basically as a keeper of Scientology, to prevent its misuse, and to prevent others from using it outside of the official organization. Then it encourages people to report to the RTC anything that they might be concerned about. My take is that it kind of encourages Scientologists to rat out their peers to the RTC. A little Nazi-like, no?
Here's the little plaque in context, seen right below the cluster of nine windows: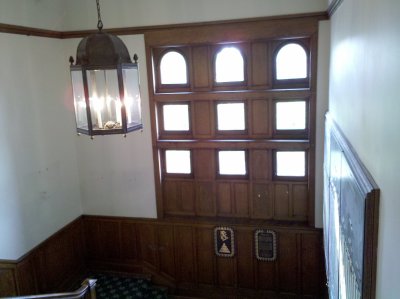 In wandering around, I noticed that Scientology used large file cabinets to block off any rooms that they didn't want you going into, such as this on the second floor: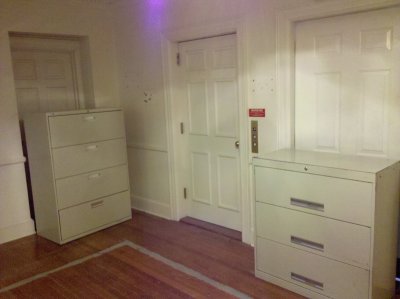 However, they also blocked fire exits: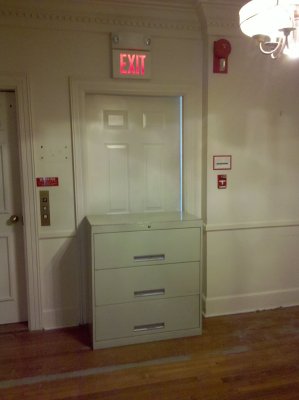 Somehow, it does not surprise me that they would deliberately block the fire exits.
On the third floor, things looked rather utilitarian. The main room had a table and more of those awful floral-pattern chairs: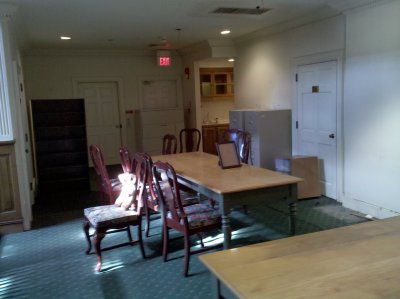 Towards the rear, a kitchenette led to a rather dirty men's room. Seriously, there was brown liquid in the urinals, and it smelled pretty foul in there.
To the right and towards the southeast corner of the building, I found this rather utilitarian-looking room: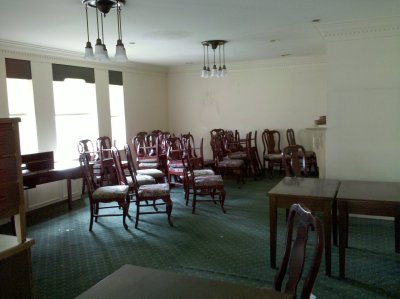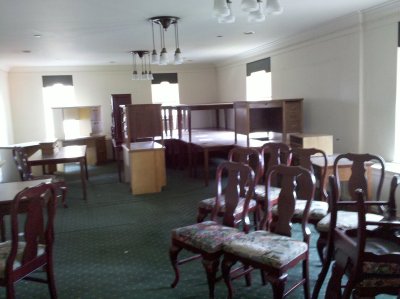 I wonder what this room was used for. Scientology "courses"? Auditing? Dunno. The current use, however, was as a makeshift showroom for the furniture that they were trying to unload.
I also found a stash of Scientology materials in a third floor closet: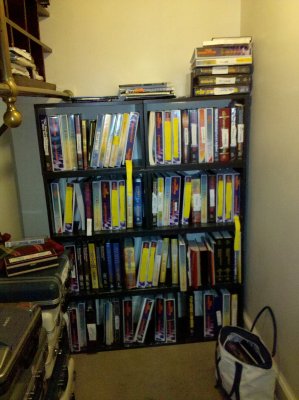 These binders all had people's names written on the spine. What those were for, I'm not sure.
Then I went through another doorway and into a room on the southwest corner: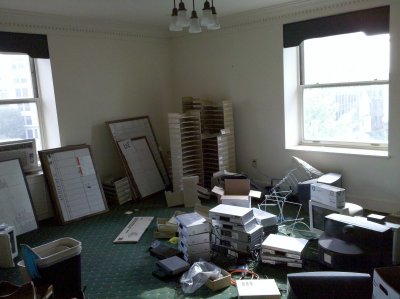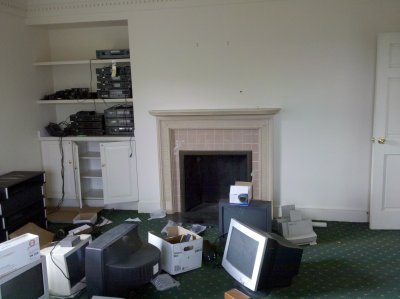 Lots of electronic junk in here, including one of the boxes for the security cameras. There was also a board with news about recent "ideal org" openings among other things, next to some sort of progress board: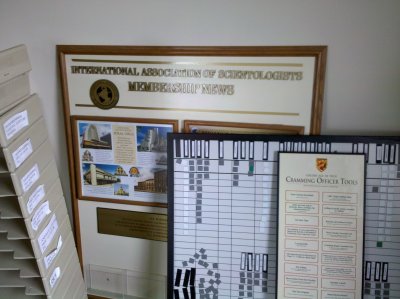 Interesting…
Down on the second floor, a room in the southeast corner was being used as another showroom for furniture, much as the one above it was: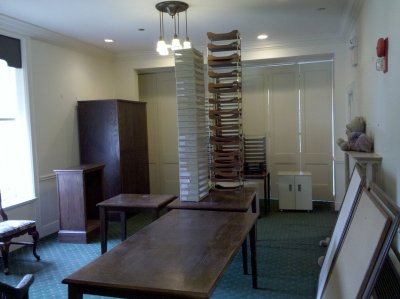 The disturbing part of this room was seeing the children's toys near the fireplace: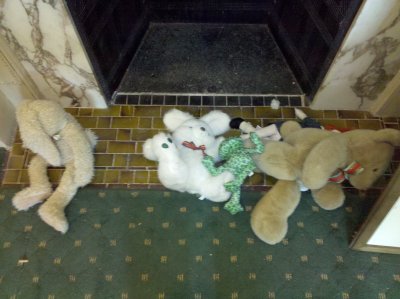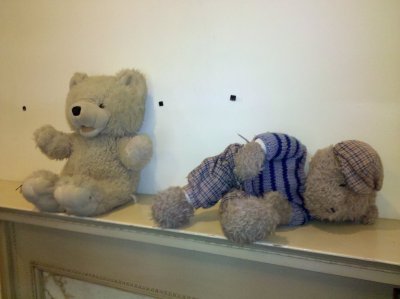 Let us not forget that they want to get those children in and indoctrinated early, so that they can become lifelong paying customers. Kind of reminiscent of Big Tobacco, no? And like tobacco, Scientology kills, too.
UPDATE: Turns out that the most likely use for these stuffed toys was for "doll drills", a Scientology training technique where the trainer speaks through the doll over the course of the training. Scarier than the original idea, no?
Beyond a movable partition, I found another room full of various stuff in the southwest corner of the building: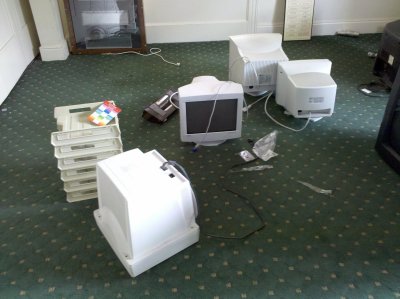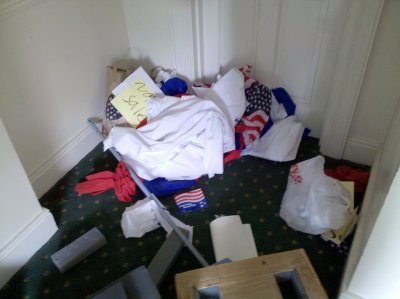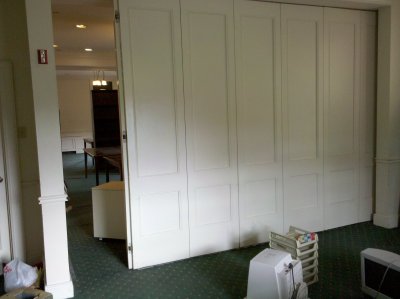 There was also this sign about the Golden Age of Tech "Cramming Officer Tools":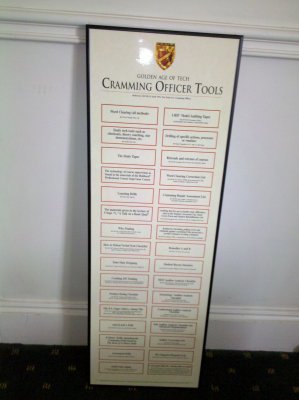 This is the kind of stuff, meanwhile, that is why some Scientology critics consider Scientology leader David Miscavige to be a squirrel, i.e. someone who perverts the tech.
Then here is what the Scientologists saw of the street from this room whenever we raided: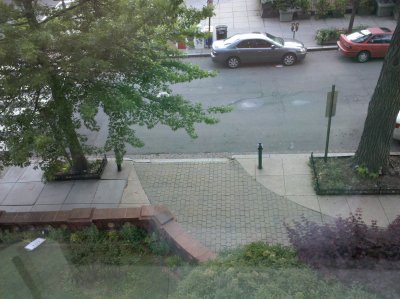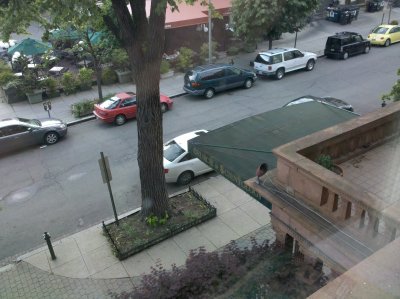 The second floor also contained a small theater, which, as I understand it, is where they showed introductory films and such: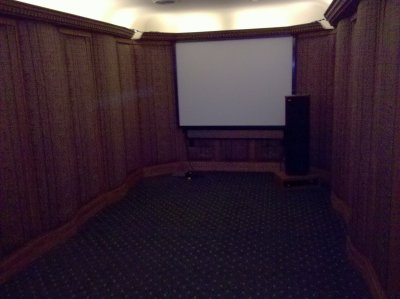 Apparently, however, more than just the introductory films were shown: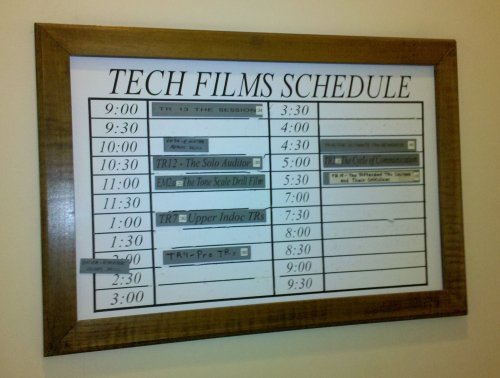 However, the most damning thing that I found was this large organizational chart in the main stair: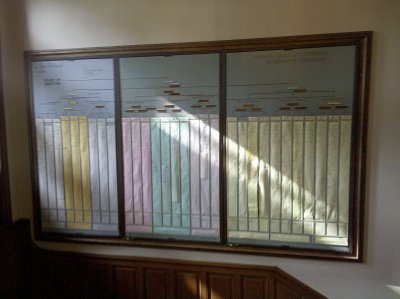 This chart listed the Valuable Final Product, or "VFP", of various departments. Let's take a look at a few things I saw on there: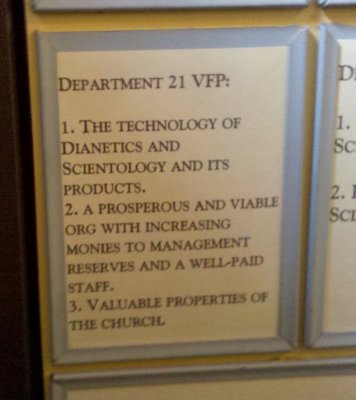 Department 21's VFP was Scientology's tech and its "products", and an Org that makes an increasing amount of money to send to management. Oh, how religious and non-profit of them. That doesn't sound like a for-profit company at all, does it?
It gets better: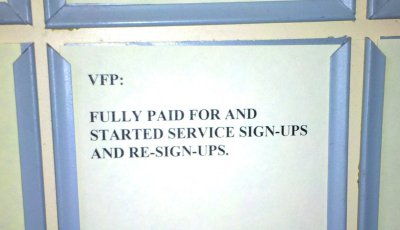 "Fully paid for", eh? That doesn't sound like donations to me. This kind of exposes the truth, doesn't it? Those "fixed donations" are really fees for services, kind of like if you go to a massage parlor – they won't massage you until you pay for the massage. Donations, my foot.
And the icing on the cake: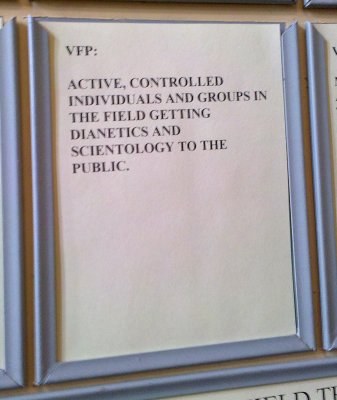 "Controlled individuals". Yeeeeeeah… that doesn't sound at all like a mind-controlling cult that brainwashes people. Sounds quite dandy to me, with a department producing individuals under their control.
And lastly, here's another shot of those lovely floral-pattern chairs: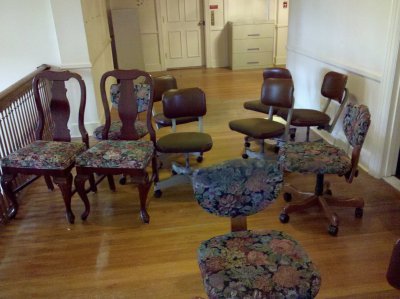 Coming back down, I said that I didn't think any of the furniture was right for me, and got into a thirty-minute conversation with the staff member who was running the sale. I asked if the balcony was open, and we went out there for a bit. We discussed a lot of things, such as the Ideal Org's construction, Scientology, what went into restoring the Fraser Mansion, and the future plans for the building. I have to say, this man was very passionate about what he does. I mostly listened, since I wanted to pick his brain rather than argue with him.
Here are the main points that I took from the discussion…
First of all, Scientology apparently fired Rand Construction, because Rand supposedly was not able to deliver the Ideal Org when Scientology wanted it. As I understand it, Rand did not make Scientology its top priority, while Regency Commercial Construction did, and was able to deliver the Ideal Org by the end of October rather than Rand's December date. Additionally, despite acquiring the property in 2005, it took four years to get construction started due to lots of red tape, such as ensuring that the replacement windows were the correct type for the area where the building is located (in a historic district), and planning what they wanted to do with the building, and how they wanted to do it.
Regarding the Ideal Org's opening, this gentleman claimed he had no idea why there was a large tarp across 16th Street during their opening ceremony. He speculated that it was in order to shield a celebrity from public view. Either way, the tarp certainly spoiled all the views of the ceremony, as its presence in all the wide shots was rather conspicuous. I have my own theories as to why that tarp was there, and it involves their trying to hide themselves from people in Guy Fawkes masks (heh heh).
The future use of the Fraser Mansion is a little different than what I expected. Literature that I found described it as becoming a "National Affairs office", which I took to mean a boring office facility. Turns out that the old Org will be closer to a Scientology visitors' center, where the public can learn about Scientology. Interesting, and it has great raidable potential, too! Otherwise, I found out just how much work Scientology put into restoring the Frasier Mansion after its time as the Golden Parrot Restaurant. This included disassembling the entire front portico to strip paint from it, and a lot of paint stripping from the interior woodwork.
And what of Sadie James, who had been missing in action for some time? The gentleman agreed that he had not seen Sadie in some time. Last time he saw Sadie was a month or so ago, after a long period of not seeing her. At that time, he told me that Sadie said she was "working through a few things". I wonder if Sadie is on the brink of leaving Scientology? We can only hope. It would certainly be valuable to have Sadie on our side.
This gentleman was also very passionate about his Scientology, particularly about their anti-drug stance, including psychiatric medications (Scientology categorically opposes psychiatry). As he explained it, when people take drugs, it hides the real person inside, and they want to see the real person, rather than a person who is changed by drugs.
However, this begs the question, which I didn't pose to him since I was there to listen: What if the person has a psychological disorder that modern medicine can use to help the person live a normal life? I would say that psychiatric drugs will help that person be who they and their family want them to be. Now a case can be made for when a person is over-medicated, but when used properly, psychiatric drugs can certainly help. Scientology critic Tory Christman has described in numerous online videos, as well as in a written affidavit, about her problem with seizures. While in Scientology, she went off of medication for epilepsy upon strong encouragement from Scientology, which caused her to have numerous epileptic seizures, which culminated in her knocking her front teeth out in the shower. This caused Christman to go back on her seizure meds, "no matter what [those] people thought." Dianetics and Scientology failed to cure her epilepsy. Yeah, one for the psych meds.
Eventually, I told the gentleman that I did have to go, and thanked him for the conversation. Not a bad time, and seeing one of their Orgs, even if it is in a halfway-vacated state, shows exactly what kind of group they are, and it certainly doesn't make me want to have any part of them. If nothing else, it strengthens my resolve in wanting to raid them, and attempt to cut off their supply of fresh meat.
And for those of you who are wondering, Fraser Mansion fire alarms:
Web site: Tax the Cult
Song: Children explain the story of Xenu
Quote: Personally, rather than see Scientology use the building as a visitors' center or what have you, I think they need to return the building to the community and allow the Golden Parrot to rise again...