So someone explain to me how this happens…
November 30, 2009, 11:56 PM
First of all, the return trip to from Stuarts Draft to Maryland was not exactly a walk in the park. I encountered traffic jams almost the entire way back up. First on I-64 near Ivy, which caused me to have to detour onto local roads. Then Charlottesville was a mess. I was going to call a friend who goes to UVA about possibly stopping by for a quick hello, but I ended up having to nix it because of traffic. Long lines at a lot of lights there. Charlottesville going up Route 29 is like a miniature version of Fairfax County in so many ways, complete with a Giant store, and traffic to make you pull what's left of your hair out.
Traffic was clear for a while after Charlottesville, but then the headaches returned in Fauquier County, and traffic stayed bad all the way through to I-66 in Gainesville. Seriously, it was like a crawl for what seemed like forever. Then once I got on I-66, it was fairly smooth sailing the rest of the way in. I missed the Beltway, though, since I needed to swing by work on the way back, and thus had to go all the way into Washington.
Regardless, though, it was not fun. My parents kept calling me to check on where I was. My mother called me while I was making a stop, and when she asked about traffic, my response said it all: thbbbbbt. Yes, I gave a Bronx cheer into the phone. Yes, it was that bad. I hate holiday traffic. Regular DC area traffic I can handle. Holiday traffic as one approaches the DC area, not so much. Though as much as I complain about Fairfax County drivers, the drive through Fairfax County was flawless and uneventful.
But the puzzling thing about this trip was what my car's HVAC system was doing. First of all, you probably know that this is what I drive: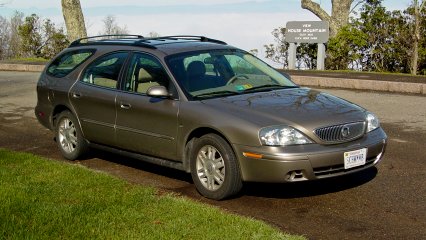 I drive a 2004 Mercury Sable LS wagon. It's a very comfortable car, and a pretty dependable car. I like it, and it's paid off in about a year and a quarter. However, on this trip, the HVAC system and the radio were giving me fits. First of all, let me explain that those two systems are combined on a single panel: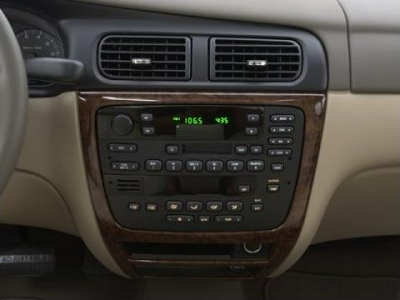 Photo: Evox Images by way of Consumer Guide Automotive.
That's a 2001 panel that I'm showing, but it's basically the same thing on my car with only minor differences. Note that the HVAC controls are fully electronic. This problem only occurs when I go to see my parents (go figure). What happens is that the entire panel locks, and the heat goes on full blast, alternating between the floor vents and the upper vents. That goes on for a while, and then the panel suddenly goes back to normal, and operates the way I want it to. Then the cycle repeats itself, going back to heat at full blast at various vent locations before rectifying itself. When it's blowing heat uncommanded, you also can't stop the vents until the panel releases itself. The radio and tape deck also lock up during this time, and so you're stuck on the station that you chose, at the volume you chose, until it releases. The sound doesn't lock, however, so I can continue listening to my iPod from there, and control the volume from the iPod. You also can't turn the radio on and off when it's doing this. Then once I finish the trip and leave the car for a while, it goes back to normal and doesn't resurface for months or years.
So far, this has happened on three trips. The first time was on the return trip from seeing my parents in May 2007. That trip was taken via Charlottesville (i.e. mostly US 29). I got a blast of hot air for a few seconds as I was crossing Rockfish Gap, and then it went back to normal again until I got to Prince William County (an hour and some later), at which time it started behaving as described, and continued that the rest of the way home. It was a warm day already, and the car was giving me heat.
Then the next time I drove the car two days later, all was well again, and the problem didn't come up again for nearly two years.
The next time the problem came up was on my May trip this year, again on the return trip. I don't remember where it did it on the trip (taken via Strasburg, i.e. I-81 to I-66), but it did it. Same exact thing. I finished the trip, and then all was well again the next time I drove the car.
Then most recently, it did it on both directions of my trip to Stuarts Draft for Thanksgiving. On the southbound trip, taken via Strasburg, it did it just after I passed Strasburg on I-81. It did it the whole rest of the way home. Then on Friday, when Katie and I were driving around town, it was perfectly normal the whole time. Then on Sunday for the return trip to Maryland (via Charlottesville), it started acting up again in Charlottesville, and did it the entire rest of the way home. That led to my driving with the windows open most of the way despite the cooler weather. I haven't driven the car since getting back home (I take Metro to work), but I suspect it will behave normally on my next drive.
Now this doesn't affect anything else in the car. The car drives the same regardless of whether it's doing it or not, and the windows still work, the locks work, etc.
And the funny thing about it, once again, is that it has only happened when I'm going to and from visiting my parents (though not every time). I've taken other road trips, like three trips to Philadelphia, to Virginia Beach, to Richmond, and to Luray, and it never happened on any of those trips. Just on trips to and from Stuarts Draft. That's it. I don't get it.
So if any car geeks are reading this, I would like to know what you think. I hope it's a simple problem that won't cost a lot to fix. Sounds electrical to me. With my luck, though, it's going to probably cost me two million dollars. I'm really tempted to call Car Talk to see what Tom and Ray Magliozzi think about this. I can hear Tommy now: "So it only does this when you're going to see your parents," followed by a joke about that. But yeah, if you have an idea, or if this has happened to you on a Sable or a Taurus (do they have the electronic controls for the HVAC on the Taurus?), let me know…