We could be brothers or something…
November 18, 2009, 11:12 PM
It's amusing what people do when they realize that their clothes match: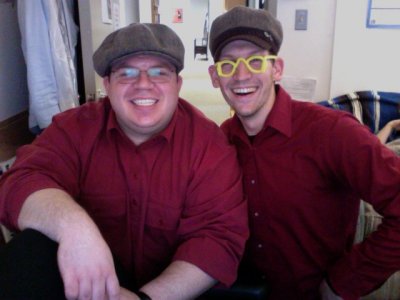 Yes, we matched. And we took a picture of it on our lunch hour. Each of us was wearing a dark red shirt, and then we each were wearing blue jeans. We were like unintentional twins. Then the hats finished the look. That's my Gatsby cap that I'm wearing, and then Jon borrowed someone else's hat since it mostly matched mine.
And what makes this more amusing is that yesterday, I was wearing the green shirt with the black jeans, and matched our communications director. She was wearing a green shirt and black pants. So now I wonder who I'll match next. No telling what I'm pulling out of my closet tomorrow, though. We'll find out in the morning, I suppose…
Web site: Don't they look like brothers?
Song: Put Down the Duckie. The moral of the story is that you don't have to give up the duck - just put it down. Then you can pick it up when you're finished.
Quote: Meanwhile, the left side of my desk at home is falling apart. I don't know yet whether I want to try repairing it with a ton of epoxy or just remove the broken section and leave the rest. It's not structural, so I ought to be okay doing that...