"Obama Hates Borf"?
April 22, 2009, 3:09 PM
So this month, someone finally painted over the "Bush Hates Borf" graffiti that's been on the Vision Lighting building for at least four years or so. They replaced it with "Obama Hates Borf", in large, purple lettering. So here's the new tag: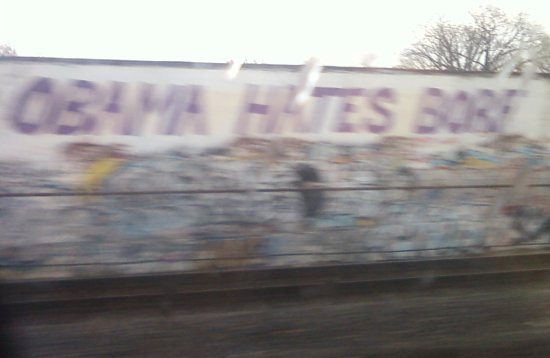 Apologies for the poor quality of the photo, but I took this with my cell phone from the Metro while the train was moving, plus it was raining. I'll get a better picture of the new Borf tag with my real camera another day.
This new message also coincides with the addition of what looks like a picture of President Obama on the same building's south wall.
This also makes one wonder: Is Borf active again in the world of DC-area graffiti, is this another member of the "Borf Brigade", or is this totally unrelated work? Recall that John Tsombikos, the man behind Borf, was arrested in 2005, and the proliferation of "Borf" tags pretty much dried up at that point. And the last just about anyone had heard from anything Borf was the Consolation of Ruin art show in 2007, and BORFyou, the group's Web site, hasn't been updated since the art show.
Either way, I knew that the "Bush Hates Borf" message would be covered over one day, but whoever put the new message up was thorough, as they painted white over the entire old tag before putting the new, larger, purple "Obama Hates Borf" message on the wall.
So I don't know what to think about the whole change-of-message there, because honestly, I figured that "Bush Hates Borf" would be George W. Bush's legacy in Washington. But noooooo… now it's been updated for the new administration.