I just realized I never told you about my weekend…
March 9, 2009, 11:38 PM
What fun I had! I got to take a bunch of railfan photos, and I also got to meet the DC area Wikipedia gurus once again.
First, though, I railfanned. I had gotten wind on the Railroad.net forums that Metro would be single-tracking between Vienna and West Falls Church, and with that configuration, that usually means that (A) some trains will be terminating at West Falls Church instead of Vienna, and (B) trains will be utilizing the center track at West Falls Church to cross over to the proper track for single-tracking.
Thus, I rolled on over to West Falls Church, coming down from Glenmont via Metro Center. I caught a train terminating at West Falls Church, and was initially disappointed because the train offloaded at West Falls Church on the correct track. I was disappointed because I figured that they would terminate the short-turn trains on the center track and then dwell there before departing to New Carrollton.
Before we continue, here's the track layout at West Falls Church:

But instead, with the New Carrollton track (at bottom) out of commission for track work, they terminated short-turns on the Vienna track, left the station without passengers, and crossed over to the on the yard lead on the Vienna side (second track from top) between the two mainline tracks, and waited there. Then when it was time to go, they brought the train in on the center track, serviced the station as a New Carrollton train, and then crossed over to the New Carrollton track there. Trains from Vienna (going to New Carrollton) came in on the Vienna track (at top, coming from the left), crossed over to the Vienna-side yard lead (second from top), and then entered the station on the center track. There, they serviced the station and continued on the New Carrollton track (bottom, leaving to the right). Trains to Vienna operated normally, remaining on the Vienna track (top) at all times.
And I got great pictures, too…


Destination sign for short-turn trains (Alstom).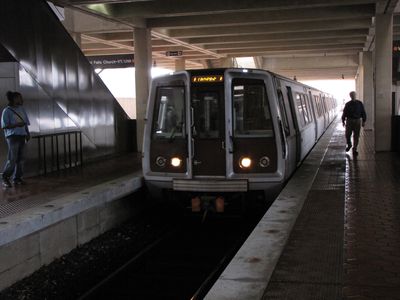 New Carrollton train arrives on center track.

Same train departs on center track. Interestingly enough, a Metro employee approached me soon after this movie, wondering if I was confused about where I needed to go to catch my train. Once I explained that I was being a train geek, he was like, "Cool!"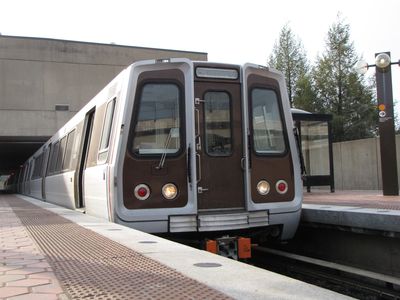 Alstom train on center track, waiting to leave.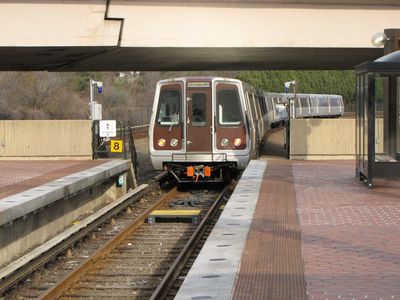 Same train, departing on center track.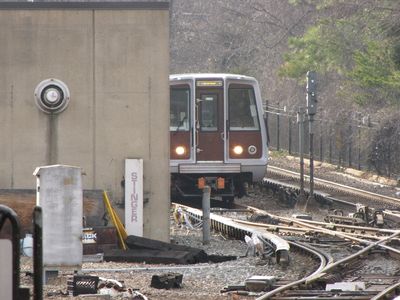 Short-turn train waiting on yard lead track after offloading.

Short-turn train arriving in the station, revealing that this train consisted of two Breda 4000s, two Breda rehabs, and two CAFs.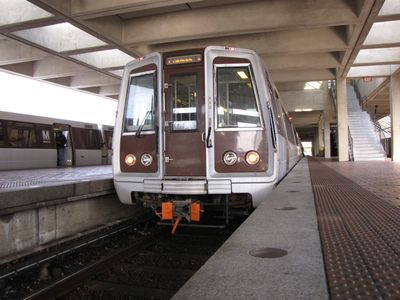 Same train, in the station and waiting to take off. I ultimately boarded this last car to go back to DC.
Then after railfanning, I got together at Uno's at Union Station for Wikipedia's DC meetup. What fun we had, as many of us have edited a lot of the same articles, since we live here and all, and recalled some of the lamest edit wars we've seen on some of these articles, and some of the comments we've seen about changes, such as my recent change of the big Metro Center photo on Washington Metro with a more recent one.
With that, it was interesting to compare the old photo with the new one, and see that aside from the removal of a lighted station map and the change to red lights on the platform edge, very little has changed in six years. And this was a good comparison to make, too. The photos were taken by the same photographer (me), in the same location, and at almost the same angle. Only difference is that the former was Big Mavica's work, and the latter was the Canon's work.
Then after dinner and some after-dinner discussion, with many amusing comments and laughs all around, a number of people went out to hit the bars, and I headed home. Not a bad day, if you ask me. I got to railfan a bit and see some non-standard train movements, and I got to hang out with my fellow Wikipedians for a while. Fun times!