Gas went down eighteen cents in three days?
November 26, 2008, 8:25 PM
Yes, it's true! If you look about two Journal entries back, you'll see that gas at the Martin's in Waynesboro was $1.59 per gallon on Sunday. Now, three days later, on Wednesday, look: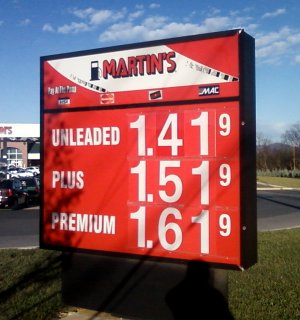 Eighteen cents in three days. Wow! This is getting to be like doing the Limbo: How low can you go? However, we are about back on par with when George Bush took office back in 2001. Now to see if they'll go even lower before this is all said and done.
Meanwhile, Mom and I had fun today. We went out for breakfast, and then went to the Wilson Trucking salvage store, which sells products that for some reason or other were deemed unsellable – primarily damaged packaging. One of the favorites there is getting napkins. I remember back in 2007, Mom had napkins that said "Kermit's Hot Dog House" on them. Lately, though, I'm told it's been a lot of Ukrops napkins, but today, we got some Raising Cane's napkins. And it's like two bucks for a bazillion napkins. I love it. And Mom got a $100 Talbots shirt for just $20. That's a deal, if you ask me.
Afterwards, we went to Charlottesville. We went to Fashion Square, where I finally got a "real" scrub brush for the shower, and a coffee table book about spacefight. That ought to be fun reading. Mom got some clothes, and a makeup brush from Sephora (and let Sis know that a Sephora now exists in Charlottesville). Regarding Sephora, I said that it smelled like a perfume bomb had gone off in there. Seriously, you go in, and BOOM – get hit by a wall of ladies' perfume. Mom said that one probably had gone off in there. Talk about an assault on my sense of smell…
And we also ran into something a bit more bovine than one might expect in a shopping mall. We ran into the Chick-fil-A cow wearing a Santa suit, handing out Chick-fil-A promotions with his human friend. I got a photo of Mom with the cow: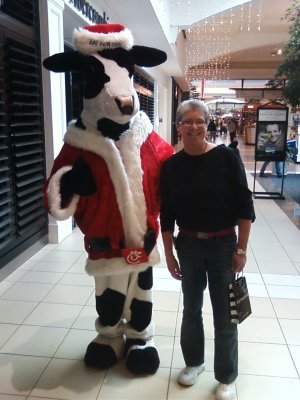 That was a surprise to see, with the cow telling us to "Eat Mor Chikin" via its hat. And then Mom says it was almost definitely a guy in the cow suit.
And meanwhile, seeing the Charlottesville Fashion Square mall once again, I'm reminded of one thing: That mall is amazingly undersized for the city it serves. One would think that for an area the size of Charlottesville's, that Fashion Square would be a lot bigger than it is. I'd figure it would either have a much larger footprint, or it would have a second level on it. But as it stands, I'm amazed that Fashion Square is the size it is. It has no movie theater, nor does it even have a food court, though a pseudo-food court has developed in the Belk Men's wing, with a concentration of fast food eateries right there. Or maybe DC has spoiled me, with Wheaton Plaza, a fairly large two-story shopping mall, being less than five miles away from me, and Montgomery Mall, another large-ish two-story shopping mall, being relatively close by as well.
On the way out of the mall, Mom and I noticed a pair of $200 jeans at Belk. The brand was 7 for all Mankind, and neither one of us could see why anyone would want to buy a $200 pair of jeans. I mean, really. $200 jeans look the same as the much more reasonably priced jeans. I, for one, can't tell the difference between a $200 pair and a $20 pair. In addition, like I've said about the clothes that are paraded around in those trashy celebrity-gossip magazines, it just takes one bad spill to ruin a very expensive outfit, and then you're out two hundred bucks with nothing to show for it.
And then in the car, we had my "Other Stuff" playlist going on my iPod, which has all my various odds-and-ends type songs. I have two fire alarm remixes (putting music and such around voice-evacuation messages), the Flea Market Montgomery commercial, Chocolate Rain, and a whole host of others.
And then tomorrow is Thanksgiving. Fun!