So maybe someone wants us to just believe that $4.00 per gallon was just a bad dream or something?
November 23, 2008, 7:50 PM
First of all, hello from my parents' house in Stuarts Draft, where I'll be for the better part of a week. I've set up a little Lappy workstation in the kitchen, which is where I write you today.
And with all the price speculation on oil having subsided with the economy in the dumper, look at these numbers: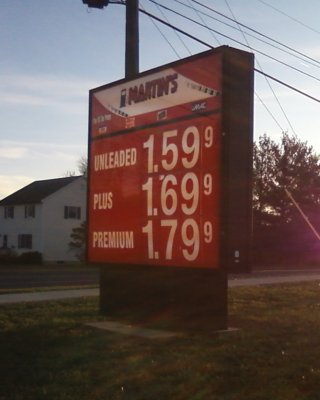 That's the Martin's store in Waynesboro, and that's the lowest price I saw on my drive from Silver Spring to Stuarts Draft today via US 29. $1.59/gallon. The last time we saw that was what, 2004 or 2005? Up where I live, gas just barely fell below the $2.00 mark this week, with gas prices at the Freestate near Glenmont station in the $1.90s range. Still, this is just spectacular to have gas this low again, and still tumbling, as far as I can tell. Let's hope we don't see $4.00 per gallon again for a long, long, long time, though I'll bet it comes back sooner than you think, unfortunately.
Meanwhile, I swung by Afton Mountain on the way in, and things have been changing. The cupola has been removed from the Howard Johnson's building, the Woco gas station has closed down, and the Skyline Parkway Motor Court buildings are completely opened up. I talked with the guy at the Tourist Information Center, and it seems that Phil Dulaney is actually making good on his plans to remodel Afton Mountain into something presentable rather than a cluster of abandoned and rotting buildings. Maybe when I dissed Phil Dulaney in the News Virginian two years ago, he took it as a challenge, because since I said he was all talk in the newspaper, things have started happening. Now if Phil Dulaney names the new development after me… um… yeah… when pigs fly. But things are happening. Take a look: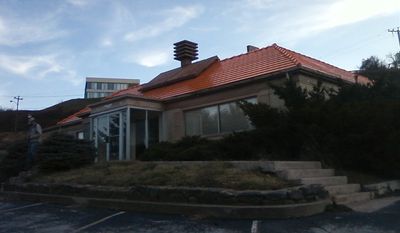 The Howard Johnson's in Afton has been shorn of its cupola! How sad, as this takes away from its vintage-ness, as it was about the only HoJo's around anymore that still had a complete cupola. And it appears to be recent, as these photos from September show the cupola still in place. I'm told that the HoJo's building will be saved, however, and renovated in the final plans.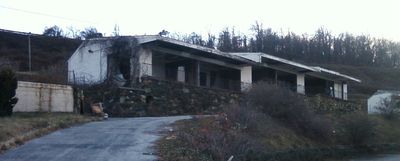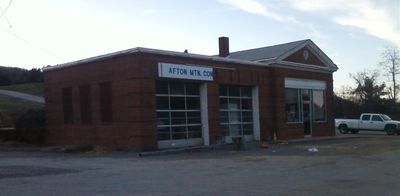 Not so, however, for the former Skyline Parkway Motor Court and the former Afton Mountain Convenience Store. Both of these are slated for demolition. According to the man in the Tourist Information Center, the convenience store has just had the asbestos removed, and the motor court is being prepped to go, and that the tourist information center will temporarily move to a double-wide trailer up near The Inn at Afton while the redevelopment is going on.
So there you have it. My Afton Mountain photo set is starting to look more and more historical by the day…
Web site: What an unfortunate choice of background for this interview with Sarah Palin - she had just pardoned a turkey, and while being interviewed, more are being slaughtered in the background. Funny when the interviewer says "chopping block" as a turkey is loaded in to be slaughtered. Meanwhile, Sarah Palin says you need some levity in the job, and I think she's got it. I'm surprised she's there on the ground where the turkeys are being slaughtered, rather than knocking them out from the air.
Song: Don't have one, but why did I have to pick the coldest spot in the house to set this computer up? I wanted a spot where I wouldn't be in the flow of traffic, and it's right by the door, and I've got a little bit of a draft...
Quote: Meanwhile, I was surprised to see only one cop on fundraising detail on my way down. That was a Virginia State Police car in Madison County sitting in the median of US 29, looking for potential revenue sources.