"You are one cheap bastard."
June 7, 2008, 3:16 PM
Yes, I will quote Zach, one of my coworkers at Food & Water Watch, when he said to me, "You are one cheap bastard." I'll take it as a compliment, since frugality is important when one is single and living on one's own. I say it's being frugal, but Zach, both parents, Sis, and a host of others, would be more inclined to quote the Car Talk guys and say, "Oh, you mean your cheapskatism?" This was after I explained how I'm loath to run the air conditioning unless I absolutely HAVE TO (like today, where it got up to 100 degrees).
Otherwise, though, Friday was fun. After work, a bunch of us went down to the Sala Thai restaurant just west of Dupont Circle for dinner in order to celebrate with Meg, one of our coworkers who recently took a position with Greenpeace. I had this wonderful vegetarian dish that had eggplant and mushroom in it among other vegetables in a spicy sauce, with rice on the side. Really tasty. Very hot, too. And we had such a wonderful time.
I have to say – I love my FWW coworkers. I could never go out socially with Wal-Mart people in a group like that.
And then after dinner, we headed into the land of Metro, and Marianne got a photo of everyone on the train: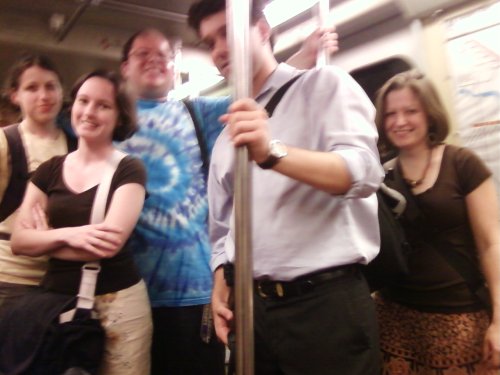 So here we are on Breda 4065. Left to right, you have Meg, Lisa, me, Sascha, and Christina. We're a fun bunch. And then photo #2…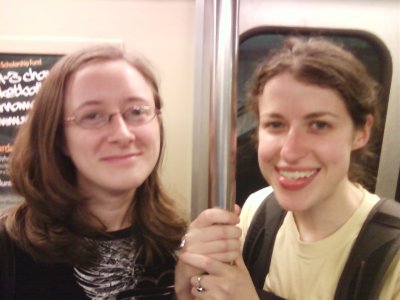 Here, this is Meg's cousin, and Meg. Fun bunch. We'll miss Meg terribly, but I'm sure she's going to do wonderful things for Greenpeace.
And yes, I am still "one cheap bastard", which is definitely a good thing with gas having risen over the $4.00 mark and not showing any signs of giving up…