I can't believe I bought one of those "V for Vendetta" masks…
May 17, 2008, 11:38 AM
I can't believe it – I bought one of those "V for Vendetta" Guy Fawkes masks. One of these: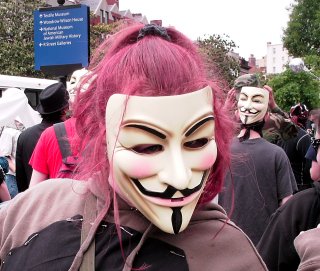 Yes, after having been to three of these things, I admit – I run with Anonymous, at least during their street protests. And with the next event having a "pirate" theme, I figured it was time to finally buy one of those things, since the V for Vendetta mask looks more pirate-like than anything I could come up with.
All I know is, it's going to be so fun. I really enjoy myself at these Anonymous events. It's a great cause, and these people are SO fun!
Web site: Nothing But Costumes, where I ordered my V for Vendetta mask. Note the "GO ANON!" in their product description.
Song: Opblaaskrokodil, all about wanting an inflatable crocodile in order to go around the ocean.
Quote: Katie's here! Yaaaaaaaay!