A very ugly building in Rosslyn looks like it will be coming down soon…
April 11, 2008, 10:34 PM
Remember almost three years ago, back in 2005, when I wrote this Journal entry about the construction of a really tall building (by local standards) in Rosslyn, on a site that currently houses a frightfully ugly building? Well, here's the building, at 1815 North Fort Myer Drive in Rosslyn: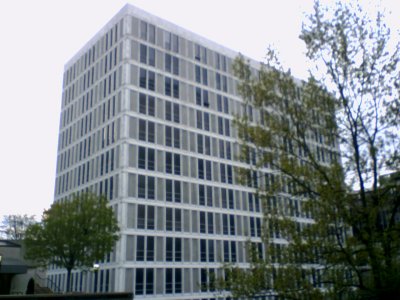 And here's what's appeared around its base: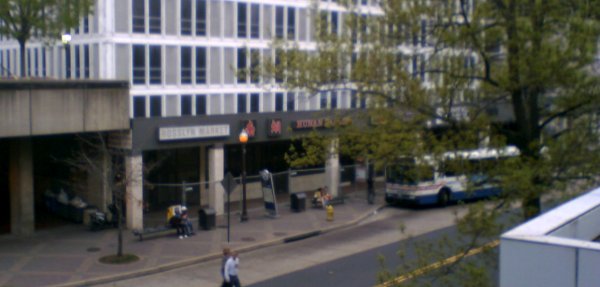 I'd guess that its days are very much numbered at this point, considering that fences have appeared around the building at street level. And if the positioning of the fences serves as any indication of the construction perimeter, they're not going to completely block off the sidewalk, which is good for pedestrians. And when I go to Rosslyn, I am a pedestrian.
What's going up in its place? This: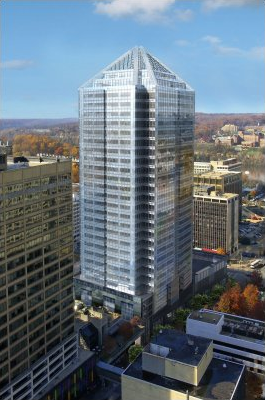 Photo: Monday Properties
As you can see, the new building, 1812 North Moore Street, has undergone some design changes since 2005 when I discussed the Washington Post article about it. But there you go. And it looks like it will still dwarf Rosslyn Center (the brown building to the left of the new building), 1801 North Lynn Street (not shown), and even the new Waterview buildings (also not shown).
There's also some other new construction going on in Rosslyn about a block away. The Best Western Key Bridge at 1850 North Fort Myer Drive has been demolished, and a new building is already well underway in its place. Here's what got demolished: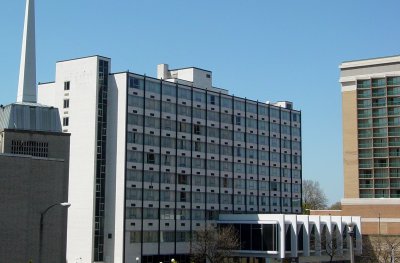 As you can see, it was not exactly a pretty building, seen here on April 12, 2003, though I'm sure it was considered dashing for its time. This building is now totally gone. Digging around online, this is what I could find about the new building: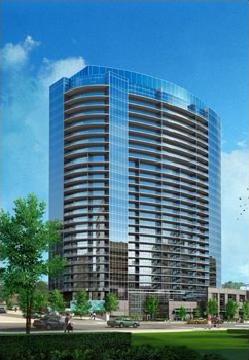 Photo: The Arlington Real Estate Connection
It's going to be Turnberry Tower, another really tall building. And it's going to be condos from what I can tell. Really, really, REALLY expensive condos, too. We're talking, if you have to ask, you cannot afford it expensive. I don't know who would want to live in Rosslyn that badly to want to pay that much, but obviously someone sees a demand for it.
It's weird how fast things change. Since moving to DC, I've been up on the street at Rosslyn maybe two or three times, tops. Compare to how it used to be, where Rosslyn was one of the spots I always spent time on DC trips. Seriously, I can't name a DC trip where I didn't go to Rosslyn at some point. But it looks like in Rosslyn, the buildings are definitely getting taller, as Arlington continues to grow and develop…