I save on bus fare, and needy families get nutritious food – everybody wins!
April 1, 2008, 10:40 PM
Ladies and gentlemen, I present to you my bus fare for my weekday morning ride to Glenmont on the 51 for next week: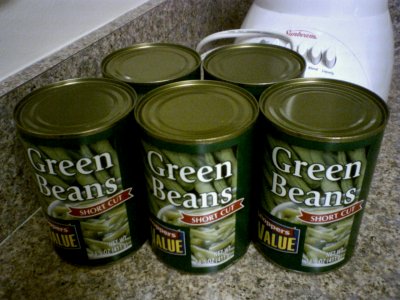 If you're going, eh?, let me explain. I found out that next week is Ride-On's annual food drive. Bring a nonperishable food item, and ride free (well, the food item is your fare). All food goes to Manna Food Center, which is a local charity that provides food to needy families in Montgomery County.
The major benefit to me is that I get to save on bus fare while also helping those less fortunate. Each can of green beans cost me 59¢ at Shoppers last night. Bus fare normally costs $1.25 when paying with SmarTrip. So for a week's worth of mornings, not counting sales tax, I'm saving $3.30. That's more than two free rides. It's like I said in the title – everyone wins. I'm digging it.
And I've learned that helping those less fortunate does really make one feel good. I remember back in 2003 with the Pittsburgh trip, that I really felt good about the service work we did. It was really rewarding, and left one feeling really good about having made a difference in someone's life.
I'm also interested to see where they place the box for the food. My buses come from Ride-On's Silver Spring garage, so as a result, I get mostly Gillig Phantoms and Orion Vs. And there's not a lot of room there around the driver for a box of canned goods. I want to say Ride-On's low-floor hybrids have room just behind the driver for a box of cans, but I might be confusing those with Metro's low-floor buses, which I get far more often than Ride-On's low-floors.