Continuing to stain…
February 18, 2008, 1:32 PM
Now that the stain has proven to be a match, we're staining two more: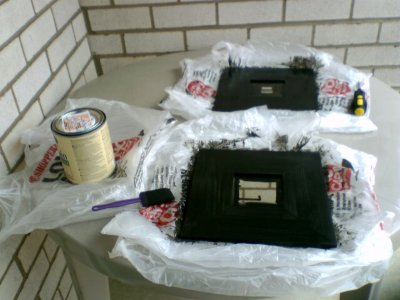 Two coats later, it looks like my bedroom set. Excellent! And it's 60 out right now, according to Weatherbug, which to me means it's good staining weather. This is going to look so nice when it's all done. I haven't decided yet whether it's going to be two rows above the bed staggered, or a tic-tac-toe style arrangement. We'll see.
Meanwhile, speaking of home decor, I'm going to hang the Sable's old grille on the wall in the closet. Why the closet? Well, it's not something I want to put out where everyone will see it, but nonetheless it is a keepsake of sorts – a memento of my run-in with the deer, a somewhat traumatic experience.