Gotta love an evening with a bunch of my fellow Wikipedia geeks…
December 10, 2007, 11:40 PM
I'd say I had quite a busy weekend! First the protest on Saturday, and then a Wikipedia meetup on Sunday. Basically, a Wikipedia meetup is where editors of Wikipedia get together at a restaurant and shoot the breeze for a while over dinner. This is my second one, and they're a lot of fun. This time, we went to Skewers, which is across the street from where I work.
All in all, it was a fun time. We discussed Wikipedia, and we discussed things other than Wikipedia. We even got metal barnstars at the end of the event. We also learned that while we're serious about building an encyclopedia, we don't take ourselves too seriously, when we noticed a typo on the menu, which printed "species" where "spices" was intended, and someone mentioned that we should edit the menu.
In the end, it was a lot of fun, and we got a photo of everyone, too: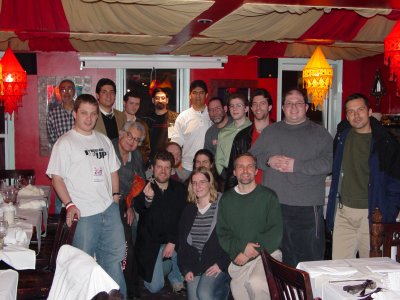 It was a fun meetup, but still, imagine if Wikipedia was a restaurant for a moment. The restaurant would be called "Edit This Menu, The Wikipedia Restaurant", and patrons would be able to edit the menu as they saw fit. Of course, any other patron would also be able to edit the menu as they wished. Add tomatoes, delete a bun, change the sauce, etc. And if another patron didn't like the way the menu looked, they could edit it, too. And for controversial changes to the menu, like putting ketchup on eggs, all the patrons in the restaurant would discuss it. To delete something from the menu, a patron would take the undesired item to "Entrees for deletion" or "Appetizers for deletion" where everyone in the restaurant would discuss whether or not to keep the item. Anyone who the other patrons considered to have made great contributions to the menu would be given a barnstar to keep at their table. Then you'd have some people who would waltz in, possibly on wheels, add hot sauce to all the items, and then walk out on the check. Of course, once other patrons saw the hot sauce on all the menu items, they would then be able to revert the menu items back to a previous version, and prevent the vandal from editing the menu for a period of time.
Of course, any changes you made to the menu would be visible to all immediately, and your version of the menu items would show up with your name (or your address if you don't have a name), along with a summary of the changes you made to the items in question. Some people would make big edits, like changing the cut of meat, while others would make a minor edit, adding a pinch of salt or something like that. And all of your contributions to the menu would be licensed under the GNU Free Documentation License.
Who knows, it might be interesting. Or perhaps I've been spending too much time on Wikipedia. That's always a possibility, too. In any case, I had a great time on Sunday at the meetup.