Had lunch with the parents today…
December 2, 2007, 1:54 PM
I had a fun time today. My parents went up to New Jersey over the weekend, and I managed to talk them into a stop in my neck of the woods on the way back down. That was fun, as they came in Mom's Scion. We went to downtown Silver Spring, and went to this place called Redrock Canyon Grill. Nice place. All three of us had the rotisserie chicken. It came with red potatoes and green beans. It was awesome.
Speaking of which, expect to eventually see downtown Silver Spring in a Photography set. It's a beautiful area, and looks like a good place for a nighttime set.
Then I took Metro back to my neighborhood, and got Breda 4038. I also got to see two photos on the phone – one that Mom sent me, and one that Sis sent me.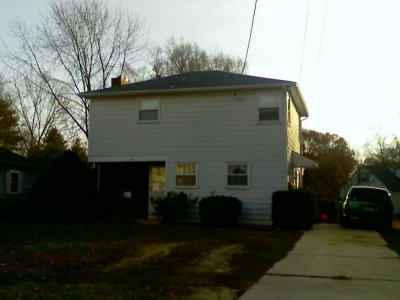 This is the house where I lived until I was three, sent to me by Mom. This is in Glassboro, New Jersey, and except for the dark wood around the front door, it looks basically the same as it did in the 1980s. I don't remember much about this house, but it was home when I was little.
Then the other photo came from Sis: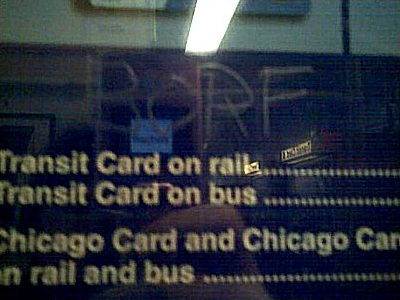 As you can see, Borf, our favorite graffiti artist, got busy in Chicago as well as in Washington, his home turf. Sis found this etched into, presumably, somewhere in an L Train station, and was so thoughtful to send it to me.
So all in all, not bad.