And now we're back…
September 8, 2007, 5:17 PM
And welcome to Stuarts Draft, where I did quite a bit of growing up. The trip down was mostly routine, with the most stressful part of the trip being the Beltway. Then it was smooth sailing after I cleared Haymarket. I could probably drive the route with my eyes closed, since I've run this route like a zillion times, in both the Sable and the old Previa.
And on the way in, I made a few stops. First of all, I met up with Mom in Harrisonburg where we went to Costco together. I don't know how I'm going to fit all the stuff she got me in my freezer, but I'm resourceful. I'll come up with something. Then we went back to Stuarts Draft separately, since she was going straight home, and I went to the Waynesboro Wal-Mart, where I went to SmartStyle and got quite a bit of hair taken off. It had been a very long time since last I got a haircut, so this was much-needed. I also got to say hello to everyone, which I'd not done in a while, since I'd not been to my ex-store since June.
Then I also fulfilled the request for the photo of the freestanding Starbucks in Waynesboro with the drive-through window. And since I already had Big Mavica out, I also took a photo of the anatomically-correct bull statue in Stuarts Draft, the "Welcome to Stuarts Draft" sign, and the cows that live on the farm with the bull statue. And the cows were all staring at me, as cows do. Imagine this: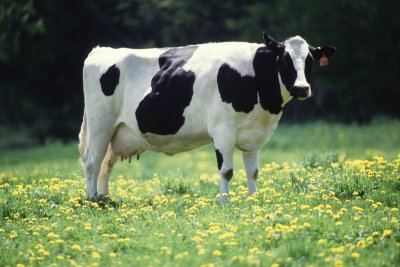 Photo: Wikimedia Commons
Yeah, cows staring at me.
Also, it feels weird being here without Sis around. She's in Chicago, and has now been there for a week. Wow.