A Saturday evening at Union Station…
July 22, 2007, 7:53 AM
I went to the DC Wikipedia meetup with a coworker whom I met up with at Silver Spring, and we had a blast! The meeting was at Union Station, and we had dinner at Uno's. I think first of all, it's neat to see what all these various people look like in real life. I mean, normally, what do you see? Just their online handle. Me, I show up on there as just SchuminWeb. So it's nice to put some faces on those names.
It was neat hearing about the various Wiki-activities that everyone's been involved in, and what our various ways of dealing with ugly issues are. Some people try to resolve it. Some steer clear. Plus the stories we have. Articles that come up for deletion, survive, and then are renominated for deletion well down the road, and then die in the second nomination. Dealings with other users. You name it, we discussed it.
After dinner, we got together on the first floor for a group picture. So here's everyone: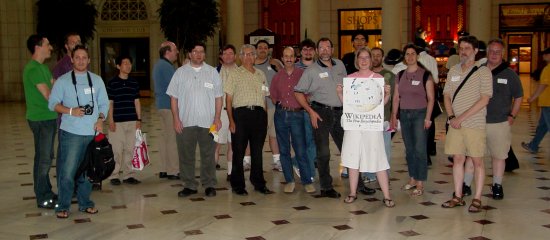 After the photo-op, a number of people went to Dupont Circle for further festivities, but since Mom and Sis are coming today, I headed back. Besides, I go to Dupont Circle five days a week as it is. As nice as Dupont Circle is, it's still nice to occasionally have a Dupont-free day.
All in all, this event went exceptionally well, especially considering I'd never been to one of these before, and therefore didn't know quite what to expect.
Web site: Wikipedia's DC meetup
Song: Nothing...
Quote: "How nice to finally meet you!" - Heard on a number of occasions during this wiki-meeting.