July 4 photos…
July 9, 2007, 9:22 PM
Greetings, all! Finally I get an opportunity to share the photos from my Fourth of July. As I mentioned, my protest buddies and I all got together to counter-protest a group that ended up being a no-show, but we still had fun with it.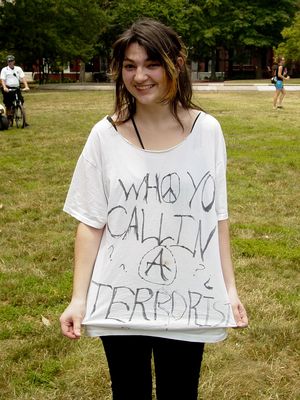 Maddy by far had the most interesting shirt, working the peace sign and the anarchy sign in there with her "Who you callin a terrorist?" shirt.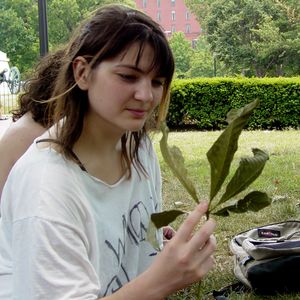 Considering that we were sitting in between a pro-pagan rally and a pro-cannabis rally, we found it amusing to see a set of five leaves that had fallen nearby that bore a very slight resemblance to a marijuana leaf. Here, Maddy contemplates that coincidence.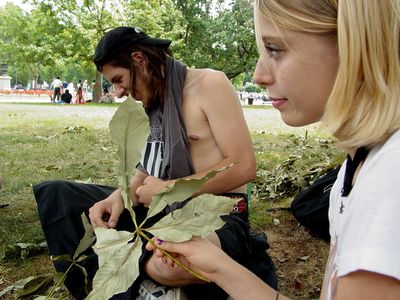 Here, Olga contemplates the same.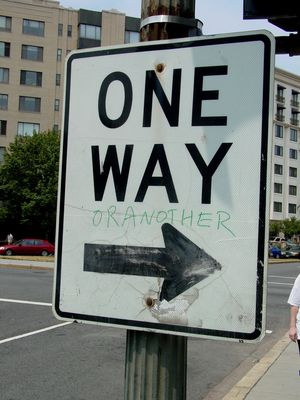 One thing we encountered while walking up to Cafe Luna on P Street NW was this "One Way" sign at Scott Circle, which had been altered to read "One way or another".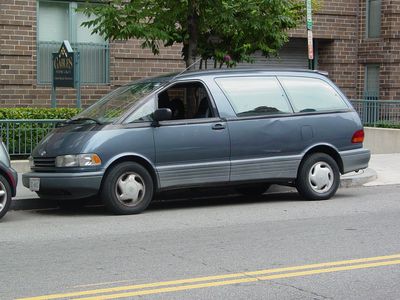 I was very surprised to run into what was basically a dead ringer for my old van, which you may recall was a Toyota Previa. My Previa was junked when I got rid of it, but this was like a glimpse back for a moment. It was the same color, and had the same spoiler and everything. One big difference: This Previa had all its hubcaps, while mine had lost three hubcaps over the course of fifteen years. Still, it was enough to make me do a double take.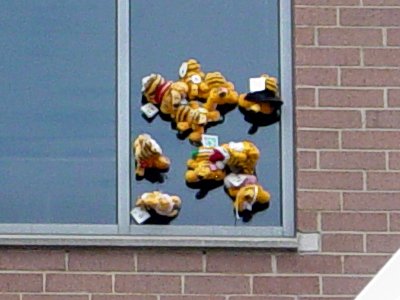 Can anyone explain to me how all these suction-cup Garfield dolls got stuck to this fourth or fifth story window that doesn't appear to be capable of opening? It's been like that for a while, too, as I go past this building every day on my way to and from work.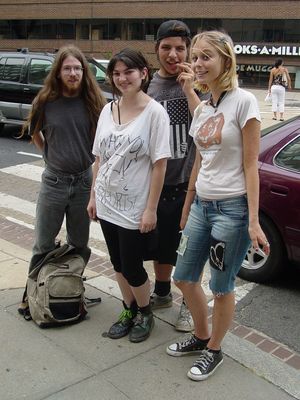 And before we parted, I got a group photo of everyone at Dupont Circle. They were going to a barbecue, while I was now going to experience Part 2 of my day: Railfanning.

At Rosslyn, I transferred from an Orange Line train to a Blue Line train to go to Huntington. There, this gentleman was on the upper level platform with a bullhorn telling all these people, most of them from out of town, which trains were coming in and where they were going. On the Fourth of July, only Orange Line trains went downtown, and served both New Carrollton and Largo Town Center, while Blue Line trains turned back at Rosslyn.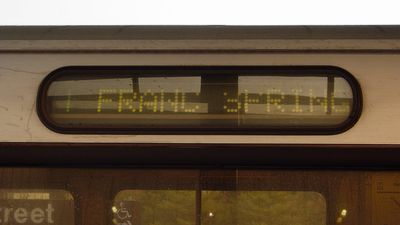 What the…? This train, which was out of service, was displaying the wrong destination. Green Line to Franconia-Springfield? Such a destination code exists, but it's never used.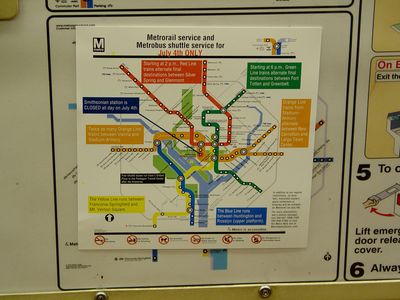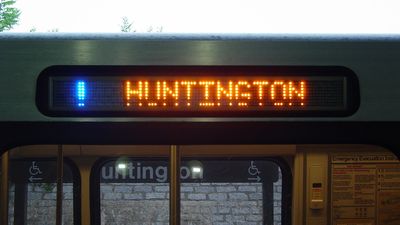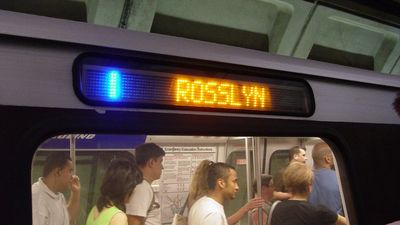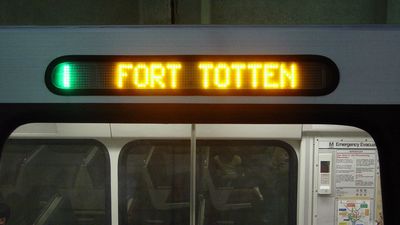 And as always, Metro ran its special July 4 service, with the special map, and unusual train routings. How often do you see Blue Line going to Huntington, or Green Line trains terminating at Fort Totten?
As you can tell, I had fun, and got to do two things I love to do. I got to hang out with my protest buddies, and I also got to railfan on July 4 with the special service. This mid-week holiday was just what I needed…