A whole bunch of miscellaneous stuff I've been meaning to show you…
June 17, 2007, 10:07 AM
I realized recently that I've gotten a little bit of a backlog of stuff I've been meaning to show you that I've captured with my cell phone over the last week or so. So here we go.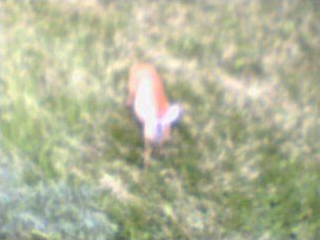 So there you go – photographic proof that deer do wander through the vacant lot next door. Apologies for the blurry picture, but this is the cell phone, and not Big Mavica.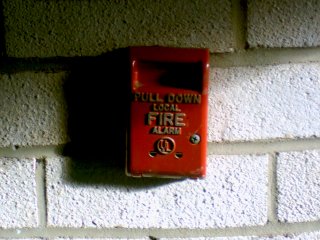 For all of you who had been asking, this is what the pull station in my building looks like. Interestingly enough, the building where I work has the same pulls, but without the "UL" marking on it. The signals that go with the ones at my house are medium-sized gray Ellenco bells. A bell is right outside my door, in fact.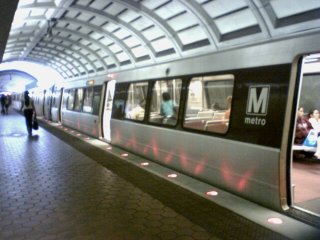 Metro has changed the lights on the lower level platform at Fort Totten from white lights to red lights, like those at Gallery Pl-Chinatown. Personally, I don't mind the red lights as much, but I don't think the difference is big enough when the red LEDs are blinking. I think Metro needs to tinker with the settings on the lights so that they blink on and off, vs. half and full. A full on-off blink would do the trick.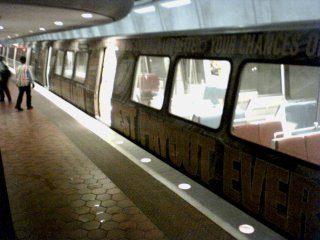 What's wrong with this picture? Well, it's a Metro car at Glenmont, wearing a Virginia Lottery wrap. What's the problem? Glenmont is a Red Line station, and Red Line trains don't go to Virginia, where Virginia Lottery tickets would be sold. If I were the Virginia Lottery, I'd be asking for my money back, if "my" train spent all its time outside of Virginia. Personally, I think I would have insisted that the train go on the Yellow Line, where it would spend most of its time in the state whose lottery is being promoted.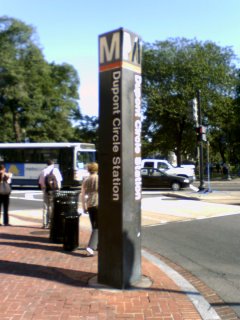 Come Monday, the "skinned" pylon got fixed, though it still doesn't look quite right, considering that part of the "M" is broken out, and a few other minor things are wrong.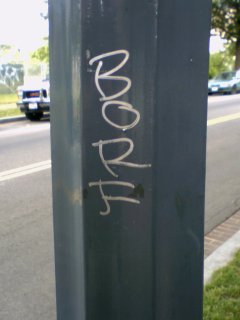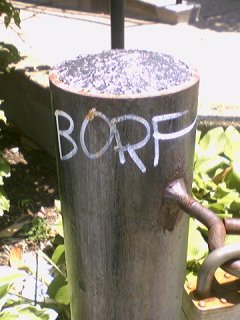 During the Borf graffiti spree, John Tsombikos had been busy, leaving tags along P Street (left) and Q Street.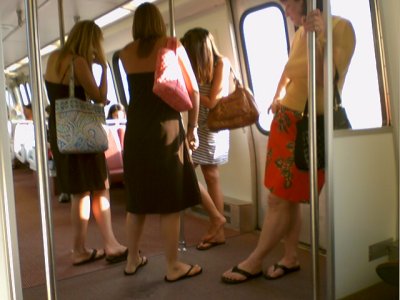 Notice anything wrong here? The princess lost her shoe! I see eight feet and seven shoes. Looks like the girl in the stripes didn't "mind the gap" when this party boarded Breda 3072 at Crystal City. She got in, and her flip-flop escaped, falling through the gap between the platform and the train. Interestingly enough, though, despite the fact that with flip-flops, your feet are basically exposed to the environment, she decided to hobble around like she had a hurt leg or something because of that missing shoe – she wouldn't let that foot touch the ground. She wouldn't even touch the carpet on the Metro train with her foot. I think that was a touch extreme. Watch your step, sure, because you never know when there might be broken glass or something on the ground. But to hop around on one leg? That's a little extreme.
So yeah, there you go…
Web site: This is just funny...
Song: Immigrant Song by Led Zeppelin
Quote: Haven't I said enough already?