After dropping Sis off in Blacksburg…
April 23, 2007, 9:36 AM
After dropping Sis off in Blacksburg after a weekend at home with everyone, I took a side trip into Roanoke on the way back home. I considered it to be somewhat important to swing into Roanoke. You see, Roanoke is currently about 85 miles away from me, and a straight shot down I-81. Once I move to Washington, it will be 240 miles – a little bit out of my travel range. So this will likely be my last trip to Roanoke for quite some time.
So I went up to the Roanoke Star to get some photos. I was quite surprised to find that they had changed the lighting pattern from the red-white-blue combination that it had been showing for five or so years. Now it was lit in all-white, which as I understand it, is the "traditional" color for the star. So here's what it looks like: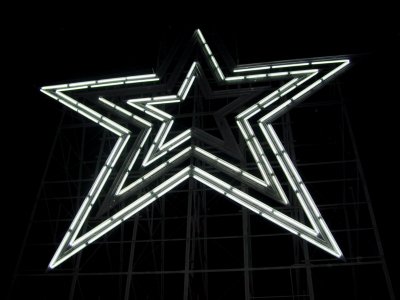 As for parts of it being out, I found out that this was actually the first night that the star had been on for several days, due to the color change, as well as a lot of wind that caused power issues up on Mill Mountain. So they've got a lot of bulbs to replace. I'm told that what you see is 27 individual bulbs out. I commented to myself that with the parts out that are out, it kind of looked like Roanoke was doing something new-ageish up there.
Still, all-white is something I'd never seen before. That was a treat, indeed. And it looks so different up there with the star all-white, too. Usually, the area is bathed in a purplish light due to the red and blue parts of the star. But now, this is different, with the all-white lighting. Very different appearance, indeed.