That coffee is HOT!
March 12, 2007, 3:44 PM
Beware the coffee, at least at first, at Daily Grind in Stuarts Draft. It's not often that I'll comment on coffee, but this is some hot stuff. It looks somewhat innocent at first: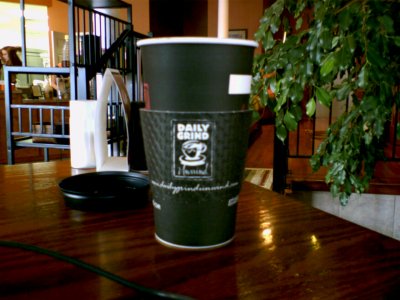 But then when you take even a small sip of it, your mouth soon becomes a hot wasteland. I've never burned my mouth so far back before. That stuff is hotter than your typical home coffeemaker. It's hotter than Sheetz. It's also hotter than Starbucks. It's HOT. I took the lid off and gave it time to air out.
Don't get me wrong, though. I do enjoy their coffee. It's good as coffee goes. But don't take it fresh. Give it time to cool first before you dive in.