That ship looks vaguely familiar…
December 14, 2006, 2:09 AM
Take a look at this editorial cartoon by Jim McCloskey, the editorial cartoonist at the Staunton News Leader: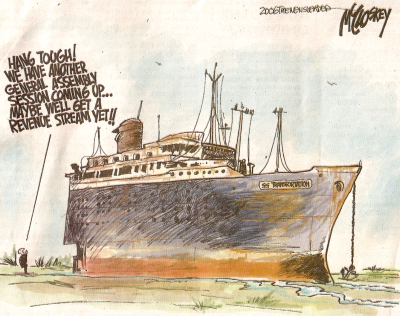 Now the cartoon is about the Virginia General Assembly's getting their act together to fund various transportation initiatives. But look at the ship, shown here as the SS Transportation. Does it look familiar? To those who have read about vintage ocean liners, this should be quite familiar as the SS American Star, which was wrecked off the Canary Islands in 1994, and is slowly deteriorating. Here's a photo of the ship from 2003, from Wikimedia Commons: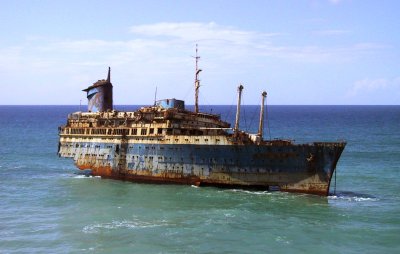 Image information located here. Image is available under the GNU Free Documentation license.
As you can see, Mr. McCloskey's inspiration was most definitely the American Star, formerly known as the America, the USS West Point (AP-23), the Australis, the Italis, the Noga, and the Alferdoss. The way the ship is broken, the hook mast on the funnel, and the placement of the mast, kingposts, and such make it a dead giveaway. I actually have a framed photo of the ship as the West Point that I bought in an antique store some years ago.
Still, I was surprised to see the ship's appearance in the editorial cartoon. I'm also pleased to see that Mr. McCloskey knows his ships.
Web site: Darren Byrne's Australis site
Song: Tom Lehrer: Smut
Quote: I was just amazed to see that it was an actual historic ship, and not just some generic ocean liner...