An Outlet Village update for you all…
November 20, 2006, 9:45 PM
It's been about three months since the last time I gave you an update on the Outlet Village, presented in my Building 7 Burns photo set. Since then, the fire training exercises have ended, with Building 1 also being torched for training purposes. Now, work is underway to prepare the site for the new shopping center that will be going up in its place, which will house a Target and a Kohl's, among other things.
I took all these photos from the car with my cell phone while I was out running an errand on my lunch hour. So here are the photos:

This view is from a similar vantage point that most of the Building 7 photo set was done from. As you can see, the remains of the buildings are gone, and dirt has started to rise over the place where Building 7 used to be. My guess is that either Target or Kohl's goes here, but what goes where is still anyone's guess at this point. Note that the access road that ran behind Building 7 still exists, though whether it ends up being incorporated into the new shopping center remains to be seen.


In these views, you can see that most of the buildings are gone, leaving only Buildings 14 and 17 intact, plus the faux-silo, and the big Outlet Village sign (the last of which is out of frame). From what I've gathered, 14 (blue roof) is being used by the construction crews for the time being, because when I go to work in the early morning, a look towards the Outlet Village reveals that the lights are on in that building. And when I drive home in the evening, the lights are off. The shrubbery is even still intact around it. So I'd say it's in use for something. What, I don't know. Then Building 17 has a large garage on it (see?), and so I'm guessing that it's being used to park equipment for the time being. Then my guess is that the silo and sign just haven't been demolished yet, because I'm guessing that no buildings will be constructed on those locations.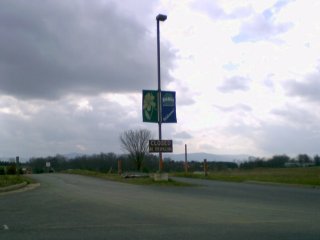 And lastly, it's kind of funny that the Outlet Village's entrance drive remains completely intact, complete with the springtime banners that were up when the facility closed still hanging from the lampposts.
So there you go. I also hope that with this new "Waynesboro Town Center" shopping center coming that they also take the opportunity to improve Shenandoah Village Drive, because right now, I can't see it handling the traffic that a large shopping center with popular stores in it will generate. Right now, it's only two lanes, and is also quite curvy. I just hope that they don't screw with the Park and Ride lot, which is an institution all to itself.
Web site: Waynesboro Outlet Village - see what it once was
Song: The Ketchup Song
Quote: By the way, does anyone else think that with only two buildings still standing, plus the silo, that it kind of looks like a little farm? Maybe it's just me, but it lends that impression...