A little preview of part of my radical cheerleader costume…
October 26, 2006, 12:10 AM
And here it is: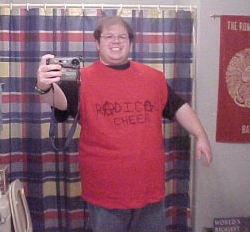 I basically took a Sharpie and wrote "RADICAL CHEER" on the front, with anarchy signs for the As. Then I took a seam ripper and a pair of scissors and cut the sleeves off the red shirt. Then I'm wearing a very light black t-shirt underneath it. So that's part of the cheer costume.
And for those of you wondering about the shot, I took this shot in the bathroom, off the mirror. Then I used Paint Shop Pro to reverse the shot so everything's not backwards. I also hope you like Mom's choice of decor for the bathroom. I personally wish she would change it, or even better, let me redecorate the bathroom, but so far, no way.
And I'm holding the small Mavica, since it's still the quickest way to get a low-res shot. Big Mavica requires finalizing and then reformatting a CD, but does provide a higher quality image. Then the cell phone provides higher resolution, but requires transmitting the photo via Email, and then retrieving it from my inbox. The small Mavica still serves a purpose.
Now for the remainder of the costume, you'll see that on Halloween. Just add a pair of goth arm warmers from Hot Topic, my regular red Chuck Taylors, a pair of black tights, and a pair of black shorts. Then let's also add a black bandanna tied around the neck – the solid one from A16 that I'm wearing in one of the shots. But for work, it will be strictly at neck level. Then I'm also going to be wearing a red cap, where I'm going to perch either a pair of cheap swim goggles, or a pair of safety glasses. Depends on what's cheaper when I go shopping, because I haven't gotten that one yet. And to top it all off, I'm painting my nails black for the one day.
So it ought to be an exciting costume. Come to work and see me. I'm also going to bring Big Mavica with me so that I can get a picture taken of me all dressed up.
Then what else… oh, yes, I'm going to the Infoshop following a railfan trip with my friend Matthew Tilley so that I can get some political pins to put on the shirt.
So all in all, I think it's going to be a fun costume.