I cleaned it. It makes a BIG difference!
September 25, 2006, 1:55 PM
First, though, I came to the realization that I've not shown you what I'm driving for this week. Here's Sis's car, a gray 1997 Mitsubishi Galant: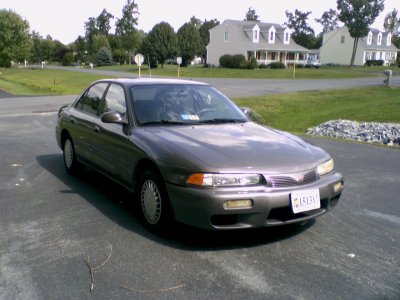 So that's what I'm driving. This is definitely NOT my Sable by any means. This is a mid-size sedan, while my Sable is a station wagon. It will never be as comfortable as the Sable, either, but at least now the cleanliness level is a little closer to the way I like to keep the Sable.
Let me tell you, though… I pulled out a whole lot of trash. I threw away a number of old Virginia Tech visitor parking permits, soda bottles, water bottles, candy wrappers, old Wal-Mart receipts, and various paper stuff. Plus I cleaned out handfuls of CDs. Don't worry – I kept those and put them somewhere for safekeeping. Let's just say that Sis is certainly a music aficionado, but she's not too careful with the media that it's stored on.
Plus I figured out why I couldn't get the front window to defrost this morning when I took Dad to get his car inspected. The reason is because it wasn't the straight glass that the moisture was condensing on. Instead, it was a rather substantial layer of grime coating the inside of the windshield. In cleaning the car, I did all the windows except for the back seat door windows (but I did do the back window). So I did the windshield, the front seat windows, and the back window. After doing the windows, the difference was like night and day. It made a BIG difference. Now we can see.
I also took the time to remove a magnet that Sis made out of a bumper sticker that said, "You're following a girl scout!" I am obviously of the wrong gender to have ever been a girl scout, and so I pulled it off and cleaned the spot where it used to be.
About the only thing I didn't do is vacuum the car out, since I didn't feel like pulling out all the equipment in order to vacuum. Plus there was some colored stuff that had melted to the rug, so I figured there was no point to it, since it would still look bad when I was done.
I personally question how one can drive in such filth, but if you've seen Sis's room when she's home, you will find that she's quite comfortable living in clutter. Me, I need organization (though "controlled chaos" counts for this). I'm just glad the car's now up to my standards. Meanwhile, I still remember last year when I visited Sis at Tech in her car, and the first thing I saw of her was her chest smashed up against the passenger window while she was giving the car a hello hug. Yes, she said hello to the car first, then to me.
Web site: How to organize your car. Someone I know ought to give this a once-over (hint, hint)...
Song: Original Wheel of Fortune theme
Quote: Meanwhile, at home today, we have a very unusual situation - a near-empty driveway! That's unusual. But we have four cars out right now. The truck's out getting its inspection, the Mini's at Dad's work, the Sienna is at SDMS with Mom, and the Sable's at Whitesell's. That leaves only Sis's car and the Mustang here, and the Mustang is wearing a car cover. That empty-driveway thing just looks really strange…