I went to Roanoke yesterday…
June 14, 2006, 7:38 PM
I went to Roanoke yesterday, and it was an interesting trip. I don't find Roanoke to be nearly as fun as Washington DC, but it was still pretty good.
The trip down was via the Blue Ridge Parkway for the most part, taking Indian Ridge Road (a local road from Stuarts Draft to Greenville that roughly parallels US 340) to US 11 to US 60 at Lexington to the Blue Ridge Parkway at Buena Vista. Then I took the Parkway down to US 460.
I took my iPod with me on this trip, and it did fairly well. The iPod's battery lasted all day, and all was well. However, my FM transmitter didn't do quite so well, as I had to change the batteries on it twice. I think I need to get a car adaptor for it, since I burned through four AAA batteries over the course of the day.
The Roanoke Star seemed to be having a rough night, though, as two sections of red went out.
First, a reminder… the Roanoke Star normally looks like this: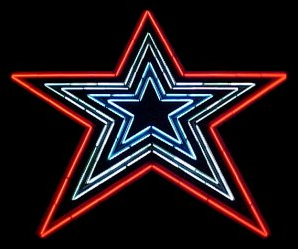 On this night, it looked like this: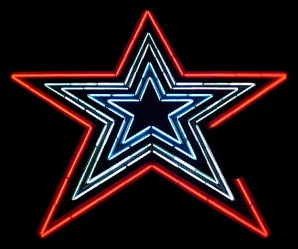 And then while I was up there, another section went out briefly, reducing it to this: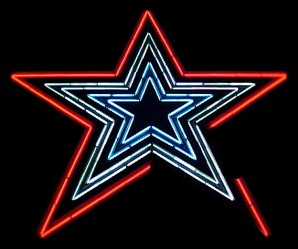 That last part, though, was only out for a few minutes, and lit back up on its own.
After the star, I was going to go to the IHOP restaurant near Valley View Mall, but they were closed for "remodeling". So I went to the one near Tanglewood Mall instead. Found out from there that they were replacing the carpet at the Valley View location. So fun stuff.
I browsed through Best Buy while I was down there, since I consider myself to be about ready for a new computer (I've had this one for eight years!), but with a little cash-flow problem at this point that prevents me from doing so at this time. In order to get a good computer, it would cost me at least a thousand bucks or so. Lovely… I'll stick with this one for now and upgrade later.
And then let's talk gas prices for a moment. Cheap gas in Roanoke is a full 13 cents cheaper than cheap gas is in Waynesboro. I filled up in Roanoke for $2.56 a gallon while it's $2.69 for the same thing in Stuarts Draft. Same brand, no less. I just don't understand gas prices. Especially when gas in Lexington (between home and Roanoke) is ten cents more expensive than in Stuarts Draft and thus 23 cents more expensive than Roanoke.