New glasses!
May 18, 2005, 11:02 PM
So I went to the ophthalmologist today, and I'm happy to announce that my eyes are quite healthy. I also got new glasses, as expected. My new glasses are copper-colored, and are more more squarish than round. So I ended up going with the suggestion by one coworker who said I should get square glasses. I also hope that the other coworker doesn't consider these new glasses as "old fashioned".
So what do my new glasses look like? Let's pull out my "hat mannequin", which I acquired back in 1996 or so from a store that was going out of business, and let's model some glasses.
First of all, this is my old pair, which I have been wearing since January 2001: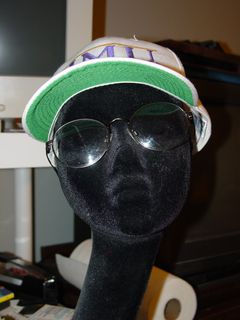 And then this is the new pair: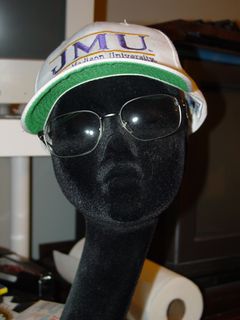 Also note the lovely JMU hat that the mannequin is wearing.
So my new glasses are similar to the old ones, but they definitely update the look. I like larger lenses, and in going through all the glasses at the store, I rejected a whole host of them on account of the lenses' being too small.
Meanwhile, with the new glasses, and a slightly different prescription, I now must get used to them. My first reaction was that I felt a touch taller than usual. I also made sure to be mindful about walking. But all in all, it's going to work out quite well, and I shall wear my new eyewear with pride.