New glasses – it gives you a chance to update your look…
May 15, 2005, 7:27 PM
I'm going to the ophthalmologist's office on Wednesday to get my eyes examined, mainly to see how much my vision has changed since January 2001 when I last got things checked (that's when I first started wearing glasses). My guess is that I'll probably need to get new glasses when it's all said and done. Ask my coworkers at Wal-Mart, and they'll tell you that I have occasionally remarked that I need new glasses.
So… as a result, this gives us the chance to update my look. And glasses do make quite a difference. Compare for a moment:
Glasses: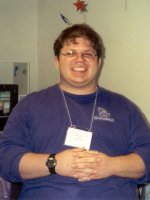 No glasses: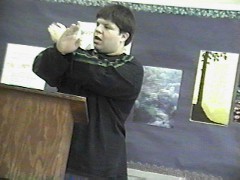 I think that I look loads better with glasses, too. Makes my eyes look less beady. And I still like the way my glasses look, even after nearly four and a half years together. This despite a coworker's remark that my glasses were "old fashioned" in a discussion about my likely getting new glasses. Another person said I should go for square glasses, after I quickly shot down a different recommendation from the same person: contact lenses. I absolutely refuse to wear contact lenses. I like the way I look in glasses.
Of course, glasses will make or break your appearance. You want something that matches your personality, and looks good on you. I also like it that my current glasses kind of hide or at least de-emphasize my eyebrows. For some reason, I've just never liked the way my eyebrows looked. Go figure. But that is something I found important.
Still, I'm sure in looking for a new pair of glasses that I'll find something that works for me. And it will hopefully update my look and still look totally awesome on me. And who knows… maybe I'll find something in my favorite accessory color – black – this time, rather than the "client olive" color that my current glasses are.
Either way, though, it should be interesting, but the June 2005 splash page photo (which I've already picked out) will feature the old glasses.