There was some unexpected excitement when I went to Washington DC this time…
May 12, 2005, 10:10 PM
Yeah, this was not your average Washington DC trip on Wednesday, though not like I noticed anything different aside from the buzz of the people throughout the city.
Normal start, though. Get up, go on up to DC, and find a parking space at Vienna. This time, I actually found a pretty good one, though. As luck would have it, a woman was leaving the parking garage as I was hunting, and so I got a parking space on the top level of the garage, no more than fifty feet from the elevator. Very nice parking. I saw her walking towards the cars, and I said, "Where are you heading?" She pointed to the car, and I positioned myself to get into place. She pulls her car out, and mine goes in.
Then from there, I did my usual Rosslyn thing, and then went back into the Metro right around noon or so.
Meanwhile, in DC, the fun began, as air controllers noticed a small Cessna plane flying into restricted air space over the White House and such. This led to evacuations of the Capitol, the White House, the Supreme Court, and a few other government buildings.
And all the while, I was on the Metro, taking the Orange Line from Rosslyn to L'Enfant Plaza, then the Green Line to Gallery Place-Chinatown, then the Red Line to Judiciary Square. From there, I went to the Jackson Graham Building, otherwise known as Metro headquarters, to check on a job application I had submitted. All seemed well enough to me where I was, with nothing out of the ordinary.
But while I was riding on the train and taking care of some business, work was underway to take Laura Bush, Dick Cheney, and Nancy Reagan (who was in town visiting) to secure locations, and also ferrying members of Congress to their own secure locations. George W. Bush himself was out biking in Beltsville, Maryland, oblivious to the situation in Washington.
I didn't hear about it until it was all over, around 1:00, waiting for the train at Judiciary Square, when a woman mentioned it to me. We had an interesting discussion about it. She thought that the plane should have just been shot down, but I think I may have convinced her otherwise. I said that nine times out of ten, it's harmless. Nine out of ten says it's an idiot, not a terrorist. And idiots are like the story about gray hairs, where they say if you pull out a gray hair, three will grow back. You knock off an idiot, and three more spring up to take their place. And this world has enough idiots already. Trust me.
I found that interesting, and continued around on my way through DC checking off my itinerary. My itinerary was tipped toward the rails this time, with a few other things in between. So from Judiciary Square, I rode the Red Line out to Fort Totten, where on the way I took some photos of Brentwood Yard, where Rohr 1077 is located (the Woodley Park accident train). At Fort Totten, I transferred to the Green Line, and rode to Columbia Heights.
From there, I walked the four or so blocks to Malcolm X Park, where I did half of my upcoming photo set on Malcolm X Park. Why half? Well, the upper level of Malcolm X Park, which is primarily a large, tree-shaded grassy area, was as green as it was going to get – thus ripe for some photographs. See?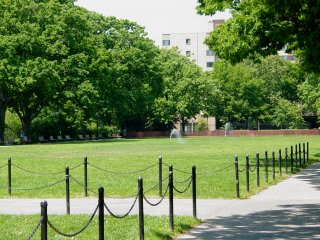 So I photographed all through this area, where the DAWN march started out on January 20. On a regular day, Malcolm X Park is a nice place. Very quiet and peaceful. There was also a group of kids there practicing lacrosse.
Now the lower level of Malcolm X Park, which is the feature that puts Malcolm X Park on the map, was not yet ready for photographs. At its peak, the lower level is fully in bloom, with lots of interesting flowers, as well as large fountains, and a magnificent waterfall. This area was not exactly "ripe" like the upper level was.
As you can see, the fountains weren't running, including the big waterfall, plus the plants seemed a little unkempt, particularly the yellow daffodils on either side of the waterfall. I'll probably end up doing the lower level separately in July or so, when it's all ready to go. Then I'll do the two halves on the Web site as one photo set.
I ought to do a few different parks and features and such as a little series this summer. I could include some of the more interesting circles and squares in DC, a few things around where I live, and all in all focus on some interesting greenery. I know Dupont Circle in DC is something I want to do for photos, so we'll see.
Then after leaving Malcolm X Park, I went to the Starbucks on U Street next to the U Street-Cardozo Metro station. There I had a Jones Soda and a sandwich, and read the news on my cell phone to get the full story about the plane in the restricted airspace and all the evacuations. I also found out that Washington DC Mayor Tony Williams is quite unhappy with the way it was handled from his perspective as mayor. And I quote, from an ABC News article:
"Security measures were effectively executed," Homeland Security spokesman Brian Roehrkasse said.
There was one notable exception: Mayor Anthony Williams said city officials weren't told about the threat until the all-clear was sounded, more than 10 minutes after the White House and Capitol were evacuated. A city government building that houses the mayoral and District of Columbia Council offices, located two blocks from the White House, was not evacuated.
"Critical and potentially life-or-death information about threats facing district residents needs to be shared immediately, not five, 10 or 15 minutes after the fact," Williams said.
And DC again gets left out in the cold. Again we draw the distinction – we have "Washington", and we have "DC". While "Washington", with all the lawmakers and VIPs and such for our federal government, was evacuating and such, "DC", home of roughly 500,000 people and a very vibrant community, where there is a full local government, complete with city council, a mayor (Tony Williams), and a city administrator (Robert Bobb). And no one bothered to tell them about this potentially critical situation. Not good.
Still, I'm glad to know that it was only an idiot in the sky over the White House, and not a terrorist.
Related articles:
Errant Flight Prompts Capital Evacuations
Timeline of White House Security Scare
How Could a Pilot Stumble Into White House Airspace?
After leaving Starbucks, I caught the Green Line at U Street-Cardozo, and rode to L'Enfant Plaza in order to hopefully find CAF 5048 and 5049, which had been "wrapped" in advertising in an effort by Metro to earn more revenue through advertising. The wrap was for McDonald's, advertising their new fruit and walnut salad. Arriving at L'Enfant Plaza, where I was prepared to watch for it to come via the Orange Line (which is where it was advertised as being), I looked at the Vienna tracks, and saw something bright green – it was the train! So I hopped right on, and we were heading back to Vienna!
I knew the outside of the train was wrapped, but I didn't think that the inside was, too. Along the ceiling there was more advertising for McDonald's, and all the standard ad panels matched the wrap theme.
So I spent the time between L'Enfant and Vienna photographing the insides. Then at Vienna, I got some photos of the outside.
I missed the train leaving Vienna, since I was too involved in photographing the train before the door chime sounded once and the train left. So I rode at the rear of the next train. That car ended up being Breda 4061. While photographing, someone else was also photographing the train. I said to them later that they should post them on BTCO.net, and as it turned out, they were already a regular on there! So that was awesome. A chance encounter with another rail buff.
I ended up riding Breda 4061 to Cheverly on the other end of the Orange Line, and then waited a few minutes there for the McDonald's train to come around again out of New Carrollton. Since it was the beginning of rush hour, it wasn't a long wait. And I got a movie and some other material of the train. A more complete photo spread of this will be on my Transit Center site. After all the photos, I rode the rest of the way out to New Carrollton, got a water at the Amtrak station, and then rode back to L'Enfant Plaza, where then got a Yellow Line train to Virginia.
After that, I rode down to King Street in Alexandria to work on some more DASH photos for the site, and then from there… Pentagon City, where I went to the mall, and wondered, would it be considered rude to throw peanuts at the tourists? Realize that my usual evening hangout is swamped with tourists this time of year, mostly school groups wearing matching apparel.
Every time I see the school groups, it makes me kind of wish that my high school took us on big, long trips like that. Of course, then we think about the composition of Stuarts Draft High School (a lot of rednecks), and I wouldn't take any of them on a long trip, either.
Still, I got a frozen lemonade at Mr. Smoothie in the mall, got my Washington Post, and settled in for some serious news. By the time I left Pentagon City, it was around 10 PM, and so I went back into the Metro and started making moves toward Vienna. I got a Blue Line train and went to Rosslyn, where, realizing it was still early, I got off at Rosslyn and went to see what was going on topside.
Now usually, at night at Rosslyn, there are maybe three or four people at most going up to the street with a given train. This time, practically the entire train got off at Rosslyn. Most of the people getting off were quite young, all dragging suitcases, and all wearing MATCHING SHIRTS. There were a few adults in the crowd, and from them I found out that they were from out of town (I think from Indiana), and going to their hotel in Rosslyn. I commented to the lady I spoke with that it was quite brave of them to cram all those kids onto the Metro vs. taking a bus or something. But they were going to use the Metro for everything, with each child needing its own farecard. Sounds like a pain for a huge group, but they did it. They took the Metro from National Airport to Rosslyn in this case. I know that if I were going to DC with a big school group, I'd probably forgo the Metro entirely and have a dedicated vehicle (like a chartered bus) for going places. But go figure. Metro works for me as an individual or a small group (think one or two extra people sometimes, like Sis or Mom and Sis).
At Rosslyn, I parked up on Rosslyn Center's second-floor balcony, where I often read the Express in the morning, and got even more news, this time via my cell phone. I don't like to get to Vienna before 11:30, since arriving before then makes parking a little more difficult. So Rosslyn was essentially a delaying tactic.
Then arriving at Vienna after 11:30, I headed back home. But not first before seeing this: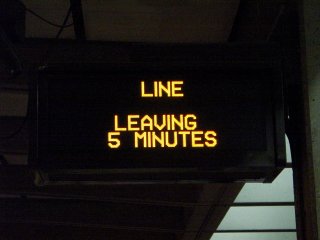 I've only seen this appear after the last revenue train of the night has left Vienna. I don't quite know what it's counting down to, since it appears to be a glitch of some sort. My guess is that the destination code it's counting down for is a "NO PASSENGERS" code (likely to Falls Church Yard), and probably shouldn't even show on the displays.
So all in all, it was a good day in DC for me, and interesting that major government buildings were being evacuated on a day I was in town. Most days that I go are fairly slow news days. Days that I go for big demonstrations, of course, means we're making the news directly, not just being around. But still, most days I go are otherwise pretty nondescript. So that was interesting.
Web site: Metro press release on the McDonald's-wrapped cars
Song: Goofy singing a tune in the cartoon about how to fly an airplane
Quote: Mom and I today were talking about the incident that happened in DC on Wednesday, and we both agreed with news reports that any building in DC would laugh off a direct hit with a tiny Cessna aircraft, even with completely full fuel tanks. Mom brought up a good point, though. A small Cessna could spray all kinds of nasty agents aerially over the city. Thus was the whole evacuation possibly subjecting people to more danger than they would by keeping them in place? Makes you think.