And we change the clocks again…
April 3, 2005, 12:27 AM
I can't believe that our time with Standard Time has come to an end once again. And now it's time for Daylight Savings! Amazing. I also can't believe that it's April, and that A16 is only two weeks away.
Meanwhile, Katie had a birthday on Thursday, March 31. So now she's 23. She and I and her mother and her mother's boss all went to Sanzone's Italian Restaurant in Stuarts Draft for dinner. It was a lovely dinner, too. We all had some sort of pasta. And let me tell you… Sanzone's is a wonderful restaurant. They really did a number on the old Tastee Freez building. Inside, you wouldn't think that it was fast food. It's a gorgeous Italian restaurant now. Now outside, its former use is still evident, as the drive-thru canopy is still there, though not in use, and the exterior looks like it was once fast food. But all in all, though, Sanzone's is a good place to take your family if you're interested in Italian food. Good food, and good service.
Okay, end of ringing endorsement. But they are good.
I got Katie a stuffed cat for her birthday. I was looking for a black cat, to match her real cat, named Peabo. But since I couldn't find a black one, brown would have to do. It was still cute as all get out, though. Take a look at the stuffed cat and see for yourself: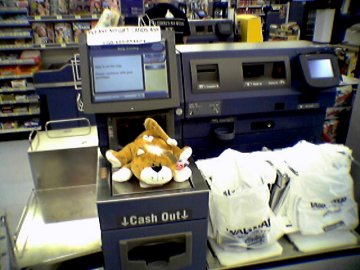 That's the cat, sitting on top of the self-checkouts at the Liberia Avenue Wal-Mart in Manassas.
By the way, speaking of Wal-Mart, it's interesting to see how some stores try to position themselves in their local areas. In Harrisonburg, for instance, when the Dayton store opened, they emphasized the fact that they were a Wal-Mart Supercenter. At that time, the Harrisonburg store was a regular store, and not very big. So Dayton being a Supercenter was important. In Manassas, where there was already a long-established Wal-Mart right near I-66 on Stream Walk Lane (which I visit on my way up to DC to make a pit stop), the other Wal-Mart in Manassas emphasized that it was across town. The registers even say "Welcome to your Liberia Avenue Wal-Mart". Usually they just say "Welcome to your Wal-Mart". We know what they're emphasizing here.
Otherwise, though, I think my voice is coming back, slowly but surely. And that's a good thing. We don't like hoarseness.
Speaking of a hoarse voice, when I shot all the linking material for the photo set that I was originally going to call "In the Face of Danger", I sound a little scratchy in the movies – some worse than others. By the way, I've changed the title of the clip-show photo set, and as of right now, the name is "If These Streets Could Talk". And it's going to be a lot of fun.
Meanwhile, Paul Wolfowitz was recently approved as head of the World Bank, and will assume that post on June 1. Considering that he was also one of the chief architects in what became the war in Iraq, this ought to really make A16 interesting, since it will also incite the anti-war and anti-Bush crowd. I can't wait to see the signs on April 16.
Also… I've come up with a good name for register 11, which in our Waynesboro Wal-Mart, is the cigarette register. And ever since May 4, 2004, tobacco products can only be purchased at register 11, or whatever the cigarette register may be for a given store. So what do I call it? The "vice counter". This is because it's the place where we supply people's vices. Do you smoke? Do you chew tobacco? Come on over to the vice counter, and we'll get you your fix for your vice. Funny was when I was setting up the labels for the spill stations in our store. I labeled that pole, in between the cigarette register and the Service Desk, as "Service Desk", but put the "SE" on there last. So thus for a brief, shining moment, that spill station was called "vice desk", which I thought was highly appropriate.
And no one is allowed to get all holier-than-thou on me here. Everyone's got their own vices, even if it's not cigarettes or chewing tobacco.
So anyway, don't forget to set your clocks ahead for Daylight Savings and while you're taking care of stuff, don't forget to check your smoke detector and make sure it works.