What's wrong with this picture?
March 3, 2005, 11:26 AM
Note what I've circled: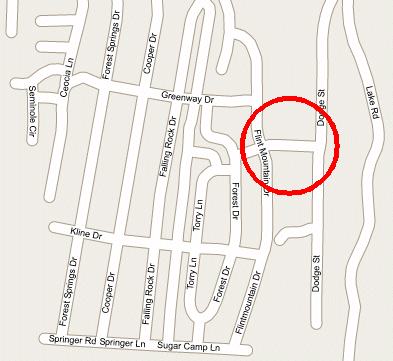 This is a map of the neighborhood in Stuarts Draft where I live. Google has a Maps section that is currently in beta testing. And all I have to say is that I hope that they can fix this system up, since it's pretty comical what errors they have, just in my neighborhood alone.
The circled area, you see, is actually a non-existent street between Flint Mountain Drive and Dodge Street. If it did exist, it would most likely be part of Torry Lane. But this is a connection that does not exist. In fact, there's a house where this road is shown. And the people in that house go to our church. I wonder what they think about their house being shown on the map as a non-existent road.
Truth be told, the only connection between Ridgeview Acres (which is what the neighborhood is known as between Falling Rock Drive and Flint Mountain Drive) and the Hodge Street/Dodge Street/Lake Road neighborhood is through a church parking lot, which has a driveway opening on Hodge Street and Ridgeview Drive. There is no public right-of-way forming a direct connection between the two neighborhoods. One must go all the way out onto Route 608 and then turn onto Route 610 to reach Hodge Street from Ridgeview Acres.
Now I will admit – the map is very easy to read, and the street names are well-marked. But the data itself has some serious flaws. For one thing, on the excerpt I showed you, I found another non-existent street running east of Falling Rock Drive, connecting with Falling Rock Drive at its north end, and with Springer Road/Sugarcamp Lane at its south end. Understandably, this street is not named. I'd really start to wonder about the data if that street had a name. This non-existent street also has a non-existent connection to Torry Lane, right where some friends of ours used to live.
Beyond the excerpt that I showed you here, I also found a number of other big flaws, such as in the nearby Meadowdale Drive neighborhood. This neighborhood is signed "No Outlet", since there's only one way in, and all streets in the neighborhood end in a cul-de-sac. This map adds a non-existent cul-de-sac, and makes a connection with Horseshoe Circle. And for the record, Horseshoe Circle, Meadowdale, and Forest Springs are all not connected. The only connected neighborhoods are Forest Springs and Ridgeview Acres, which are connected by three streets.
I do not fault Google for not including recently-built streets in their maps, since often the map data that they use does not have those new streets in it to begin with.
All in all, I think it's going to eventually be a good service, if they can just get the kinks worked out of their maps…
Web site: Google Maps - find the errors!
Song: "Big Wheels" theme to Wheel of Fortune. This is the original theme, not the current one.
Quote: "I wonder what they'd think about that non-existent right-of-way..."