What would you say if it was me behind the wheel of your transit bus?
February 21, 2005, 1:42 AM
What would you say? Well, I can't say you'll be seeing me driving a bus any time soon, but I did get someone to take a picture of me behind the wheel of a Harrisonburg Transit bus on Friday. That will be my cover photo for March on the site.
Otherwise, though, photographing in Blacksburg on Wednesday turned out to be quite successful. I got a whole load of bus photos, and also various other non-bus photos. Plus I got to eat dinner with my sister, which was nice.
I also discovered that Coca-Cola is coming out with a new flavor – Coca-Cola with lime. This is regular Coke, with the lime flavoring. This is NOT a diet soda! This is regular Coke. I tried it. It's got a good flavor. It's not like Pepsi Twist. This is like Vanilla Coke – it's there, but it's not obnoxious, and you'd think that the two had been together for ages. Pepsi Twist honestly tasted like Pepsi with some strange-tasting lemon flavor in it. Only place I've found the new Coca-Cola with lime so far is the Wal-Mart in Salem, where I stopped to make a pit stop on my way down. I'm sure it will be around elsewhere before too long.
Otherwise, I have confirmed that my sister is coming with me to DC on April 16! Though it might be more appropriate to say "A16", considering what we're going to a big demonstration on third-world debt. This will be my sister's first big DC demonstration! Awwww…
Speaking of protests, on my way into Blacksburg, I stopped in at the Michaels in Christiansburg. Reason I stopped there is because on January 20, I learned that this girl got her solid bandanna (something I'd been looking for) at Michaels, and so I stopped by. Still, I went in, and hoo boy… not only did I find the solid bandannas, but I found all kinds of other cool stuff, too. Talk about a protester's dream. I found feather boas (think Billionaires for Bush for a moment), paints, big heavy board that is suitable for signs, and my favorite – foam fingers! If I can figure out something to put on there, I might just have to get a foam finger or two to take with me. And it's high-quality foam, too. A lot hardier than your typical foam fingers.
But anyway, then on Friday, I went up to Harrisonburg, specifically to photograph Harrisonburg Transit. That was successful. Watch for updates to my Transit Center site for Harrisonburg and Blacksburg updates. I also went around a bit visiting people and places. Checked in with Card Services again. They're still doing quite well, and we all have our stories. Also visited other people. Stuck a "hello" note under the windshield wiper of the car of one of my former residents. I also saw a former Potomac-er, who said, "Schumin, please tell me you've graduated." I was able to say, "Yes, I have graduated."
I also swung by the Valley Mall. That was interesting to see. See, the Valley Mall I remember had a Wal-Mart at the eastern end of the mall. It looked like this: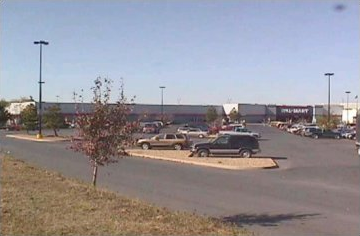 Photo: Wal-Mart Realty
Now this Wal-Mart has been closed since May 2003, when they moved to a huge Supercenter down the road. But the building was still there. Now, look at the eastern end of the mall: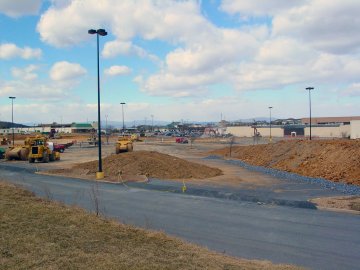 I was just like, holy crap, as like a third of the mall is just totally gone. Not only has the Wal-Mart been demolished, but the old food court, otherwise known as "Cafe Commons", has also been demolished. So the mall now has essentially reverted back to how it was before it was enlarged in 1991. That's when the food court and Wal-Mart were built onto the existing mall. The 1991 addition is now completely demolished. The mall now ends at The Shoe Department. My understanding is that a few new retail spaces will be built onto the end of the mall, as well as a new anchor store that I consider quite a surprise: Target. Yes, Target. In the former Wal-Mart location. Go figure. I'm just like, I just work here (you get the point). Still, ever since Wal-Mart left the mall, Valley Mall's been hurting. The food court was looking particularly dismal (and that was before Wal-Mart left!), thus why it's just as well that it's gone now. So a new anchor store will do the mall well. Hopefully it will be at the same level as the rest of the mall this time, and not at a higher grade than the rest of the mall like Wal-Mart was. Part of the food court's reason for existence was to serve as a ramp from the mall up to Wal-Mart. Maybe this time we'll get a nice, flat approach.
Otherwise, though, my day was good.
And now I'm looking forward again. I'm going to Charlottesville on Wednesday, and then on Thursday… DC! On Wednesday I'll be going to yet another institute of higher learning, this time the University of Virginia, to photograph the buses of UTS. Perhaps I'll also get some more CTS and JAUNT photos while I'm at it. Then Thursday in DC is still up in the air as to what I'm going to do. My intent is to go out to Largo Town Center to see how things have come along since my last trip out there just before Christmas. Additionally, I want to get more New York Avenue photos. I rode past there the last time I went up to DC, and a lot more signage was up this time around. All I know is that I have a lot of objectives and not a whole lot of daylight to do them in. So we'll see what we get.