Be careful what you wish for, because in this case… I got it!
February 3, 2005, 9:46 AM
Yesterday, in this space, I said, "Still, I'd like to really see a snowfall that will cause several inches to cover my car, requiring me to really use the brush on the end of my scraper. Or perhaps give it one good blast with my windshield wiper."
Today, this is what I got: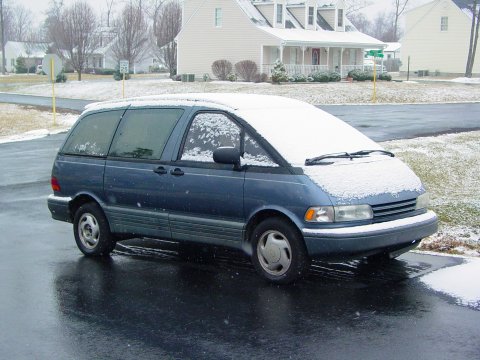 And I think I'm going to need to give the windshield wipers a whirl at the very least. But there you go. Snow on the windshield. And after Punxsutawney Phil saw his shadow yesterday in Pennsylvania, meaning six more weeks of winter.
Otherwise, though, while I was outside the house with Big Mavica, I got a few other shots.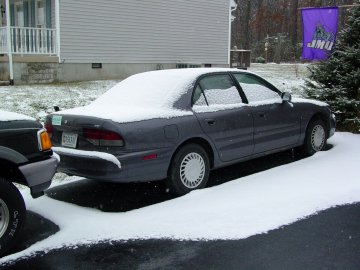 This is Sis's car, idle while she's at VT, also covered with snow.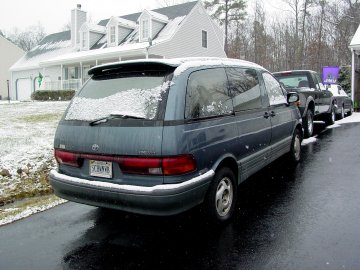 My car again, this time from the rear.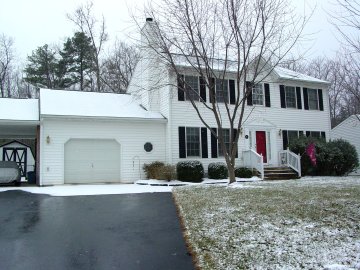 The house as seen from the end of the driveway, with snow on the roof and in front. As you can see, this isn't a whole lot of snow by any means at this point.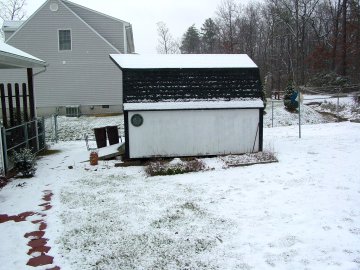 The backyard, as seen from the porch, also is snowy, but as I mentioned, the snow is thin. The porch, however, was bone dry, thanks to that remodel we did last summer.
And meanwhile, guess who was laying on a pillow up in Mom and Dad's room, being a dog. That's right – Greta.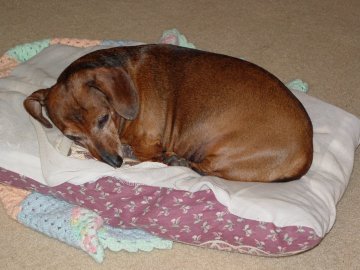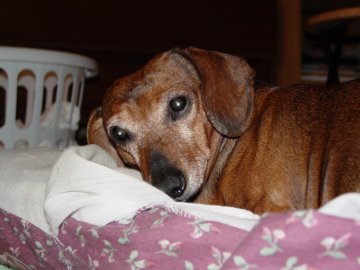 That's amusing, though. We talk about it one day, and we get it the next. Now maybe if I wished for a million dollars…
Web site: The White House in Snow, a photo set from 2003.
Song: "No Matter What I Do" by Nelly. Still reminds me of the theme for the 1980s version of Hollywood Squares, which was hosted by John Davidson.
Quote: "I guess I got my wish..." - Me thinking about yesterday's Journal entry, after seeing the snow