And I'm not touching that bloody photo set again until the 2005 redesign…
December 14, 2004, 1:24 AM
I finished it. I have finally finished the Million Worker March photo set in Life and Times. See it in all its Million-Worker-March-ness. And just three days shy of the two-month anniversary of the march.
The most-photographed view of the Million Worker March, based on what I could find elsewhere online, looked like this: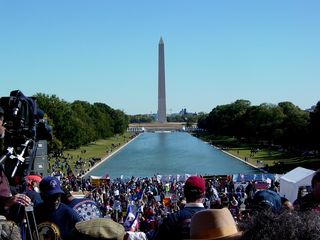 As you can see, I got the obligatory camera angle as well. This was from the steps of the Lincoln Memorial, looking towards the Washington Monument. It seems like everyone and their mother got a picture from up there.
I just find it to be amazing that it's been nearly two months since the Million Worker March happened. Two months! Since then, I followed up on the union contract issue at the Hotel Washington. Part 3 of the photo set shows our visit to the Hotel Washington. Since the march, according to a December 9 article in the Washington Post, UNITE HERE Local 25, the union that represents the hotel workers, and the Hotel Association of Washington have still not reached an agreement on a contract. And there's also been no strike or lockout or anything like that.
Still, I'm just glad that I've finally gotten the photo set finished. Took me long enough. But Life and Times now has a little entry on the menu that says "Million Worker March" on it. And right at the top, no less. I'm pleased about it.