Roanoke and Lynchburg…
December 5, 2004, 1:43 AM
I just have to say what a trip it was… on my off day I traveled in a big loop. Traveled from Stuarts Draft over to Charlottesville, then down to Lynchburg, across to Roanoke, and back up to Stuarts Draft.
I started out taking a bit of a back way to I-64, which meant I took Route 610 from its origin about a mile or so away from my house to Mount Torrey Road in Sherando. This took me through Lyndhurst and on into Waynesboro (where it becomes Delphine Avenue), where I met up with I-64. So I took I-64 eastbound, to Exit 118A. This took me over the mountain, and to the first Charlottesville exit, which landed me on US 29 southbound. As you can see, Charlottesville was just a hub for me. The place where I changed direction.
Actually, I went too far east to be most efficient. The most direct route would have been to get off I-64 at Exit 99, which is Afton, at the top of Afton Mountain. Travel eastbound a few miles on US 250, and then take VA 6 down the mountain into Nelson County and meet US 29 at the end of VA 6. But this was a road trip, with the drive being half the fun.
So I took US 29 from I-64 near Charlottesville. Boy, that's a lot of undeveloped space around there going south. Very scenic, though. Rode US 29 through Albemarle County, into Nelson County, and into Amherst County. I got to experience a traffic circle in Amherst. Funny thing about the Charlottesville-to-Amherst (as in Town of Amherst) leg of the trip was that you'd have lots of empty space, then all of a sudden, boom. A store. Then more open space. Then boom, a Food Lion in a full strip mall in what seemed like the middle of nowhere.
I definitely made this a classic road trip, because I took the business route through a few towns on my way where US 29 offered a bypass. Nothing like going through some towns on the way. One was Amherst. I also went through Lovingston. Fun stuff. I stopped at a Sheetz somewhere in Amherst County to gas up the car.
I actually hit Lynchburg by surprise. I didn't realize I was almost there until I was practically right on it, taking another business route, and then next thing you know, I see high-rises. I must be in Lynchburg! I traveled right through the city, though, which was interesting, including through a road construction zone where my path was a bit uncertain and only one direction could pass through. I don't know if it was a wrong turn or what have you that took me through the road work, but I somehow kept with US 29. I followed it further as I caught the turn that US 29 takes onto Wards Road. Wards Road in Lynchburg is best described as the commercial district. Strip mall after strip mall. Quite a few big-box stores.
I took a stop at River Ridge Mall, which is an enclosed shopping mall. River Ridge is actually well above the level of Wards Road, and as such you get an amazing view of the surrounding area from the parking lot. The mall itself was thriving, and appeared to have been recently renovated. However, it seemed like a very small mall. Took moments to reach the other end of it. Ah, well. I took a moment to walk through Hecht's. I found Hecht's interesting because it appeared to be from a previous era as far as the mall goes. The mall's interior looked like it was freshly remodeled. Hecht's appeared to have not undergone a renovation for some time. It seems that most retailers anymore try to bathe the store in lots and lots of light, to almost make it as bright as they possibly can. The Hecht's was from the previous era, where the stores were quite a bit darker than before.
After that, I stopped at the Wal-Mart in Lynchburg. I stopped there primarily to pay a visit to a former Waynesboro assistant manager, who moved to the Lynchburg store to become the co-manager. I also found out how much charm the Lynchburg store has. It is actually a converted Supercenter, meaning that it used to be a regular Wal-Mart, and then was later expanded with a grocery section. And it was even older than I expected, for despite the gray paint, modern signage, and Supercenter storefront, it still retains some features from the brown days in the 1980s, particularly Layaway. This Layaway department does not look like most Wal-Mart Layaways – trust me. Neat, though, and you can tell it's vintage.
After that, I went around the corner to Barnes and Noble to relax a bit with a coffee. By the time I left Barnes and Noble, it was starting to get dark, so it was time to contemplate heading across to Roanoke. At the bookstore, I got directions on where to change from US 29 to US 460, and then followed the directions – or so I thought.
The first bit of the directions went without a hitch. Just south of my location, there would be a big green sign showing how to reach US 460 westbound, which had Roanoke as the destination. So I turned there. This took me on Wards Ferry Road, which was a small, two-laned road. Not what I expected. A wrong turn? Probably. There were no reassurance markers along the road indicating that it was US 460. And a look at MapQuest just now confirmed my suspicions – this was indeed a wrong turn, and as it turned out, it took me way the heck out of the way.
I stopped at a branch of Beacon Credit Union, not long before they were supposed to close for the night. One of the tellers and a customer gave me directions to get to US 460. Turns out I just needed to just make a right turn out of their cul-de-sac, and then it was a straight shot.
This took me out of the City of Lynchburg and into Campbell County. Then I got US 460 in the direction of Roanoke. Smooth sailing again. All I had to do was drive, through largely rural portions of Campbell County, Bedford County, and to my surprise, part of Botetourt County (I'm used to Botetourt County north of Roanoke on I-81 – not east of it!). It really was rural, and then all of a sudden, a Wal-Mart Supercenter. Those things just come up in the darndest places sometimes. This one was in Bedford, and it was green and brick. It was definitely a nice looking store both inside and out.
After that, I bypassed Bedford itself to save time, and after passing through Botetourt County, I entered Roanoke County, via Bonsack. Once I got to the Bonsack Wal-Mart, I knew where I was again. This was Challenger Avenue, which turned into Orange Avenue once you entered the City of Roanoke.
From there, I went to Valley View Mall, where I spent some time kind of checking it out. That's where I had one of those small-world experiences. I was perusing the mall, and on the lower level, one of the kiosks had a familiar looking set of lotion bottles. See where this is going? Anyway, the person offered to show me how it all worked and I politely replied, "No thank you". It was another nail buffer block. Then I heard a familiar voice. Remember the guy at the Staunton Mall with the accent who drove us crazy trying to make a sale? He said to the other guy at the kiosk that I had my thumb buffed the day before. He said to me, "I remember you from yesterday." And I just stepped up the pace a bit as I walked away. It should still be noted that when I got home after he buffed my nail in Staunton, that I took a nail file and roughed it back up.
It should also be noted that upon talking with a coworker on Saturday, it turns out that Wal-Mart sells a similar buffer for $1.97, without the lotion.
From there, I went up to the Roanoke Star. It was a nice place, and there were lots of people up there. I actually met a nice girl there named Amanda who struck up a conversation with me if I'm recalling correctly. We talked for a while at the star, where I found out that she's a student in Roanoke, and she found out that I'm a 2003 JMU graduate. We actually walked down from the main viewing platform in front of the star to the other platform, all the while talking about all kinds of stuff. Then when we realized that the park was getting ready to close, we headed back up to the star. We traded IM names, which was pretty neat. Who knows? Maybe next time I go down to Roanoke, we can meet up again.
From there, I stopped at the Sheetz on Peters Creek Road for gas and food, and from there, a nonstop dash up I-81 back to Stuarts Draft.
And also, my van hit a milestone as I was entering Stuarts Draft. Look at this: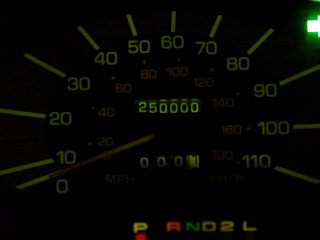 Notice anything significant about the top number? Yep! 250,000. Right there on US 340, my van got 250,000 miles on it. To put it another way, it's a quarter of a million miles. That's a lot of mileage. Thus why I pulled over and took a picture with Big Mavica. That's a lot of mileage.
Oh, and the oil-change light came on, which it does on big, round numbers.
And then from there, it was back home, and into the bed. All in all, I had a fun trip!