Happy Thanksgiving!
November 26, 2004, 12:32 AM
Hope that everyone's Thanksgiving has gone well, and that everyone's full with turkey, stuffing, and all kinds of other tasty foods. I am, that's for sure.
On the day before Thanksgiving, however, I went to Washington DC, mainly to see the newest Metro station – New York Avenue-Florida Avenue-Gallaudet U. Nice Metro station, by the way (we'll be revisiting this point later).
Since it was the day before Thanksgiving, I took traffic into consideration. Traffic on I-81, which I take for roughly 79 miles from Staunton to Strasburg, was heavier than usual, but not bad. Mind you, I did try to counter heavier traffic to an extent by leaving more than an hour earlier than usual. On I-66, traffic got thicker earlier than usual on the way to Washington. Usually I hit two traffic bottlenecks around Exit 43 going eastbound, before I-66 widens into four lanes each direction. This time, traffic got heavy starting in Fauquier County, which is what I consider the last county before you officially enter "Northern Virginia" – in other words, Prince William County in this case. Then I hit the usual traffic bottlenecks around Exit 43 and made it to Vienna. Along the route, I saw no police on I-81, and three police cars on I-66. One was running a speed trap on the eastbound side in Fauquier County, and then two were running a speed trap on the westbound side in Prince William County. Interestingly enough, the two doing westbound speed traps were both in the same spot. I guess they were really going in for the kill.
I also travel on I-64 to get to Washington DC, but as it is only four miles in the early morning, I consider it to be insignificant. Heck, I travel more distance on local roads on the way to DC than I do on I-64.
At Vienna, I rolled into the North Garage at about 8:15 or so, and got a top-deck parking space overlooking the Metro station, which is just how I like it. Since it was so early (I usually roll into Vienna at 9:30), and right in the midst of the morning rush hour (of which I usually only catch the tail end), I could buy my day pass, but not yet use it, since day passes aren't valid until 9:30 AM. So I broke out my SmarTrip card, which I keep a small balance on, to take me on a short trip to the Ballston-MU station, where I grabbed an Express and headed to Ballston Common Mall to read it. I usually always start my day in Washington reading the Express, though this was unusual reading it in Ballston. Usually I read it a bit further down the line, at Rosslyn Center, which also contains the entrance to Rosslyn station, either on the open-air balcony, or in their small food court, depending on the weather. I like the balcony.
After that, it was about that time to meet a fellow railfan, who I'd agreed to meet up with to do a little railfanning with. We were going to go do a small tour of the system, with the intention of hitting Huntington, Franconia-Springfield, New York Avenue, and Fort Totten. I went to our designated meeting place in Rosslyn. And I waited. For an hour. They never showed up, which ticked me off a bit.
But no big deal, since it's not like I needed someone's keys to get where I needed to go. I grabbed an Orange from Rosslyn, and headed to Metro Center. There, I checked out Metro Center's new elevators, which had recently reopened after closing for a total rebuild for something like two months. I also took a look at the winners of the "Metro Matters To Me" art contest, which school children of all ages participated in. Let me tell you – these were some good posters, too.
From Metro Center, I ended up taking a walk along G Street to Gallery Place-Chinatown station. The stations are only 900 feet apart, so this was by no means a killer. This was actually on the route that Jess and I took on the way to the Infoshop back in October.
Reaching Gallery Place-Chinatown, I grabbed a Red Line train to Glenmont, and headed to New York Avenue-Florida Avenue-Gallaudet U. I ended up riding a Rohr, which was interesting – riding to the newest station on one of the oldest trains.
Let me tell you – that is a gorgeous station. It's very second-generation as far as stylings, too, as Metro improved on its original design. The station manager's kiosk is bigger, there is some redundancy built in, having two elevators and four escalators (double what most stations have), the canopy is of a completely new design and painted white, plus there are four information display screens, having two on each side. That's helpful.
Some pictures (more when I update my Transit Center site):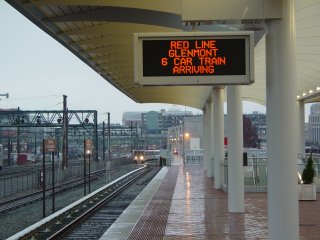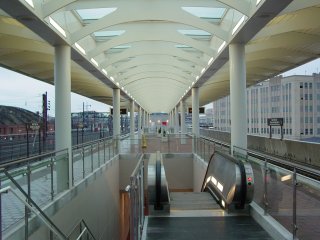 All in all, a neat station.
After that, I rode to Rhode Island Avenue, mainly to see what's going on at Brentwood Yard. A surprise! Rohr 1077 was there, which was the train that had telescoped during the Woodley Park-Zoo accident. I ended up grabbing a photo of 1077 sitting in the yard, and here's one of them: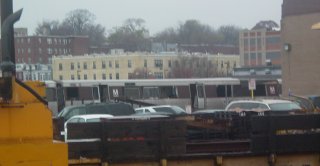 I ended up riding to New York Avenue again and back out to Rhode Island Avenue just to get a second look at it.
After that, I stopped at L'Enfant Plaza to get a bite to eat at the nearby La Promenade shops, and then headed to Pentagon City Mall.
Pentagon City was a brief stopover for me this time, mainly since the mall closed at 7 PM due to it being the day before Thanksgiving. No biggie.
After that I did a little more railfanning. I took a Blue Line to King Street station, to transfer to a Yellow Line train to Huntington. Interestingly enough, while my Yellow Line train, which ended up being all rehabs, was the normal nighttime length of four cars, the display sign showed this: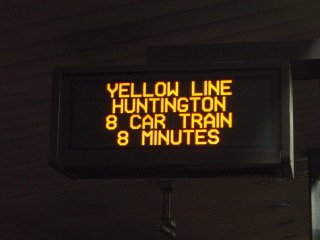 Eight cars! Something got confused somewhere, if it thought Metro was running eight-car trains on the Yellow Line. I would have really been surprised then, since Metro doesn't have the amount of cars necessary for eight-car trains yet.
At Huntington, I visited the Exeloo, which actually became a topic of conversation at our Thanksgiving dinner today. Then I took the grand tour of the Yellow Line, riding it all at once in one sitting, all the way from Huntington to Mt. Vernon Square. From there, I caught a Green Line train that had just arrived going the other way, to go to Gallery Place-Chinatown again. And I took a walk through Chinatown, which was fun. I ended up returning to the same place I started, which was good. And it was a nice walk, too.
After that, I rode around a little, taking the Red Line to Metro Center, and then the Blue Line to Federal Triangle. Here, I exited the train to take a walk through Northwest for a while. Believe it or not, this ended up being a bit of a "Protest Nostalgia Tour". I'll show you where I went via photos of the events that I'm remembering.
Straight out of Federal Triangle, I walked through Freedom Plaza. I first discovered Freedom Plaza when I did the A Protest Against the War photo set.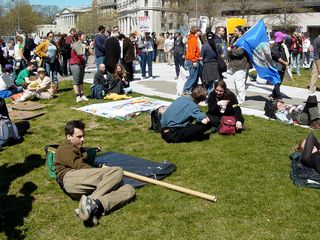 I walked right through this area, in the general direction of the JW Marriott, that dark brown building. From there, I crossed the street, and headed up a bit.
The next place I passed was the Hotel Washington, which you may recall that I visited during the Million Worker March.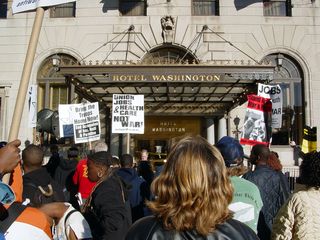 It felt very strange to go past there again, considering all the events from the Million Worker March. A gentleman was working outside the hotel, polishing the metal on the doors. All normal. None of the guards and caution tape that were experienced back in October.
From here, I was really close to the White House and such, and so it wasn't that far to my next nostalgia spot, 15th Street and New York Avenue NW, where I attended a small picket regarding third world debt: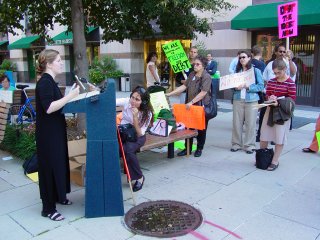 At night, when I was taking my walk, it was a quiet street corner. Now with this being right next to the Treasury Building, it was just a quick hop-and-skip from the White House, where, in Lafayette Park across the street on June 5, I attended an anti-war rally and march: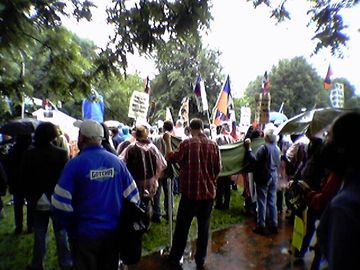 Since then, Pennsylvania Avenue in front of the White House had reopened, after being closed for a reconstruction for most of the year, and so I crossed the White House side of the park, which was inaccessible back in June and September. Also had a nice conversation about White House history with one of the members of the security detail. The new Pennsylvania Avenue is nice looking, though I didn't get that great of a look at it due to it being (A) dark, and (B) wet. I'll have to revisit during the day some time.
From there, it wasn't far to the World Bank, where I've been on a few occasions, such as the Day of Activism photo set. We also walked by during the feeder march to the main Million Worker March ("There's the World Bank!"). I walked through Murrow Park across the street, which, last time I was in the park, was barricaded off on three sides for security purposes: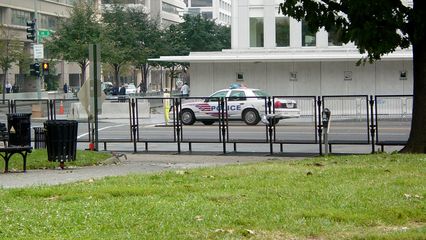 Now, it was clear and quiet. Though we remembered the spirited chant of, "We're here! We're wet! So cancel the debt!" And at night, even if we don't agree with all that the World Bank does, their main building is still gorgeous.
From there, it was a block up to Eye Street (I Street), at the entrance to Farragut West station. That was the site of a few protest events I've been to. There was the World Bank protest in 2002: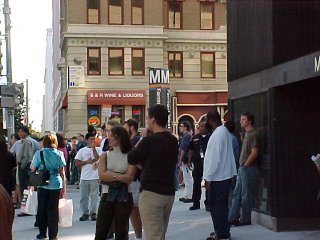 Also the final part of the coverage for A Protest Against the War: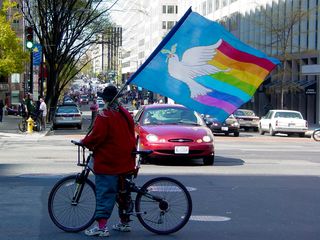 And from there, I continued down Eye Street a bit. This took me past Farragut Square, and the other entrance to Farragut West. Then the last stop on this impromptu nostalgia tour was at AFL-CIO headquarters. That was the beginning location for the feeder march to the Million Worker March. Recall: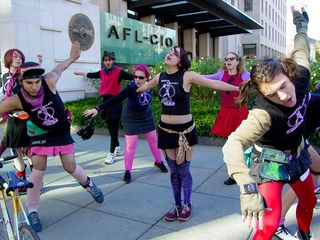 Again, it was very quiet at this hour. And then from there, it was a short block to McPherson Square station, where I dropped back into the Metro to board my last train of the night, an Orange Line train to Vienna. On the way, I got to get a really good look at the A&C connection (so named because it's a connector between the Metro's A and C routes), which is a single-track spur between the Red Line and the Blue/Orange Lines, between McPherson Square and Farragut West, on the Vienna-bound side. This connection opens up on the Red Line side just south of Farragut North, on the outbound track.
I also got a good look at the outbound C&K junction (where the Orange Line separates from the Blue Line) from the railfan window. Believe it or not, I'd never done that before. Usually I board trains to go back to Vienna from Rosslyn, and can't usually get the railfan window. I was fortunate enough to get it at McPherson Square, thus getting the view of both. So we watched as my train took the right-side tunnel on its way to Court House. While traveling the Orange Line, I also overheard a conversation on the train's radio regarding the East Falls Church interlocking, and the interlocking at Ballston. Something like that they were having a problem with the East Falls Church interlocking, and to clear the Ballston interlocking. I'm not for sure of everything, since we were in the tunnel (thus train noise is amplified), plus normal Breda sounds and everything else made it hard to hear once we were moving.
And from there, it was back to Vienna.
The ride home was fairly uneventful, for the most part. Traffic was definitely not Thanksgiving traffic. The late-night traffic was actually like a normal day. I only saw one instance of police cars doing speed traps, and that was around Centreville, where there were two of them, one doing each side of I-66, and positioned to be able to hold a conversation. I also saw the usual amount of cars with their lights on, busting people for speeding. Note: It is unwise to speed on I-66 in Prince William and Fairfax County – particularly on the Fairfax County side. I've seen too many police cars and people pulled over.
Further along, around Exit 23 (Delaplane/Paris), where westbound I-66 makes a sharper-than-normal curve to the left, traffic slowed down considerably for a moment. There was a significant accident just beyond the curve. A number of fire and police vehicles were attending the scene of an accident where a car had run off the road and flipped over in a ditch. It was actually sitting perpendicular to traffic, with both ends of the car sitting on the ground, and the passenger compartment hanging over the ditch. The passenger compartment appeared to be intact, which is a good thing. No word on injuries.
Otherwise, it was an uneventful ride home, a satisfying conclusion to a fun day.