Has anyone seen this font?
October 11, 2004, 2:11 AM
I'm looking for the font that JMU uses for their athletic logo and that JEM Transport uses. I'm looking for it as a Windows font. Here's an example of what I'm talking about: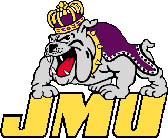 That's the Duke Dog, and the "JMU" letters are what I'm looking for. Also go to JEM Transport of Harrisonburg's Web site, and it's the same basic font.
I've also seen the same font over the Guest Services desk at the Ocean Holiday in Virginia Beach. Unfortunately, I never got a picture of that.
I just hope I can find that font somewhere as a Windows font. Would be very nice to have.